Did you know Historic Environment Scotland (HES) plays a major part in regenerating towns across Scotland? By working with Local Authorities and others over the last 10 years their Conservation Area Regeneration Schemes (CARS) have seen funding investment of over £43m towards the repair of buildings, providing skills training, and engaging communities with their towns.
In East Lothian we're fortunate to have some really beautiful historic towns.  From North Berwick with its beach and bustling High Street and Haddington, one of the best preserved medieval towns in the UK, to Musselburgh with the oldest surviving golf course in the world  and Dunbar, birthplace of John Muir , with its popular harbour and historic fisherman's stores built from salvaged shipwrecks!
Every town is different, but many of the problems they suffer from are the same. Traditional or historic buildings can come with some historic problems. Many of our property owners find that decades of poor maintenance or putting off repairs have caused issues. In some cases, repairs have been made, but they are inappropriate for the building taken their toll. HES realise this is something they can help with.
CARS funding can offer:
a repairs programme for priority projects
a repair grant scheme e.g. for homeowners or retailers
community engagement through training opportunities in traditional skills and through education programmes
training opportunities for traditional crafts and tradespeople
public realm conservation and restoration
Haddington CARS
Just like every town, every CARS is different. During the Haddington CARS we focused on tenements in disrepair, where groups of owners couldn't afford and often didn't have the know how needed to organise appropriate repairs. When a building undergoes repair or conservation as part of a CARS it's not just a patch up job. We're looking to make repairs that will last for 60 or 100 years, and leave buildings easy to maintain.
Once the project was complete, not only had we helped 6 owners fix their roof and walls, stopping the water coming in and securing a Listed building for the future, but we'd also improved the conservation area and the look of the High Street.
As well as fixing the roof with the correct slates, tracking down a suitable sandstone to repair the walls, and fixing the windows, we've also got a new colour scheme for the building to improve the High Street.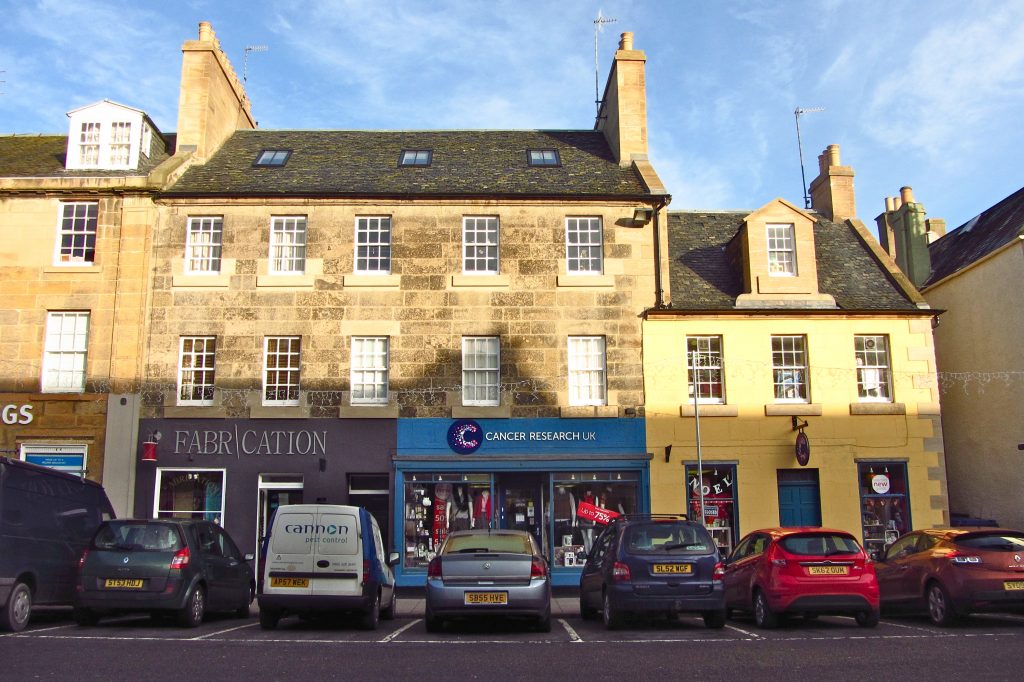 Tranent CARS
A Conservation Area Regeneration Scheme isn't just about making repairs to buildings, it's also about getting people engaged with the place they live, work, or go to school. In Tranent we teamed up with the Children's Parliament to get local children involved in regenerating their town. Streets Ahead Tranent saw more than 200 children contribute to a massive mural of their town.
It wasn't just about painting pictures though – the aim was to really engage the young people with the past, present, and future of their town. They interviewed older members of the community to capture memories and stories, and worked with the Council's countryside rangers and archaeology service to explore the heritage and history of the town. They discovered some really spooky facts to include in the mural, and had some great visions of what Tranent could become!
Sometimes when you start a project you don't know where it will end up, and that was true here. The group who worked on the mural were invited to the World Towns Leadership Summit in Edinburgh, visited the Scottish Parliament's Cross Party Group for Towns and Town Centres , and were even invited to speak at the UN in Geneva about their experience!
Looking Ahead – Cockenzie CARS
This year HES announced they would give us funding to develop a CARS for Cockenzie. We'll have the opportunity to work with another community, helping them improve a conservation area by repairing their buildings, learning new skills, and working on community heritage projects. This CARS will be focused around Cockenzie's historic High Street, harbour, and Cockenzie House. We already have plans in development to uncover part of Scotland's first railway, which brought coal from Tranent to the Harbour and salt pans at Cockenzie and Port Seton, as part of Dig It 2017 and the Year of Heritage, History, and Archaeology.
Find out more about HES funding, including CARS, on our website.
Jamie Baker, having spent most of his career up scaffolding on historic buildings, is now East Lothian Council's Town Centre Regeneration Officer. He works across the county's historic towns to improve both their fabric and economic outlook.
---
Share