"I have many keys but I open no door. I am black and white and used to write scores…"
"Piano?"
"Maybe it's keyboard?"
"Nah – surely piano!"
"Come on, we've only got fifteen minutes…"
Keys to the Castle
What happens when you give a group of teenagers ten weeks, some art supplies, and the keys to rooms at Edinburgh Castle and Trinity House? The answer might surprise you – we were certainly amazed at what they came up with!
I was lucky enough to witness it first hand, as part of a nervous team of staff from Historic Environment Scotland (HES), Impact Arts and Talbot Rice Gallery.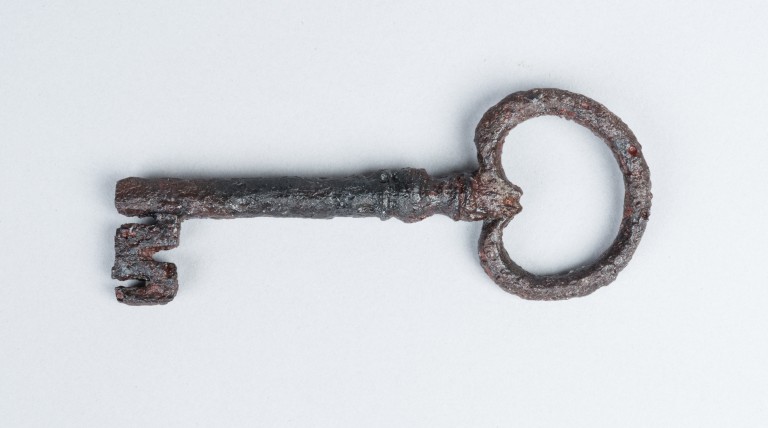 We were invited to take part in 'Escape the Design' – a showcase event presenting the work of talented 16 and 17 year olds on this year's Creative Pathways programme.
Creative Pathways is an arts-focused programme run by Impact Arts, giving young people a chance to make digital art and marketing projects. We've funded it alongside Skills Development Scotland, Inspiring Scotland, and Canongate Youth.
'Escape the Design'
We hosted a series of weekly workshops focused on heritage and tourism. These were designed to give young people currently not in employment, education or training one-to-one support to enhance key skills.
A panel of us from HES, Edinburgh Castle and Impact Arts then challenged them to develop and deliver an event to engage other young people in heritage sites. They pitched their ideas to our 'Dragons' Den' style panel, and the winning pitch formed the basis of 'Escape the Design'.
At Edinburgh Castle, we were locked in a room and given half an hour to solve eight riddles in the correct order. The first letter of each answer corresponded to a number. Once we had all the numbers, we had the code to unlock the door. Just your average Wednesday afternoon at work, then…
The Inspiration
"… and I hiss like a frying pan?"
"Snake??"
After searching high and low (a few times…), we finally found what we were looking for – but uncovering a snake in the room was trickier than expected!
We searched two large murals, a table of props, and a range of 21st Century responses to Renaissance art. We saw sketches inspired by football rivalries, photographic artworks of St Giles' Cathedral, and collages inspired by fashion and poetry.
When we eventually found our serpent, hidden behind it – lo and behold – was the next riddle.
It was fantastic to see how the group had taken inspiration from weekly visits to the castle, and workshops with Talbot Rice and Impact arts, to create this wonderful collection. Inspiration ranged from Renaissance portraits in the castle, to the poems of Robert Fergusson. As well as the incredible artwork, the group even performed one of the clues live as a song they had written.
Amazing Artwork
What was really amazing (other than the fact we did manage to escape!) was the quality of the artwork on display, and the confidence with which the young people ran the events. The team were solely responsible for running them too – from inviting and greeting the guests, right through to the acting performances within the escape room.
The next day our Creative Pathways team ran the same event at Trinity House – home of Leith's maritime history. We were joined by other Creative Pathways groups from across the country who came to have a go. It was great to see such an innovative use of the space here too. The underground vaults were ideal for an escape room, and slightly spookier than the room at the castle!
Creative Pathways
In this age of swipes, taps, likes and tweets, engaging younger audiences with history and heritage can sometimes seem challenging. We can find encouraging fresh faces into our sector a bit difficult, especially if young people haven't had previous opportunity to gain relevant experience needed to work in heritage roles.
Our Creative Pathways team gladly accepted our challenges, and really delivered. With such an impressive amount of work on display, we can't wait to see what future teams create!
Giving young people space and support to express themselves can really help us bring new ideas into the sector. 2018 will be Scotland's Year of Young People, and we're really looking forward to working on more projects like this.
Scotland's Year of Young People 2018
Scotland is the first country in the world to dedicate a full year to celebrating young people. We need your help to make Scotland's Year of Young People unforgettable!
What events would you like to take part in at our historic sites to share and celebrate Scotland's young talent? If you have an idea, we want to hear from you! Leave us a comment to tell us what you think!
In the run up to 2018, and throughout the year when it comes around, we'll be keeping you posted with our co-design progress.  For now though, it's still the Year of History, Heritage and Archaeology, so keep up to date with forthcoming events!
---
Share