The story of Scotland is as much about our seas and what lies beneath them as it is about the sites we know and love on land. But marine history is an often-hidden part of Scotland's story. After all, it's hard to access and needs specialist skills and equipment to experience first hand.
If you're lucky enough to be a diver with the ability to visit wrecks in person, you'll know what the excitement is all about. If not, we're here to tell you there are other ways to experience what is below the surface thanks to survey, recording and other research work.
A Journey North
In July this year I ventured northwards to Orkney, Sutherland and Morayshire. My job is to visit ancient monuments, historic sites and ongoing research projects, assessing the cultural significance of heritage in Scotland.
In Orkney, I visited a fascinating marine heritage research project, 'The Shiptime Project'. Run by Orkney Research Centre for Archaeology (ORCA), the University of the Highlands and Islands Archaeology Institute, SULA Diving and a group of collaborators including us, it focused on the recorded wrecks and the archaeological character of the seabed in Scapa Flow.
Scapa Flow
The Shiptime Project team are currently compiling the results of their work. While they're doing this, we at HES are looking in more detail at the seven wrecks of the German High Seas Fleet. These are the only remains of 74 ships scuttled (or deliberately sunk) there on 21 June 1919 by the German Reichsmarine.
After the German fleet was scuttled, the wrecks became the subject of considerable salvage interest. To this day, those recovery operations remain one of the most incredible feats of marine salvage ever undertaken. Ironically, these very acts of salvage have created a fascinating new chapter – another archaeological footprint, adding to the cultural significance of the flow.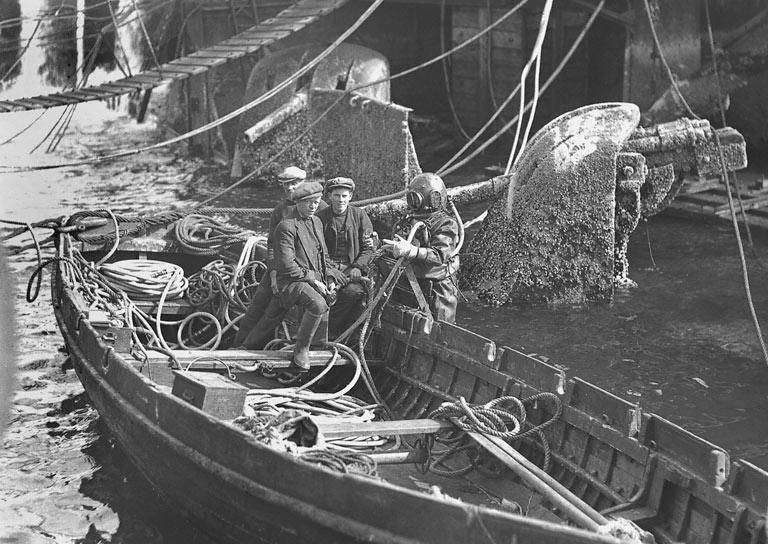 Into the Blue
As salvage work started to diminish in the 1970s, the wrecks became an important tourist attraction for thousands of divers, visiting from around the world. Their heritage value was also recognised in 2001 when the seven wrecks of battleships were protected as Scheduled Monuments. These were:
SMS Konig
SMS Kronprinz Wilhelm
SMS Markgraf
SMS Brummer
SMS Karlsruhe
SMS Dresden
SMS Coln
Because they're scheduled, divers are welcome to visit the sites on a 'look but don't touch basis.'
With a few simple facts about these wrecks, you can begin to visualise their sheer size and scale. This helps you to understand just how much effort was undertaken to try and salvage them.
Battleships
SMS Konig, Kronprinz Wilhelm and Markgraf
SMS Konig was the first of a new class of four battleships, launched in 1913 at Wilhelmshaven, Germany. The three others were SMS Grosser Kurfurst, SMS Markgraf and SMS Kronprinz Wilhelm.
At nearly 150m long and 30m wide, a Konig class battleship displaced over 25000 tonnes. They each had a crew of nearly 1200 sailors on-board and were armed with over 30 deck-mounted guns and five torpedo tubes. Ship's armour was up to 350mm in places where the greatest protection was required.
SMS Konig was the lead German ship at the Battle of Jutland. When scuttled in 1919, she capsized, along with SMS Markgraf and SMS Kronprinz Wilhelm. These three wrecks now lie upside down in about 40 metres of water.
Cruisers
SMS Brummer, Karlsruhe, Dresden and Coln
These were much lighter and faster ships with smaller crews. SMS Brummer was a fast mine laying vessel with the capacity to deploy over 400 mines. She was launched in 1915 and, with a stream-lined hull shape could steam at nearly 30 knots.
SMS Dresden, Karlsruhe and Coln belonged to two heavier and smaller classes of cruiser. These ships had up to 560 sailors on-board and carried a variety of armaments including deck mounted torpedoes, mines and mixed calibre guns capable of ship to ship and anti-aircraft duties (information kindly provided by Kevin Heath, SULA diving).
What Does Marine Heritage Mean To You?
The wrecks of the German High Seas Fleet, along with the remains of salvage operations and the wider archaeological heritage of the two World Wars in Scapa Flow, all contribute to a fascinating part of Scotland's modern history. We are really lucky to have this hugely varied archaeological assemblage survive alongside historic documents, images, video, written accounts and the recovered artefacts in various museums and archives.
We're heading back to Orkney in early December to try and understand more about this hidden marine heritage from the people who live and work in and around Scapa Flow.
We want to know about the scheduled wrecks and what people think about the controls that have been put in place since 2001. We're also keen to hear views about other wartime sites in the flow and whether these merit designation. If so, what do people think is the best way to achieve this?
If you live in the area, or know someone who does, please come along to one of our drop-in sessions.
Have Your Say
We're running drop in sessions on the following days.
Monday 4 December – YM Hall, Longhope, Hoy 3:30pm-7:30pm
Tuesday 5 December – Pickaquoy Centre, Kirkwall 4:00pm-8:00pm
Wednesday 6 December – John Rae Room, Old Warehouse Building, Orkney Council, Stromness. 5:00pm -8:00pm
Thursday 7 December – John Rae Room, Old Warehouse Building, Orkney Council, Stromness. 5:00pm-8:00pm
You can also fill in our online survey.
---
Share