A bloody feud between Norwegian cousins, an Irish missionary who subdued a great water monster and a Turkish saint who tore out her own eyes to ward off the unwanted advances of a Pictish king.
Some of our favourite Scottish Connections to Europe involve the many saints who have travelled to Scotland from across the continent, making important contributions to our heritage and historic environment.
St Andrew
Scotland's national saint was one of the 12 disciples, the original followers of Jesus. He was born around 6 BC in Bethsaida on the Sea of Galilee. The brother of fellow disciple St Peter, he was present at some key incidents in the life of Jesus and afterwards travelled widely preaching.
According to legend, he was crucified at Patras, Greece, on an X-shaped cross, insisting he was not worthy of a cross the same as Jesus's. This is the origin of the saltire on Scotland's flag.
St Andrew's bones are said to have been brought to Scotland by St Regulus, aka St Rule, whose name is applied to a surviving tower of the original cathedral at St Andrews.
Andrew is a popular patron saint. As well as Scotland, he has been named as patron saint of countries including Greece, Cyprus, Prussia, Ukraine, Georgia, Romania, Russia, Sicily and Barbados.
St Margaret
A granddaughter of King Edmund of England, St Margaret was born in Hungary, where her family settled after Edmund was deposed by King Canute.
She returned to England in 1057, when her father Edward was named as an heir to the throne. In 1068, after the Norman Conquest of 1066, they fled to Scotland. Margaret became an honoured guest at the court of King Malcolm Canmore, and within two years she had married him. They had eight children. Four became King of Scots, and one Queen of England.
Margaret is said to have been a devout woman. To assist pilgrims travelling to St Andrews, she established guest houses at the crossing point on the Forth, now known as Queensferry, and had Malcolm grant them free passage across the firth.
She also founded a monastery at Dunfermline, the site of her marriage to Malcolm. This is now Dunfermline Abbey, where they are both buried.
Her youngest son, King David I, built a stone chapel in her honour at Edinburgh Castle. This is now the oldest building in Edinburgh.
St Columba
Also known as Columcille, or 'dove of the church', Columba came from Ireland, arriving at Iona in AD 563. He established a monastery on the tiny Hebridean island, which soon became known as a centre of learning, spiritual teaching and artistic achievement.
Columba travelled into Scotland, preaching the Christian message. According to his biographer, St Adomnán, he went at least as far as the Great Glen, converting the Picts as he went. He is thought to have blessed a Pictish chieftain on the site of Urquhart Castle. He also subdued a great water monster, at a site which may or may not have been Loch Ness.
But his chief legacy is at Iona, where it is said that the magnificent illustrated Gospel, the Book of Kells was produced, around 800. Around 1200 a great Augustinian abbey and a Benedictine nunnery were founded, bringing new spiritual life to the island. These were closed following the Reformation of 1560, but Iona's rich religious heritage has been carried forward by the Iona Community, founded in 1938. The island remains a popular destination for people of all backgrounds seeking spiritual inspiration.
St Magnus and St Rognvald
For hundreds of years, the earls of Orkney were Norwegian noblemen, answerable to the King of Norway, but with an unusual level of independence.
In the early 1100s, Earl Magnus and his cousin Earl Haakon shared the earldom. This was not an unusual arrangement, but on this occasion it went badly wrong. The relationship between Magnus and Haakon soured.
At Easter 1116 or 1117, Magnus accepted an invitation to meet Haakon on the island of Eglisay, to resolve their dispute. It was a trap: Haakon had Magnus murdered.
But death did not put an end to Magnus's power. Miracles were reported and Magnus came to be regarded as a martyred saint. His nephew, Rognvald, laid claim to the earldom in 1136, and sponsored the cult of St Magnus. In 1137, he ordered the building of St Magnus Cathedral in Kirkwall.
St Magnus remains the patron saint of Orkney, which came under Scottish control in 1468. His cathedral in Kirkwall, the accompanying Bishop's Palace, and St Magnus Church at the site of his death in Egilsay still survive as striking monuments to his legacy.
St Triduana
Very little is known about the saint who was revered at a shrine in Restalrig, near Leith.
She is said to have been born in Colosse, Phrygia, now part of Turkey but then under Greek ownership, possibly in the 4th century AD. She has been associated with St Rule (see St Andrew above), and may have travelled to Scotland with him, carrying St Andrew's bones.
According to legend, she settled near Forfar, Angus, where she was admired by King Nechtain of the Picts. But she was not one for dalliances with kings. To repel his advances, she tore her own eyes out and presented them to him on a stick. After this she was believed to have special powers to cure blindness and eye disease.
She was buried at Restalrig, and her shrine became an important destination for pilgrims. The charming chapel now on the site was probably built in the 1470s, with an endowment from James III. It is believed to be modelled on the Jerusalem Church in Bruges.
It incorporates a natural spring, whose waters are said to heal ailments of the eye, and houses a wooden statue of the saint, carved when the chapel was restored in 1907.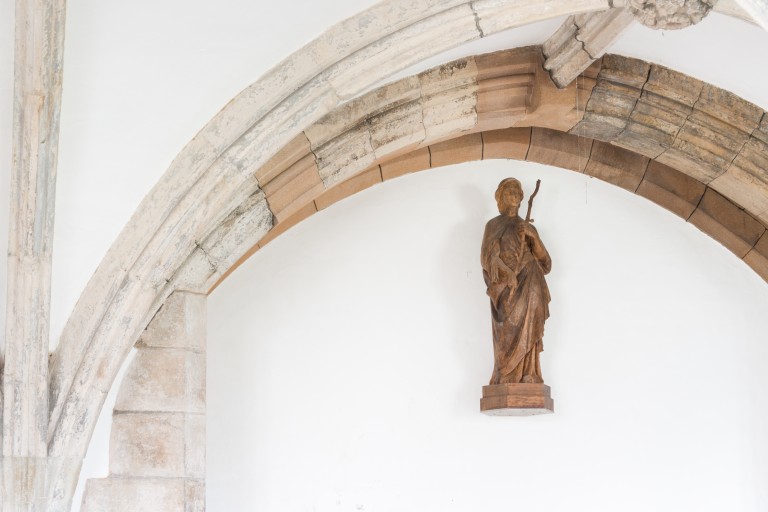 ---
Share