What was it like to be a child in the 1800s?
To celebrate the Year of Young People, "My Dear Papa" launched at Dunollie Museum, Castle and Grounds. Inspiration for the exhibition came from letters held in our archives written from children of the Clan MacDougall to their parents in the early 19th and 20th centuries.
A Rising Generation
The contents of these communications look at different aspects of family life in days gone by. There are references to the children's favourite games and books. Messages between an admiral to his wife discuss their children's heights and birthdays. There are even tales from members of the family who lived in India in 1885.
An excerpt from a letter from 15-year-old Charles Allen MacDougall to his father Admiral John reads:
"My Dear Papa,

Archy Baldwin was here the other day and stopped a week he sent us some fancy pigeons from Portobello where he is at school they are very pretty and are doing very well…"
Along with talk of his new feathered friends, Charles reports on a booming tourist season at Dunollie:
"There were a great many people seeing the castle this summer and Oban was so full that some people could not get beds and were obliged to sleep in their carriages."
Uncovering this fascinating correspondence is one of the most exciting parts of being a volunteer involved in the Dunollie archives.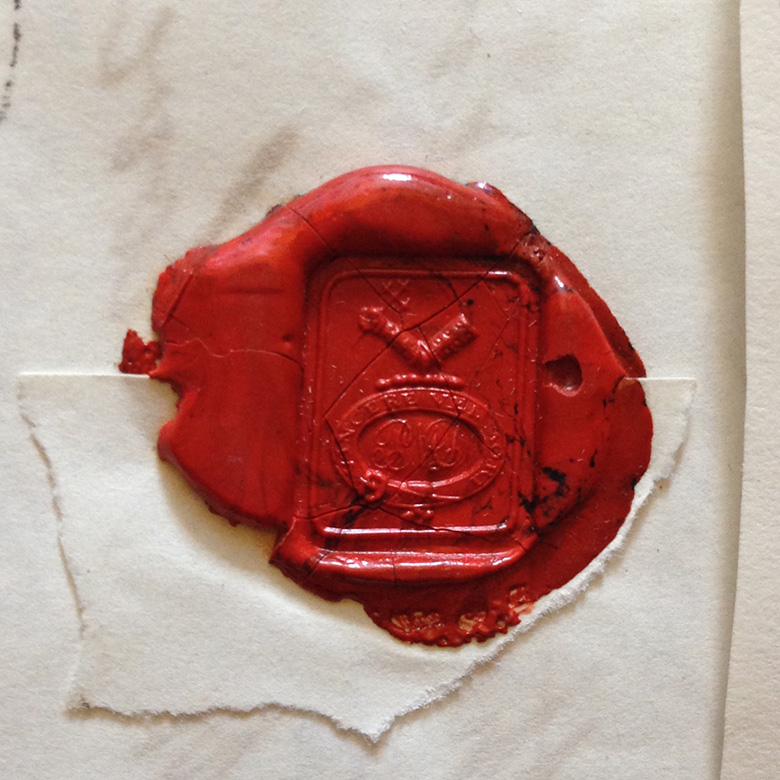 Many of the letters include intact seal impressions such as the one pictured. It was probably kept on a watch chain or fob and carefully pressed into melted wax by 13-year-old Patrick MacDougall on 8 November 1842. Patrick's letter home was posted from HMS 'St Vincent', a huge ship of the line based in Portsmouth.
Bringing "My Dear Papa" to Life
The creation of "My Dear Papa" would not have been possible without our incredibly dedicated Exhibition Team. The team of five volunteers worked for over a year researching and transcribing over 50 letters before assembling the display.
Letters written by the children are displayed in a variety of mediums around the room. A project to create audio recordings of this charming correspondence was completed by two sixth year students from Oban High School.
Our volunteer team has created an engaging and colourful exhibition which is full of energy.  Along with the letters, a gorgeous selection of children's costume from the collection has been artistically displayed. Ancient games have been replicated and laid out around the exhibition for visitors to try out.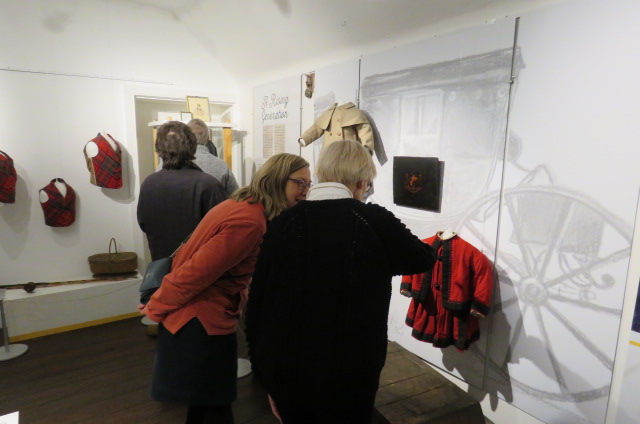 Opening the Doors
The official opening of our exhibition took place in March 2018 and welcomed people of all ages from the local community in Oban. Our community engagement programme Dunollie Links co-ordinated the project and proudly acknowledged our volunteers technical skills, dedication and creativity.
"My Dear Papa" is currently on display to visitors to Dunollie Museum, Castle and Grounds.
This blog was created by Sophie Isaacson, Dunollie Links Co-Ordinator at Dunollie Museum, Castle and Grounds. Dunollie Links ​creates wonderful links to our cultural past and provides a perfect spring board for innovative ideas and opportunities for learning, creativity, volunteering and social engagement.
---
Share