Scotland has a remarkably rich and diverse built heritage, in many cases this is a legacy of the social changes experienced in the country during the industrial revolution (in the late 18th century through to the early 20th century). In short, redistribution of Scotland's population during this time saw people moving from rural lands into the towns and cities where new, heavy industries were creating jobs.
This resulted in the rapid expansion and growth in the population of our towns and cities, which itself stemmed the construction of a wide-ranging array of buildings, from modest, low-status / high density structures such as tenement blocks through to grand, high profile buildings; the latter being designed to showcase the wealth and prosperity experienced during this time.
Many of us will have an example in mind of this type of building – my go to example would be the University of Glasgow's Gilmorehill Campus – a neo-gothic masterpiece that dominates the Glasgow skyline.
Built to Last
These 'new' buildings were built to stand the test of time, a trait evident in the historic environment today, with traditionally constructed dwellings still making up approximately 20% of Scotland's building stock (in other words, around one fifth of our housing stock is now over 95 years old). Traditionally constructed buildings are generally defined as those pre-dating 1919, built from solid masonry and of pitched-roof construction.
The materials used and building practices implemented, during the construction of these buildings, were done with consideration to the climate of Scotland at that time – which can be comfortably defined as an often wet, temperate climate.
The materials specifically allowed for a degree of wetting and drying (a process controlled in part by the geological properties of the stone used) and combined with the construction practices used, resulted in robust, capable buildings.
However, these buildings are now ageing, with decades of exposure to a harsh urban environment, poorly informed alterations, in many cases a lack of maintenance and now our changing climate – all beginning to take their toll on our built heritage.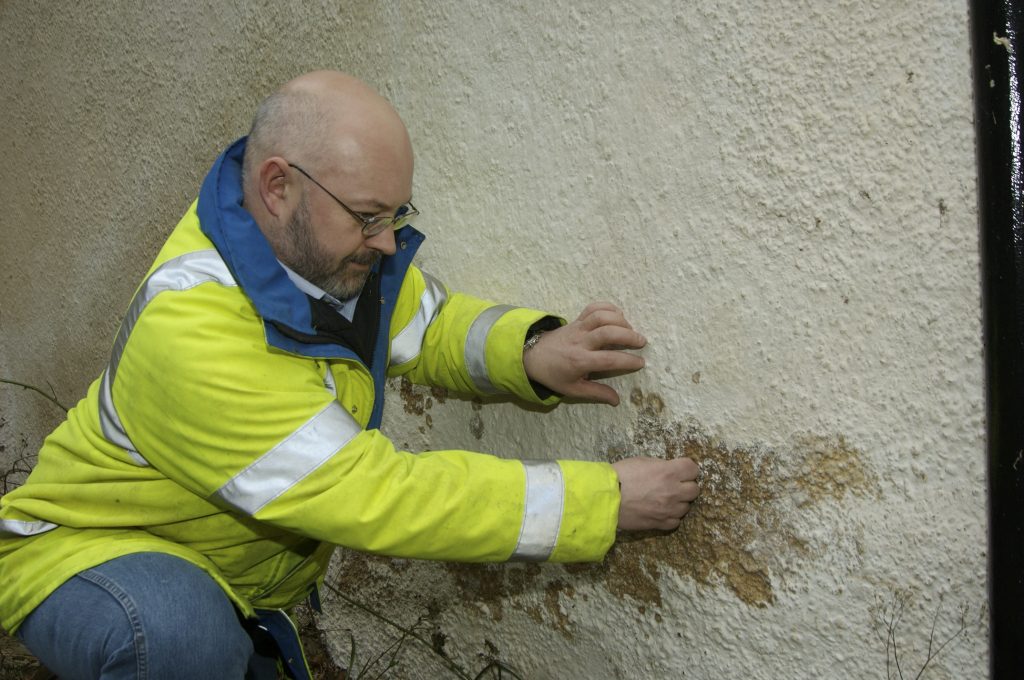 Climate Change and the Built Environment
Looking at Climate Change specifically, this forms one of, if not the, greatest threat to our traditional buildings. Increasing rainfall, the potential for increased storminess and changes in temperature and relative humidity will result in increased rates of erosion / deterioration, of any given building's fabric, where there are already pre-existing concerns (as a result of poor maintenance, general ageing of the building and so on).
Our Senior Technical Officer, Jessica Hunnisett Snow recently wrote in the Journal of Building Survey, Appraisal and Valuation, highlighting the importance of maintenance in increasing the resilience of buildings to the impacts of Climate Change.
Maintenance is often overlooked, but is the first line of defence in preparing for more extreme weather. Ensuring roofs are wind and water-tight, slates and tiles are secure, chimneys and flues are in good repair and well ventilated, and the correct materials are used for repair will increase the resilience of the building fabric (Hunnisett Snow, 2016)
What we also need to consider, going into the future, is that no matter how well we maintain our properties, the degree of change in climate parameters like rainfall and temperature, may result in environmental conditions that many of our buildings may not be able to cope with. In those cases, appropriate adaptation measures may have to be sought, whilst trying to find a balance between preserving the historic fabric of the building and protecting it into the future.
Contrary to that, the building practices and styles implemented in the construction of these traditional buildings, in many cases, are examples of best practice, with many features incorporated into their design to make them more resilient to a challenging climate – we may just need to adapt these designs slightly to cope with anticipated changes in our climate.
Historic Environment Scotland Guidance
As the lead public body for the Historic Environment, we have produced a range of INFORM Guides and Short Guides, for use by homeowners and professionals alike in helping to conserve and protect properties –  with many being relevant to the challenges brought about by climate change. As previously mentioned, our forthcoming Adapting Traditional Buildings for Climate Change Short Guide will add to the extensive list already available to download, from our website.
Subscribe to the blog and be the first to find out when the new short guide is launched.
Further Reading and References:
Historic Environment Circular 1
Snow, J. (2016). Preparing traditional buildings for climate change. Journal of Building Survey, Appraisal & Valuation, 4(4), 195-205.
---
Share