In the past week we've been taking the time to highlight some of our green success stories and talking to the green champions that make them happen.
Today we had a natter with Finlay, our Monument Manger for Castle Campbell and Dunblane Cathedral, and one of our important green champions.
We asked Finlay a range of questions to better understand what he is doing to help us battle climate change at the two monuments he looks after.
Castle floodlights to customer cuppas – every little helps
What made you want to become one of our green champions, Finlay?
The chance to hopefully make a change to how we work and get involved in helping us to face the environmental and climate change challenges that we have to deal with. It's something I try to do in my daily life so it seemed natural to get involved at work.
Are there aspects of your job you think directly or indirectly relate to climate change?
Absolutely!
From simple things like making sure we use as little energy as possible on-site through to physical and behavioural changes. At Castle Campbell we have a fantastic window on the changing climate, seasons and weather. If there's 'weather', we get it!
Being aware of the weather in all its forms such as stormy conditions and unusual weather patterns is part of looking after the site.
Some plants which previously did well aren't doing quite as well now, whereas others seem to have had a boost, especially damp and wet tolerant types. When planning new additions I try to focus on native plants as well as bee and butterfly friendly varieties too. This helps, in a small way, to counteract climate change related disease and habitat loss.
In what ways do you think climate change will impact our properties and the historic environment?
I think there are the obvious challenges of increased rainfall and a rise in the frequency of extreme weather events and how these impact the fabric of our properties. I keep an eye out for leaks, water ingress, stone and fabric degradation on a daily basis so these can be quickly reported to our conservation specialists for attention. I do this from a 'lay' perspective, but a damp green wall that wasn't a damp green wall before is quite obvious!
On a different perspective we may see changes in visitor patterns, particularly related to weather. For example more wet weather can have a long term effect on visitor numbers at certain sites.
Has your team worked to reduce energy demand to help meet carbon reduction targets?
Earlier in the year I used LED bulbs to replace our only remaining incandescent bulbs in the lights above the cellar interpretation boards. We swapped four 30W bulbs for four 2.5W bulbs.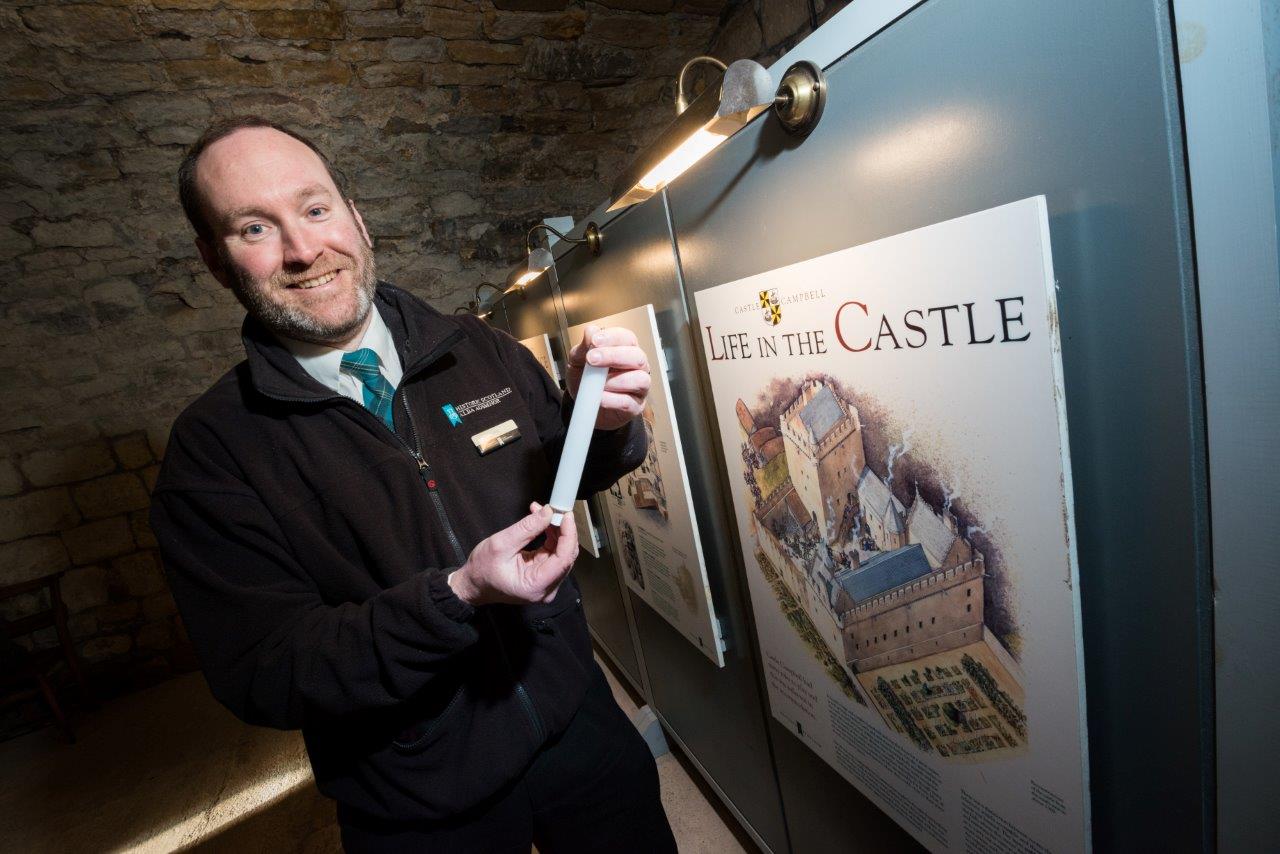 Most of what we do on-site now are what we call 'incremental gains'. For example I make sure we switch off the till monitor when not it's not being used. We always switch the shop lights off if we go out during the day.
We switch the water heater on for the hot drinks as late as possible in the morning – there's no point in having it heating away from 08:45 – 09:30 when there are no customers around for a cuppa!
Similarly lights don't go on in the tower until necessary. The shop door is now closed in colder weather to minimise the need for heating use. I've also reduced the run-time of the Castle floodlights by an hour a night and at the height of summer switched them off completely.
Keeping up to date with Climate Week
Thanks to Finlay for his time and talking us through what he's been doing to tackle climate change at Castle Campbell and Dunblane Cathedral.
If you enjoyed reading this blog, register for updates.
---
Share