Scotland's most recent addition to the UNESCO World Heritage Sites, inscribed in 2015 because of its unique industrial aesthetic, the Forth Bridge is an iconic structure.
Here are six little-known facts about this masterpiece of Victorian engineering:
1. The first train to cross the Forth Bridge was driven by a woman.
Yes, it's true! Construction of the bridge began in 1883 and seven years later, the bridge was ready for the first train to run over the rails. In a surprisingly progressive move, Candida Louise Hay, the Marchioness of Tweeddale, drove the first train across the bridge on 24 January 1890. On 4 March, the Prince of Wales declared the bridge open.
2. The Forth Bridge was the first major structure in Britain to be constructed of steel.
Other major structures built around this time, such as the Eiffel Tower in Paris, were constructed in iron. Britain's advancing technology in steel manufacturing opened up new possibilities for engineers Sir John Fowler and Sir Benjamin Baker, who designed the Forth Bridge. The steel superstructure weighs in at over 50,000 tonnes and something like 6.5 million rivets were used in its construction.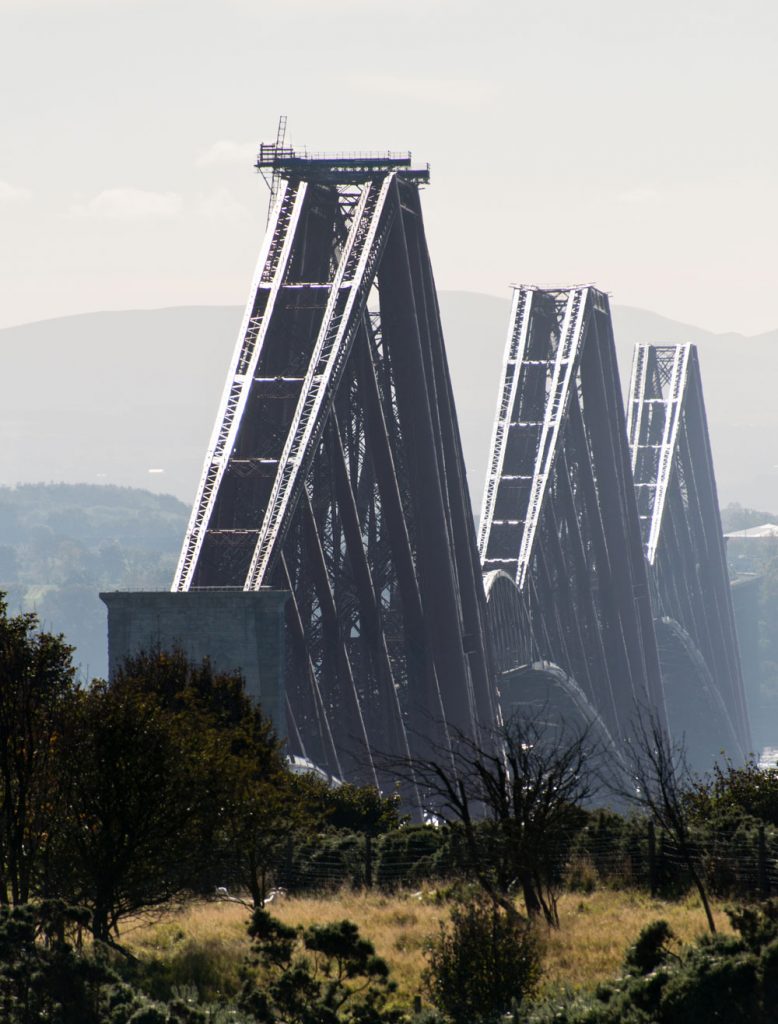 3. Construction of the Forth Bridge began almost 100 feet below the surface of the water and ended over 300 feet above the surface!
The bridge is supported by massive granite foundations that sit 91 feet below the Firth of Forth estuary. Huge cantilevers – a type of beam used in bridge construction – connected by latticed girders make up the sides of the bridge, stretching to 361 feet above sea level at high tide.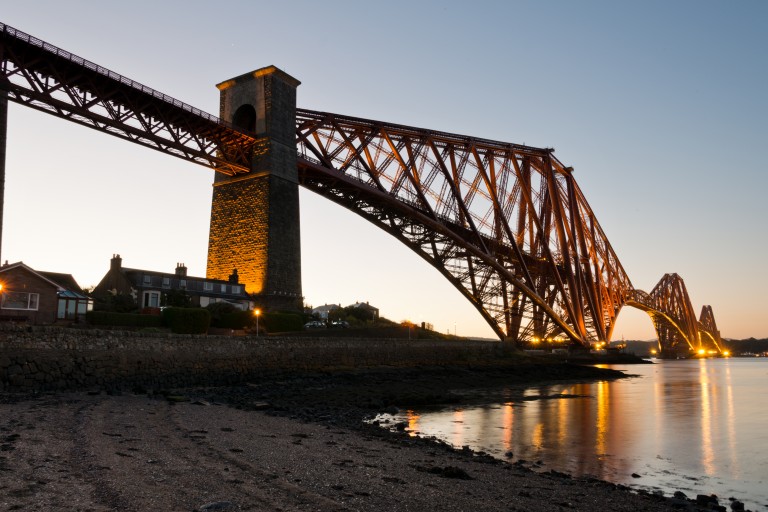 4. The first electric light in the Queensferry area was on the Forth Bridge.
The foreman for the lighting, Charles Henry Farley Cox, is believed to have cycled 393 miles from Norwich on a penny-farthing bicycle to take up the role. Impressively, he cycled back to Norwich when the work was done!
5. There was a cèilidh dance on top of the bridge during construction.
According to the Queensferry Observer, Wednesday 12 June 1889, there was a  cèilidh dance was held on the bridge during its construction, perhaps to keep the workers' moral high. Not one, not two, but a grand total of three pipers were in attendance – guaranteed to bring a real party atmosphere!
6. The Forth Bridge features in the digital world.
The Forth Bridge has even made the leap into modern computer games, appearing in a renamed version of a Grand Theft Auto game and being the inspiration for the design of a bridge in Pokémon. Its also been featured in the BBC Build it Scotland Minecraft map of Scotland, built in-game by Scotland's young people.
Love the Forth Bridge and industrial heritage as much as we do? Share your industrial photos on Twitter and Instagram with us throughout May.
You can find out more about Scotland's six World Heritage sites on our website.
---
Share