I am Dutch and currently in the third year of a course called 'International Event, Music & Entertainment Studies.' As part of this I had to find an internship, and was really pleased when the Learning Team at Historic Environment Scotland said I could do this with them.
As part of my internship with HES I spent five months working on several different projects, and I did far too much to fit it all into one blog post!  Instead I will tell you about the biggest and most rewarding project I did – designing an animal trail for Edinburgh Castle.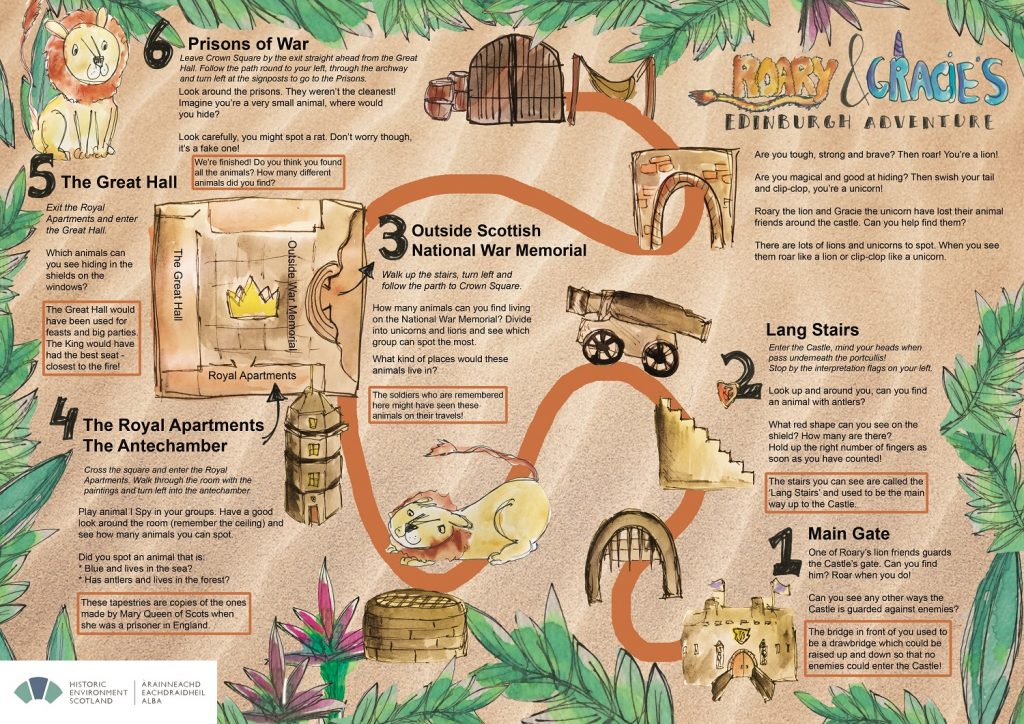 Roary and Gracie's Edinburgh Adventure
I learned about social design in a few of my courses at school, but designing a trail for school children was the perfect opportunity to design something that would actually be used – for an educational as well as fun purpose.
The trail focusses on Roary the Lion and Gracie the Unicorn who have lost their animal friends around Edinburgh Castle. Pupils have to answer questions and carry out different tasks to find Roary and Gracie's friends.
To complement the trail I also designed a craft activity, a drawing sheet and laminated characters. I think all these things give an extra dimension to the overall experience of the trail.
The design process 
Before I could design this trail, I had to do some research. I looked into animal symbolism, different ways of learning, and I also had to watch some PhotoShop tutorials.
It was very interesting to learn more about these subjects, but sometimes a little difficult as well. Even more difficult than the research was the actual designing. I had to create both a lion and a unicorn character, as well as finding a way to capture Edinburgh Castle in a very simple map.
I learned that it takes time to create a valuable resource – sometimes a minor detail can make all the difference.
The Pilot
A P2 class from Tollcross Primary School in Edinburgh kindly piloted the trail and craft activity for us. They were very enthusiastic, and had some great tips and comments which will help us make the trail even better.
Based on their feedback, I made a few changes to the trail. In September, the Learning Team will test it again with two other classes. After that, it will become a resource for other Early Years groups visiting Edinburgh Castle.
A great experience
I feel very lucky to have had the opportunity of doing my internship with HES. It has been an amazing experience. I met lots of people and stepped out of my own comfort zone to create and find out new things.
Apart from the Edinburgh Castle trail I did many other projects, which enabled me to learn a lot about about HES as an organisation, Scotland as a country, and also about myself.
I have seen incredible landscapes, experienced Scottish weather, and I even tried haggis! Hopefully I will be able to visit Scotland again very soon.
Would you like to do an internship with HES? We currently have eight opportunities with our Conservation Directorate – find out more and apply by 8 November.
---
Share