After 6 weeks of being tried, tweaked and tried again by our intrepid testers, the new version of PastMap is now live!
With several new and enhanced features, this updated version of our digital resource for searching Scotland's archaeology, architecture and landscapes is definitely worth investigating.
What is PastMap?
PastMap shows you information about historic sites and landscapes all over Scotland, brought together on maps spanning from 1843 to the modern day. Historic sites available on PastMap include locations of battles, historic buildings, and places related to maritime history like shipwrecks.
The website gathers information from our Listed Buildings and Scheduled Monuments records, the HES Archives available on Canmore and from many Local Historic Environment Records. Through PastMap, all these records are available in a single place.
Explore the past – wherever you are
In our upgrade, we've made PastMap fully mobile responsive. Wherever you have a wifi or 3G signal, you can use the website to look for historic sites around you.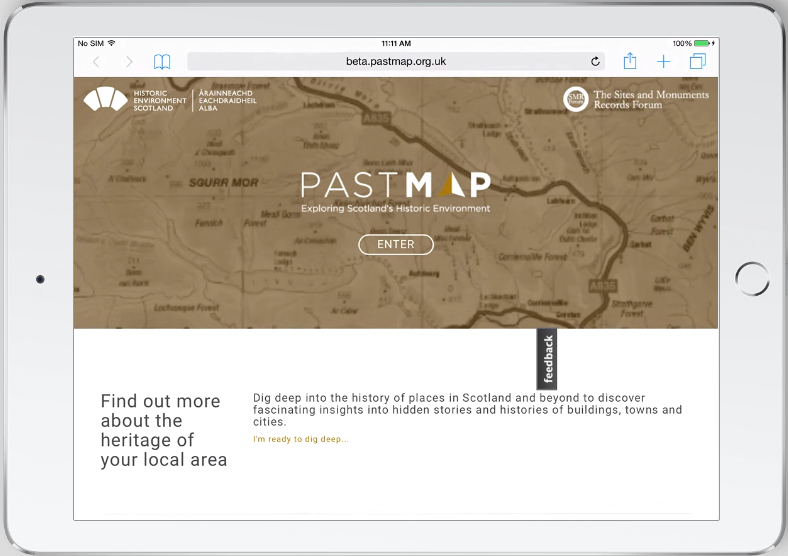 Even more maps
You can now choose from eight different background maps. These include historic Ordnance Survey (OS) layers courtesy of our colleagues at the National Library of Scotland. Historic maps range from OS 1st editions from the mid-late 1800s through to the early 1960s.
With our update, you can also now investigate PastMap records on four different types of modern map:
Ordnance Survey Licensed Data (OSMA)
Ordnance Survey open data (colour and Black and White)
OSMA includes MasterMap, the most comprehensive map of the UK.
A bird's eye view
PastMap now includes aerial photography, so you can overlay site records onto a bird's eye image of your area. This is useful for showing landscape features that are difficult to see on a map, such as cropmarks and earthworks.
These archaeological features are most visible when viewed from above. Through aerial photography, it's possible to identify signs of past human activity that usually can't be seen from ground-level.
More data for you to download
PastMap offers a take-away data service. This means you can download up to 1,000 records for your own research. This can go straight into a spreadsheet or into a GIS package, which is a way to digitally map out geographic data. If you want to see PastMap records in Google Earth, you can download them as a KML file. These file types can also be read by QGIS, a popular free GIS package.
There are thousands of site records on PastMap, and it's easy to view an area that has lots of sites one on top of another. For example, a listed building may also be in a conservation area. Now, PastMap can list details of stacks of sites all at once, and it displays a handy pin that reminds you where you clicked or tapped – essential in built up areas!
The final say
Here is what some of our beta-testers have said so far:
Very nice beta version of past map.
The aerial photography background is also really good too.
The whole concept of the idea is really good.
I love the new map compared to the old PastMap – much better experience!
We hope you enjoy new PastMap. Let us know what you think; we welcome your feedback!
---
Share