Not familiar with the medieval contest of jousting? Jousting tournaments were popular from the beginning of the Middle Ages until the 16th century, usually involving two knights on horseback charging towards each other with their lances.
Although contestants would wear heavy suits of armour to protect themselves, injuries were unsurprisingly not uncommon and led to more than one untimely death!
As with every major competition, winning the public's favour is almost worth as much as winning the tournament itself. So drumroll and trumpets please, as we introduce our spectacular jousting knights. Who will win the contest for pride and glory?
Sir Robert Sinclair of Rosslyn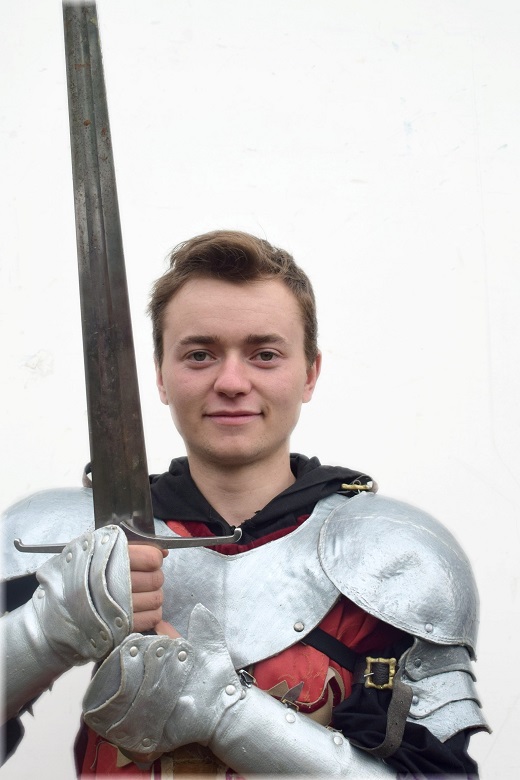 Age: 18
Current Victories: 3
Favourite Weapon: Axe & Shield
Colours: Red & Black
Heraldic Symbol: Cross
Horse's Name: Loustique
This Lowland competitor certainly has youth on his side! A scholarly lad sworn to knightly honour, Sir Robert entered the tournaments to represent the Church and is dedicated to keeping the peace between contestants.
But will chivalry help him against more experienced competitors? Sir Robert is confident:
No glorious victories are needed when you wake up every morning to live your life serving a righteous cause.

Luckily, I have heard Sir Checkmate has been banned this year. He is a foul and unknightly man!"
Sir William Maxwell of Caerlaverock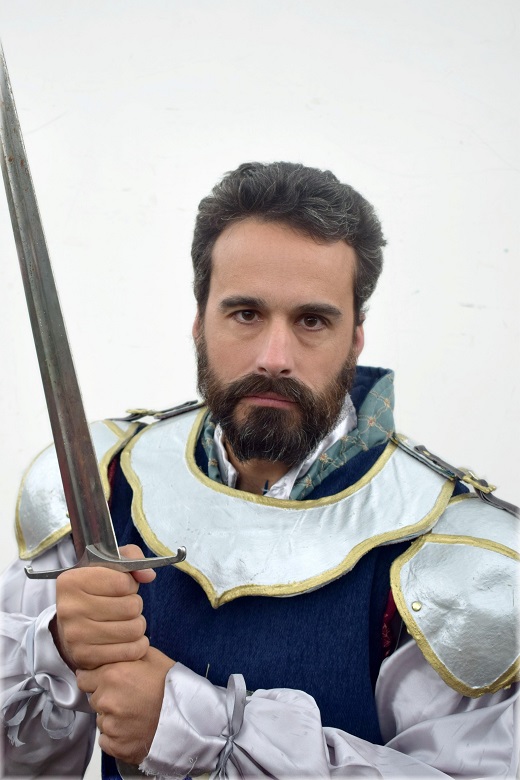 Age: 34
Current Victories: 25
Favourite Weapon: Spear
Colours: Blue & Silver
Heraldic Symbol: Tower
Horse's Name: Princesse
Sir William Maxwell of Caerlaverock is known to be a hot-headed competitor on the tournament circuit and in the hunting field.
When hunting, he will always picture his prey beforehand. For a joust, he will picture his opponents being struck by his lance. Many years ago, he triumphed in the city of Mocha on the Red Sea, which spread his reputation far beyond his homeland.
Sir William is certainly a sportsman to look out for. He has also heard rumours about Sir Checkmate:
I hope that my lance is pulled at the same time as the poisonous Sir Checkmate's, I will show him not to cross my path again!

Have you heard anything about him being banned this year?"
Sir Checkmate Fitzpercy of Alnwick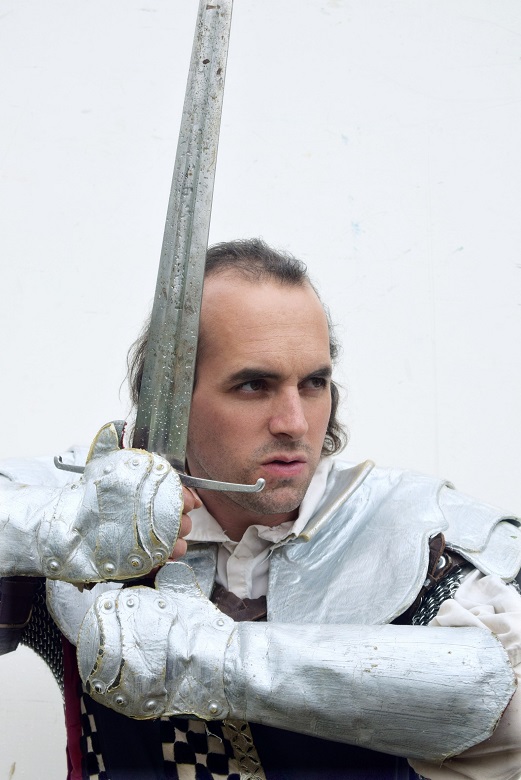 Age: 38
Current Victories: 26
Favourite Weapon: Mace & Shield
Colours: Black &White
Heraldic Symbol: Snake
Horse's Name: Alfonso
Descended from the mighty Percy family of Northumberland, Sir Checkmate describes all of his previous victories as "glorious." He freely admits that prize money is his main motivation to compete in any tournament.
Sir Checkmate endeavours to compete at any cost through fair means or foul (usually foul!). He's been banned from many a tournament ground for bad behaviour in the past.
In fact, Sir Checkmate hasn't actually been asked to compete at Linlithgow or Caerlaverock, but he intends to show up anyway!
I fear no one! I have not been invited to the competitions this year but the purse is rather large and it is always very satisfying to beat my rival Sir Archibald…"
Sir Archibald Douglas of Galloway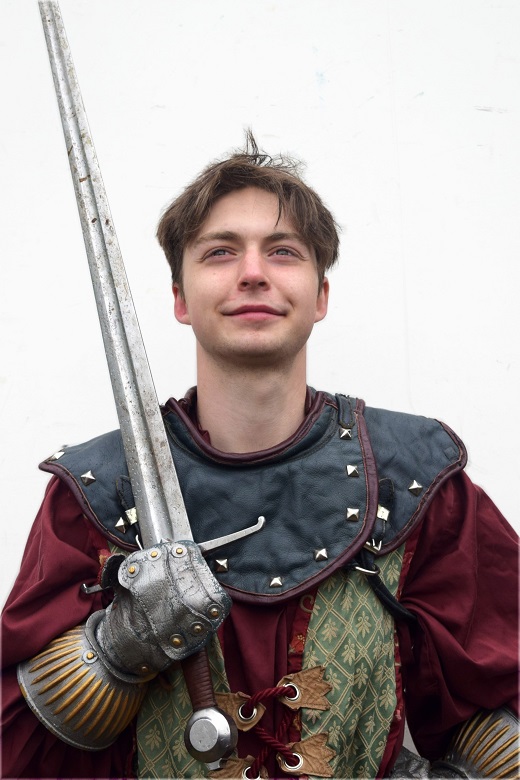 Age: 24
Current Victories: 14
Favourite Weapon: Sword
Colours: Green & Gold
Heraldic Symbol: Dragon
Horse's Name: Tjarda
Sir Archibald has been maintaining his family honour for many years. His greatest victory to date has been winning the title on his home turf at Caerlaverock with many of his supporters in the cheering crowd.
With ancestry stretching back to the time of Robert the Bruce, he will be bringing his top game – and he certainly isn't scared of Sir Checkmate!
Checkmate puts the fear of God in most, but not me! I have defeated him once before and I am sure I could manage that again!"
Are you ready for Spectacular Jousting?!
Who do you think has the best chance to be victorious at Linlithgow Palace and Caerlaverock Castle this year? Tell us who you're rooting for online using #HistoricDaysAwait.
Take a look at our Top Ten Facts to come along to the tournaments armed with even more jousting knowledge!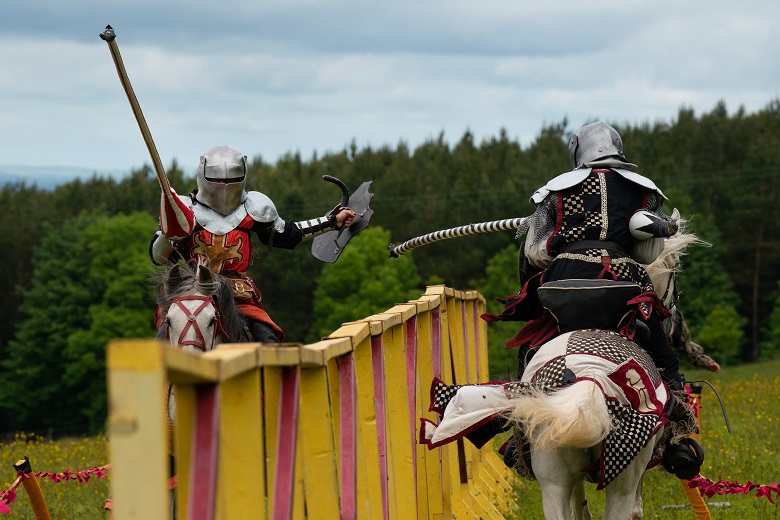 To make the most of your jousting experience, be sure to come along early to enjoy the sites and claim your prime cheering spots. The sites will be open for exploring from 9.30am, with the main events including falconry, archery and entertainment from our musicians starting at 12.30pm.
Spectacular Jousting takes place on 29 & 30 June at Linlithgow Palace, and 27 & 28 July at Caerlaverock Castle.
Remember, both events are free for Historic Scotland members. Not a member yet? There's still time to sign up and take advantage of unlimited entry to our sites and daytime events this summer. For non-members, event tickets can be booked online in advance for a 10% discount.
---
Share