It isn't every day you're given the opportunity to work on developing an augmented reality app for a historic site. But at the start of April in 2017, I was given that chance!
A bit of back story
We already had a site in mind for trialling a digital pilot project – Caerlaverock Castle in Dumfries and Galloway.
The siege of Caerlaverock in 1300 and the aftermath sets a great narrative for the app. It also offered a chance to introduce people to the domestic life of the castle and neighbouring Sweetheart Abbey.
A wee bit of back story – in July 1300, the castle was besieged by the army of Edward I. The siege was well documented in a poem called the Roll of Caerlaverock, which tells of the bravery of Edward's knights along with a detailed description of their knightly colours and banners.
"In chronicles of great monasteries
It is found that King Edward the Third,
In the year one thousand three hundred
Of grace, on the day of Saint John,
Was at Carlisle, and held a great court,
And commanded that in a short time
All his men should prepare themselves,
To go together with him
Against his enemies the Scots."
After two days, and several attacks by the English army, the garrison surrendered. Only then did Edward discover that his full army had been held back by only sixty men. Caerlaverock Castle fell to the English.
Twelve years later, in 1312, the castle was returned to Sir Eustace Maxwell, and this was is the point in the story where our app begins.
Sir Eustace's return would need the castle restored to a standard fit for his station, but where were all the members of the castle household?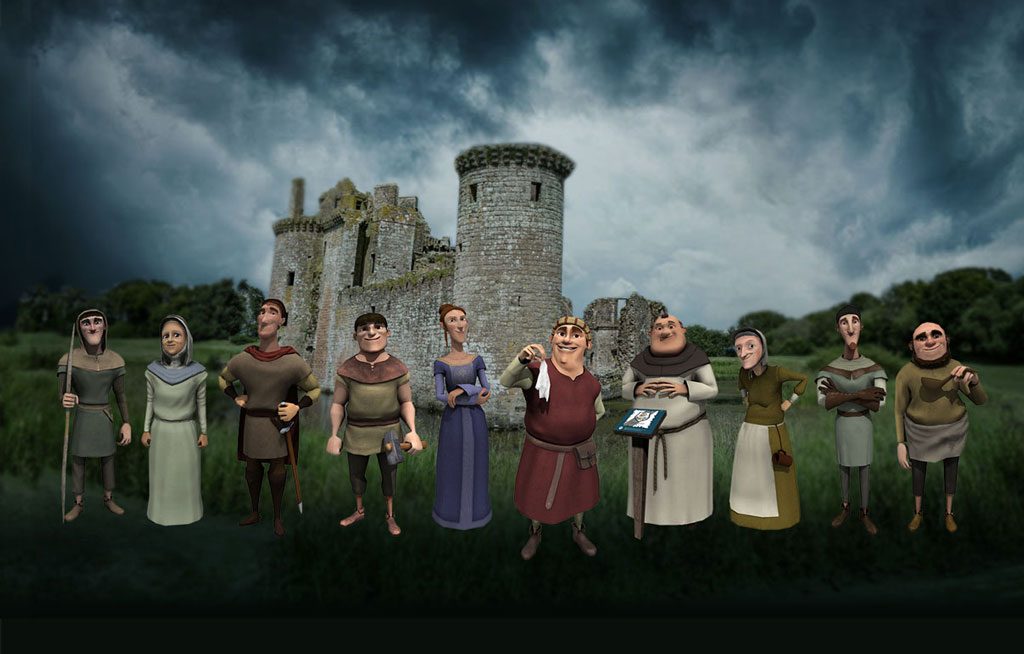 From idea to (augmented) reality
Time for the geek side to kick in! Thanks to tech developments, both Apple and Android devices are able to run augmented reality (AR) apps with better stability.
We wanted to create a game experience for family visitors using AR and what better way to research than getting hands on ourselves! A grey day saw a trip down to Kielder Forest in Northumberland to try out the Gruffalo Spotter AR app developed by Forestry England.
The app was duly downloaded in advance and given a thorough tryout. Foolish pictures were taken and notes scribbled. Spurred on by the Gruffalo, we knew exactly what we wanted to do for Caerlaverock!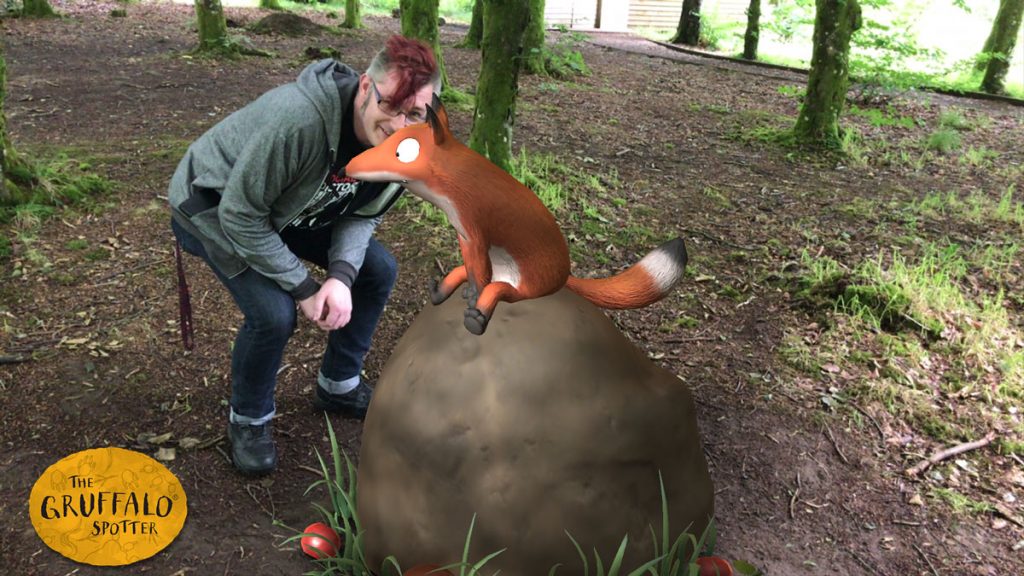 Back at the office, the brief was written for our own quest to find an app developer.
We knew we needed animated characters relating directly to the site story, including:
a stonemason fixing the castle walls
an alewife brewing ale for the castle
a cook foraging for nuts and berries in the woods
a lady in waiting making sure the preparations were suitable for Sir Eustace's return
We wanted a cartoon animation style rather than videos of our re-enactors to make the app more appealing to children and get around potential issues with using live action in an AR environment.
Following a tendering process, we appointed our developer – Jam Creative Studios. Initial meetings took place on site at Caerlaverock and we immersed the team from Jam in the history of the castle to start developing the script. After a few tweaks, we checked our script over for accuracy with our Cultural Resources colleagues and finalised it.
While the script was developing, we worked with artists at Jam on concept designs for the characters. Each one went through a rigorous process to ensure they were historically accurate, without losing their engaging designs.
We decided to include a wee Easter egg in the animations by having the head maid modelled on our very own Valerie, the site manager. Recent pictures of Valerie were sent on to the modellers for them to create her avatar.
Each voice for the characters was selected to match what we thought their personality would be. Valerie's role was extended by using her voice to bring her animation to life. After a dozen takes, we had the vocals we were looking for, along with a nice hidden story inside the app.
Character development continued and we went through a few iterations of each animation. There was a lot of excitement in the office when the first rough animation of the priest came through and we could see how our characters were going to work. Only ten more to go! You can meet all of the characters in the final form on our blog.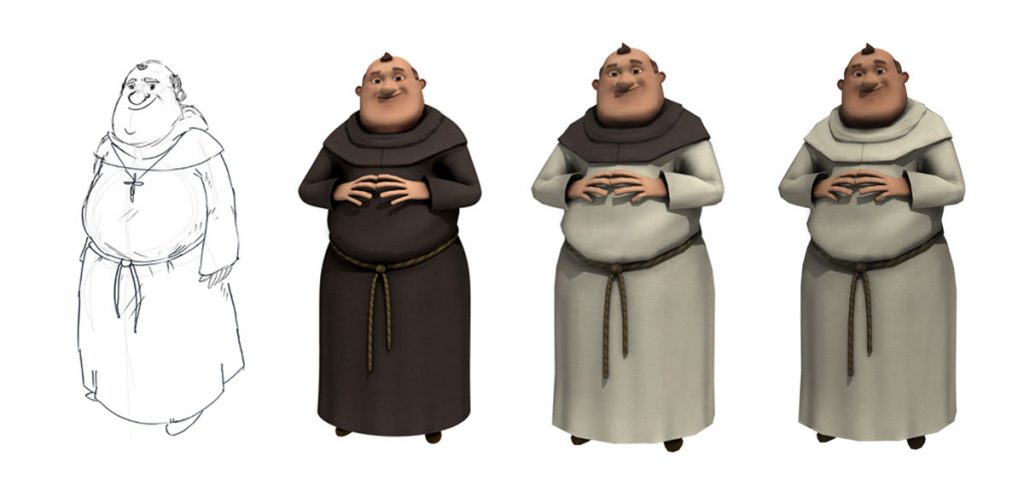 In the meantime, we'd also added another element into the mix – each character would have a fragment of Sir Eustace's banner hidden about them somewhere. We included a mini-game for users to reassemble the flag from all the fragments they had collected during their visit. But to make things a bit murkier, one character is a traitor and won't provide a true fragment of the flag. Sir Eustace won't be happy!
Of builds and bugs
More excitement in the office when we received our alpha version of the app! Like all good user testers, everyone tried their hardest to break the app.
Testing continued for the next few weeks until we were happy that we couldn't find any more bugs in the app. Jam had done an excellent job, and our first bug report was relatively small!
The next beta version was very stable so we gave it a demo at Edinburgh Castle. Reassuringly, there were no crashes on the app's debut night!
After a few last tweaks to the code to ensure the app was fully GDPR compliant, we had an app we could release into the wild!
But one last piece of the jigsaw – how to trigger each of the characters at the castle? Taking a steer from the Gruffalo, we settled on a series of ten marker panels and a pop up banner for the castle steward to show visitors how to use AR on their devices at the start of the trail. Freestanding sign posts were manufactured in a heavyweight steel to stand up to the Scottish weather.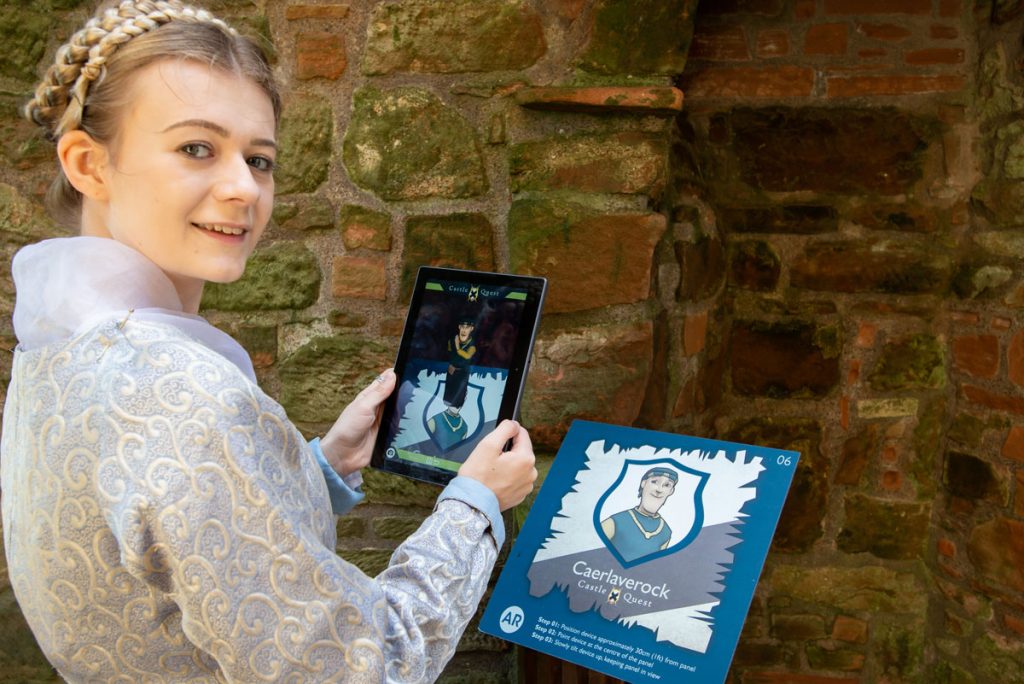 We were good to go, installation of the infrastructure could happen and our app would finally be live! On a mild Scottish summer's day, we placed our new signs around the castle and grounds and tested each of the triggers to make sure the characters definitely worked. By mid afternoon, we had a live app!
What's comes next?
We're keeping a close eye on how things go for visitors on site. Initial reviews on the app stores are very positive, and as yet, we've not had the app crash on anyone! (Will you be the first? Please don't accept that challenge!) All in all, it was a great project to work on, and has taught us a lot about working to develop an AR app.
What would we have done differently? Probably we'd have looked to involve more of our staff in the app. Having those ties to the site is always a nice touch, and gives staff a chance to get a starring role in an app. Had budget allowed, I'd have loved to have had a 3D model in the app showing the castle as it would have looked in 1312 too. Who knows what the future may bring?
If you get the opportunity, pay Caerlaverock a visit and try out our app (download in advance, just to be sure).
And if you enjoy it, leave us a review!
---
Share