From towering lighthouses to quaint coastal cottages, photography has captured many beautiful moments across Scotland's historic environment. But, taken over time, photography can also show how the changing climate is impacting Scotland's heritage.
Because it's happening gradually, the effects of climate change can be difficult to show in a snapshot. And imagining how things will change even more in the future can be a challenge.
With that in mind, our Climate Change Scientist David Harkin explores six stunning images of Scotland's historic environment and the climate change stories behind them.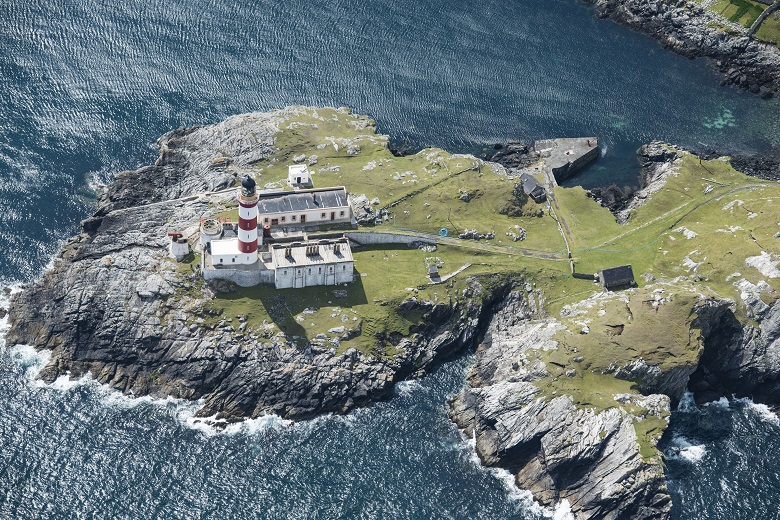 Turning tides
Although Scotland's historic environment does boast fascinating palaces and castles, it's made up of many other incredible buildings like this. In fact, our historic environment can be 'old' but still play a crucial role in society today, like this operational lighthouse.
Eilean Glas Lighthouse can be found on the island of Scalpay in the Outer Hebrides. It was first lit on 10 October 1789, and the site has continued to operate to the present day.
Sadly, coastal sites like this are often more vulnerable to the impacts of climate change. They're at risk from changes to the marine and land environments, like coastal erosion, more extreme weather events and changing patterns in decay in their building fabric.
Gable-end to the sea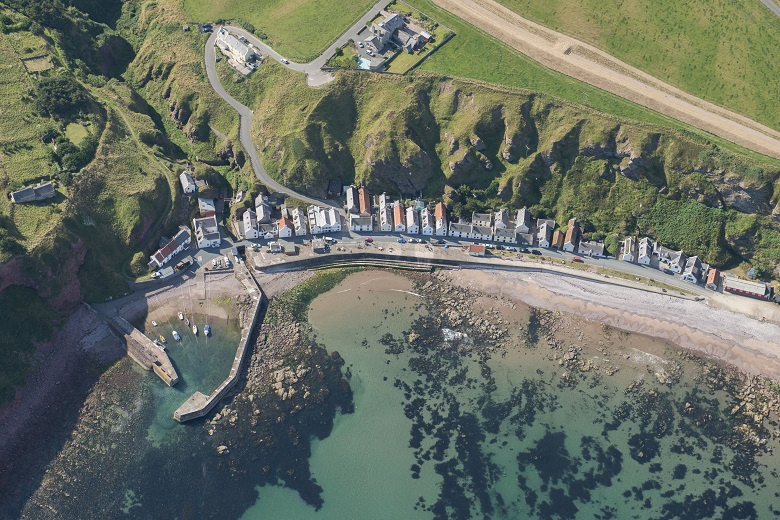 Pennan in Aberdeenshire is an 18th Century fishing village.
Like many historic coastal settlements found across the country, they have been built with their turbulent climates in mind – there is a pattern of dwellings being built with their gable-end to the sea. There are many reasons for this but one linked to climate resilience is that a gable-end is the strongest face of a building, and most resilient against incoming wind and rain.
Cleverly positioning buildings like these has worked well in the past, but the changes we are seeing in our climate now may put them at risk. This is particularly true for changes in weather extremes.
Historic landscapes

Scotland's historic environment stretches far beyond buildings – historic landscapes also reveal incredible stories about how people once lived. The Culzean Castle Walled Garden is part of beautifully designed and curated historic landscape, including the castle itself. This was once one of the most innovative gardens in Scotland.
Many parks and historic gardens like this were laid out intentionally for artistic effect. Tree and plant species were often carefully selected, but changes in our climate mean in the future they may no longer be suitable, and new (sometimes invasive species) may take hold changing the look and character of these landscapes.
Beneath the surface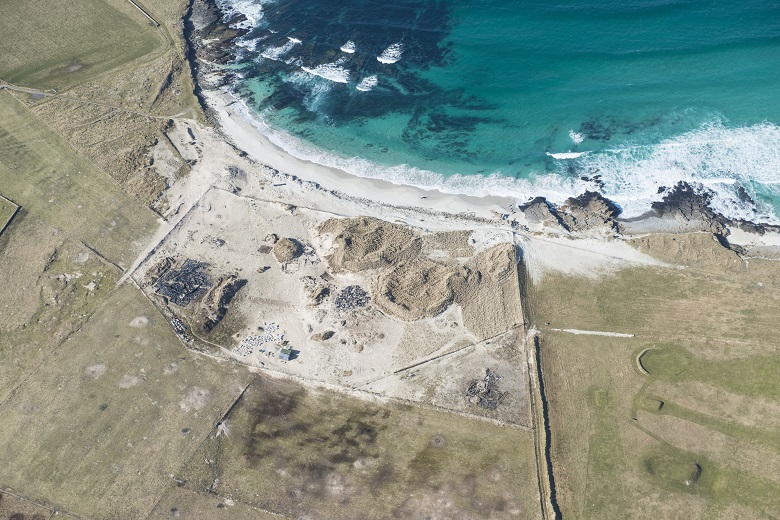 Links of Noltland is an extensive Neolithic farming settlement, and home to Orkney's largest Bronze Age settlement. Over the past few years emergency excavations have been taking place here as a result of the dune system that protected the site for thousands of years breaking down, exposing vulnerable archaeological deposits.
The impacts of climate change can exacerbate processes such as those experienced at this site and speed up the loss of vulnerable buried remains that give us unique insight into how prehistoric people lived.
Slate is great

As a geologist, this image speaks to me! Its an aerial shot of Easdale, a small island off the west coast. Once the centre of the slate industry in Scotland, material extracted here has roofed buildings around the world. In this photo, you can see the old quarries now filled with water quite clearly.
Here we can see how many coastal communities can be vulnerable to impacts from sea-level rise and more frequent coastal flooding. In saying this, it is often the case that coastal communities are the most resilient to these changes as they have evolved and adapted to what can already be a harsh climate.

Objects from the past
For many years, the carved stones of Elgin Cathedral lay buried amidst the ruins. In the 1800s, Elgin shoemaker John Shanks became the first keeper and watchman of the cathedral. When clearing rubble, he discovered many beautiful, intricate carvings.
These objects that trace our history are vital in telling Scotland's stories from the past. Changes in our climate can have adverse effects on the preservation of objects like these stones. Warming temperatures and changing rainfall patterns can make it increasingly difficult to control internal temperatures and humidity levels, which in turn can damage vulnerable objects.
Scotland's historic environment is on the front line of climate change. Find out more about how we're taking climate action.
The images in this blog feature in the Our Place in Time Guide to Climate Change Impacts. The guide identifies many of the risks of climate change facing Scotland's historic environment. It offers owners, local communities and carers of historic sites routes to take action.
---
Share