As Coronavirus restrictions in Scotland are eased, we're embarking on a phased re-opening of the historic sites we care for.
Edinburgh Castle, Stirling Castle and Urquhart Castle will be re-opening their gates from Saturday 1 August -remember to book your ticket in advance! In line with government guidance, we hope to be welcoming visitors to 70% of our attractions by the end of September.
What's more, around 200 unstaffed sites are open and free to access right now, meaning you can start exploring our historic environment again!
From ancient brochs to majestic strongholds, here's some of our favourite spots for taking a stroll and enjoying the fresh air.
Going the (social) distance…
Before you set off "castle bagging", remember that Scottish Government advice around Coronavirus still applies.
When you arrive at any of our reopening sites, we'll need to work together to make sure we are all following the rules and staying protected.
only travel if you're not showing coronavirus symptoms and no-one in your household is self-isolating
avoid touching with your hands hard surfaces such as gates, walls, fences and park benches
stay 2 metres (6 feet) away from other visitors
take hand sanitiser with you and use it often, then wash your hands as soon as you get home
if you're using public transport or visiting a shop on your trip, a face covering must be worn
consider your travel and the destination– try to avoid putting unnecessary pressure on rural communities
For further information on physical distancing see the latest updates from NHS Inform and the Department of Health and Social Care.
Loch Doon Castle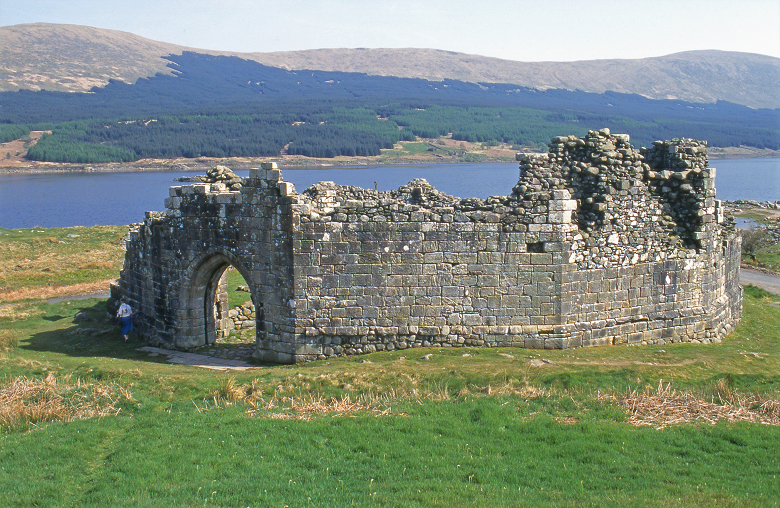 This medieval castle near Dalmellington in Dumfries and Galloway is often associated with the Bruce family. It may even have been built for King Robert the Bruce himself.
75 years ago, you'd have had a harder time getting to Loch Doon Castle for a spot of fresh air. The stronghold once stood on Castle Island, about 400 metres away across one of Scotland's largest freshwater lochs
When a hydroelectric scheme was built here in 1935 the castle was painstakingly moved to its current location brick by brick!
Dunadd Fort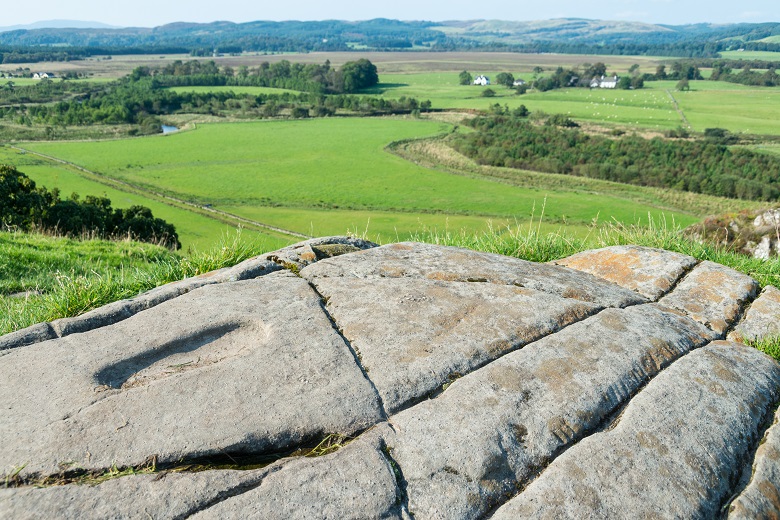 Dunadd Fort rises from an expanse of bog known as Moine Mhor (the 'great moss') at the southern end of Argyll's Kilmartin Glen, one of Scotland's most remarkable prehistoric landscapes.
It was an important royal power centre for Gaelic kings between 500 and 800 AD, and has been occupied for 2,000 years.
Look out for two human footprints carved into the rock at the top. It's thought that these would have been used during inauguration ceremonies for new kings.
Auchindoun Castle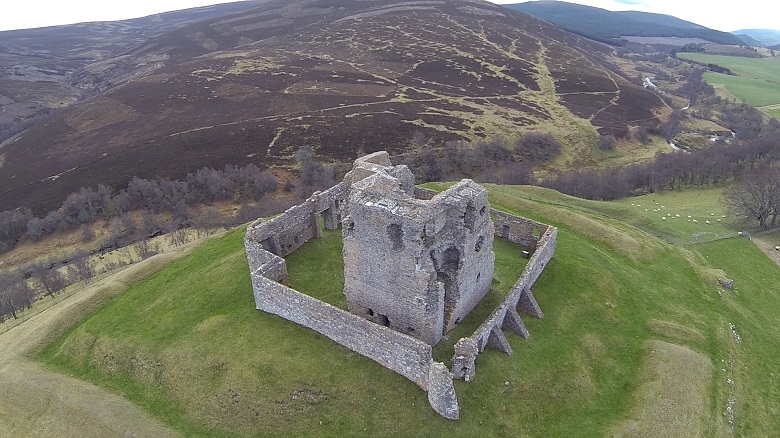 If you're up for a hearty, historic trip to the hills, look no further than spectacular Auchindoun!
This lonely 15th-century stronghold can only be accessed by foot, via a path through the hills south of Dufftown. The romantic ruins and views overlooking the River Fiddich are well worth the walk, though.
Muir o'Fauld Roman Signal Station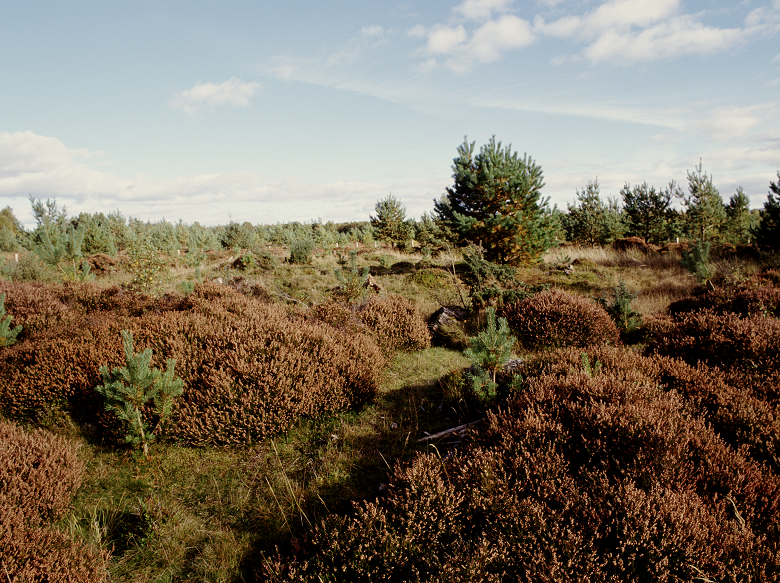 What have the Romans ever done for us? Well, amongst many other things, they've given us plenty of outdoor beauty spots to enjoy!
From places like Bar Hill and Croy Hill, there's plenty of walks to be enjoyed along the route of the Antonine Wall, the Roman frontier which once stretched between the Forth and the Clyde.
One of our lesser known Roman sites is Muir o'Fauld Signal Station. It's accessed via an unassuming woodland footpath close to Trinity Gask in Perthshire. Muir o'Fauld dates to AD 79–80 and was a watchtower on the Gask Ridge Roman frontier.
Dun Carloway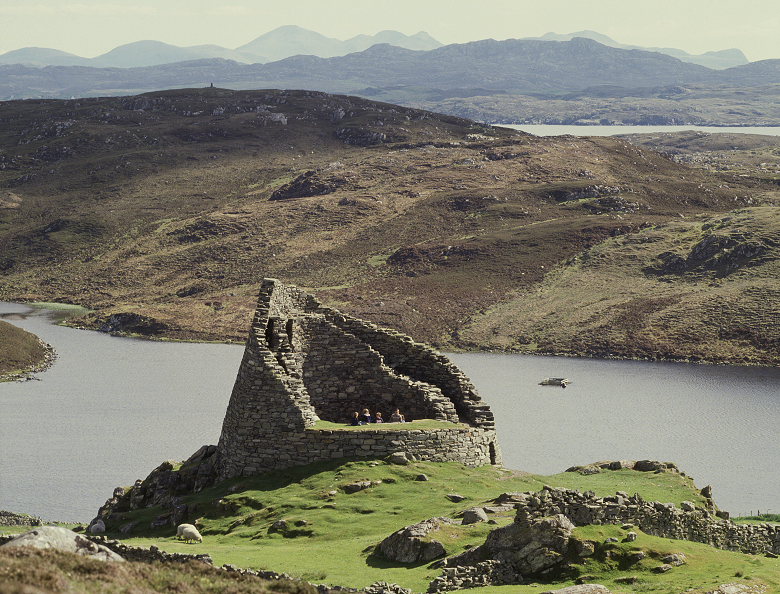 Dun Carloway has been sitting on its perch on a rock on the Isle of Lewis since at least 200 AD.
A uniquely Scottish structure, it has seen use as a pottery kiln, a shelter for cattle raiders and a home for "a respectable looking family" over the centuries.
There's no interior access at the moment due to conservation work, but the broch's stunning location, with views towards Loch Roag and the Atlantic Ocean beyond, makes for a truly memorable walk.
Kilchurn Castle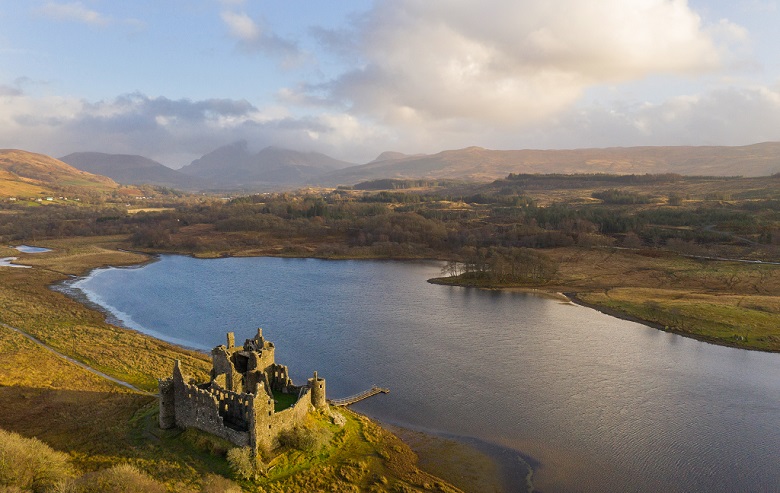 Undoubtedly one of the most photograph-able castles in the land, Kilchurn was the powerbase of the Campbells of Glenorchy since the mid-1400s.
Later on, the fortress on the banks of Loch Awe was converted into a barracks for around 200 men. It was eventually abandoned at the end of the 1700s, becoming the impossibly romantic ruin we see today.
If you fancy an Awe-some lochside walk, there's exterior access to the castle. Check out our blog from HES photographer Matt for some #ProTips on "capturing the castle."
Holyrood Park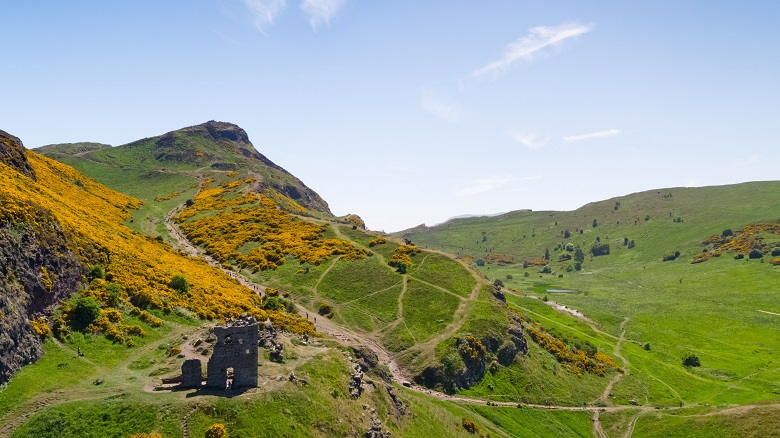 If you're looking for some green space to enjoy in the Capital, follow in the footsteps of generations of Edinburgh residents by heading to Holyrood Park.
It is thought that the crags and slopes of the Park have been used by humans since at least 5000 BC. Evidence of prehistoric agriculture and fortifications can still be seen today.
From the 1100s, Holyrood Park was closely linked with religion and royalty. Generations of Scottish monarchs starting with David I used it as hunting and pleasure grounds.
On a rocky outcrop above St Margaret's Loch you can find the ruins of St Anthony's Chapel, which was once closely associated with nearby Holyrood Abbey. Further up the path is the summit of that famous extinct volcano, Arthur's Seat, and panoramic views across Edinburgh and beyond.
Toilets are available at the Holyrood Park Education Centre.
Peel Ring of Lumphanan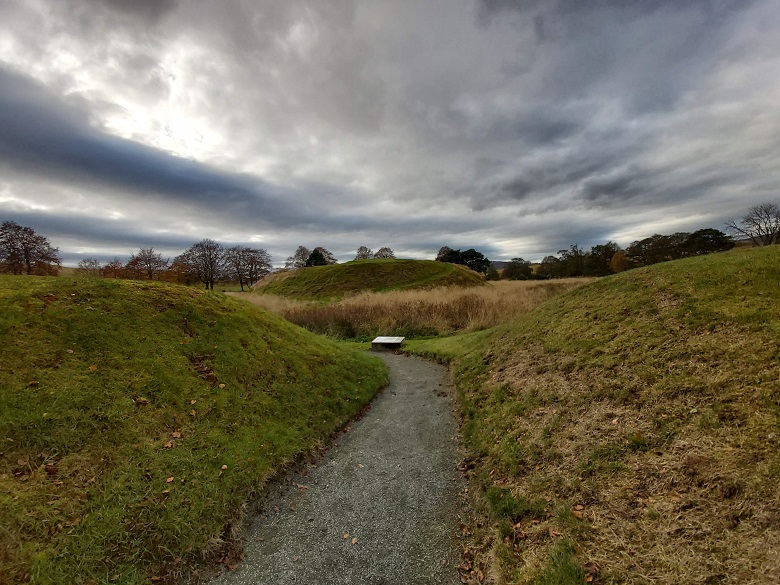 Tucked away beside the Aberdeenshire village of Lumphanan is the Peel Ring, the site of an early timber castle which was once surrounded by a moat.
The castle was once believed to have been the seat of Macbeth, but excavations later revealed it was built some 200 years after his death.
That hasn't ended this grassy spot's association with the famous King of Scotland, though. He is said to have been defeated and mortally wounded by the future Malcolm III at the Battle of Lumphanan in Aberdeenshire in 1057.
Macbeth's Stone, just 300m from the Peel Ring supposedly marks the site where the king died. At Macbeth's Well, he may have quenched his thirst before the final skirmish.
Thousands of years to discover…
From castles, churches and caves to brochs, barns and battlefields, there are many more amazing historic spots to discover. You probably don't even have to go very far!
You can view a list of all of our free and open sites on the HES website, or sign up to our newsletter to receive the latest updates on reopening.
Once again, please remember to adhere to the physical distancing measures and Scottish Government advice outlined above. If it's best not to travel, why not take a virtual trip by heading to our website and exploring our digital resources?
---
Share