Brochs are unique to Scotland. Did you know there are more than 500 of these curious Iron Age round towers? Most of them can be found in the northern and western Highlands and the islands.
Most brochs stood alone, but sizeable villages often surrounded them. The broch village at Gurness is one of the most impressive.
Another thing that makes it special is that it has also been excavated. This exploration has helped to give us a fascinating glimpse into Iron Age life on Orkney.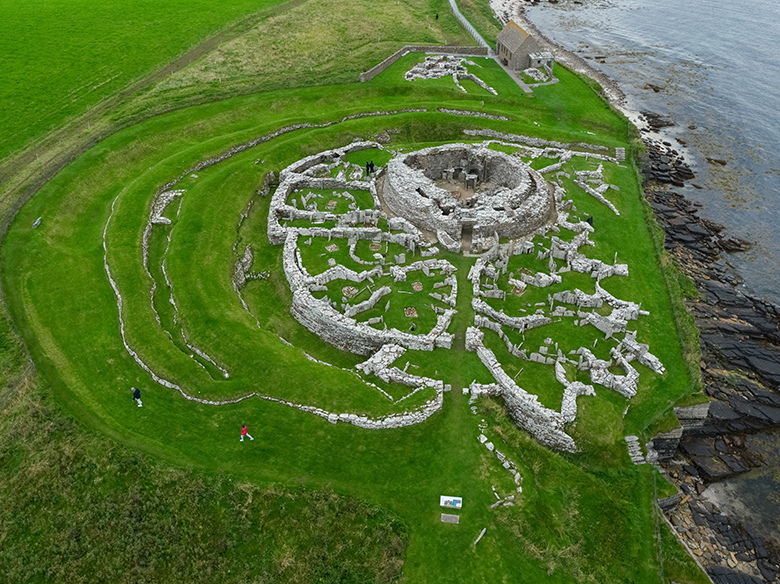 It seems that a village first sprang up here sometime between 500 BC and 200 BC. Deep ditches and ramparts defined a large area roughly 45m across. An entrance causeway was later added on the east side and a circular broch tower built in the west half. A settlement of small stone houses with yards and sheds grew up around the broch tower.
The broch was abandoned and the ditches filled in sometime after AD 100. For the next 600 years, the site appears to have become a single farmstead.
Digging down
If you'd visited the Broch of Gurness in the early part of the 20th century, things would have looked very different. Although it had long been known as the site of a broch (it featured in a list of brochs from 1866), nature had reclaimed the long-abandoned site. All that was visible was a rather shapeless grass-covered mound. The site was known as the Knowe o' Aikerness.
In the summer of 1929, the Orcadian poet and antiquarian, Robert Rendall decided to investigate the site. Working with the tenant farmer, he dug into the top of the hillock. The first thing he uncovered was a staircase.
Rendall took news of his discovery to the Orkney Antiquarian Society. Thankfully the club's Secretary, Dr Hugh Marwick, advised him not to expand his excavation but to seek expert help. Marwick was spot on! Today, Rendall would have been breaking the law by digging on this important archaeological site. You can check out our guidance on applying for consents and how to report accidental finds.
James Smith Richardson, the first Inspector of Ancient Monuments for Scotland, was invited to inspect the site. He visited the site in 1929 and agreed it should be excavated further.
A donation of £200 was secured to begin investigation. The Society of Antiquaries of Scotland purchased the mound and excavations began in 1930. When the full extent of the site was realised, ownership of the seemingly ever-expanding site was transferred into state care in 1932. Excavations continued on an annual basis until 1939. In August 1939, with the outbreak of the Second World War looming only weeks away, the archaeologists made a very exciting discovery – a Viking burial!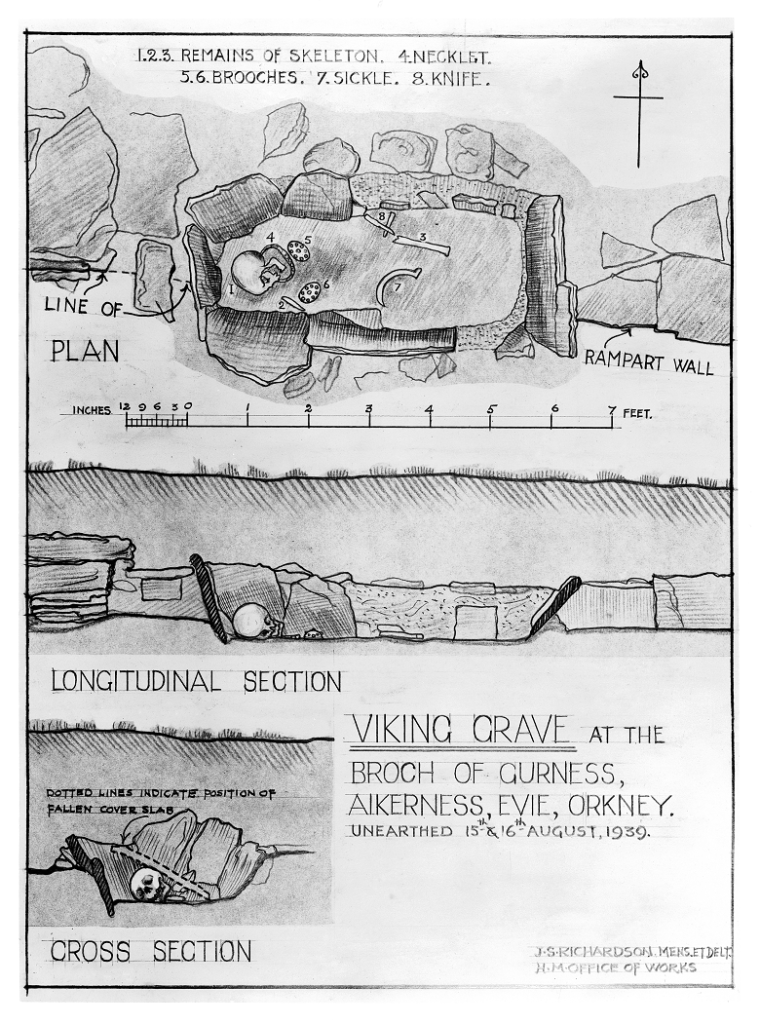 A discovery of grave importance
The skeletal remains were found within the entrance passageway to the broch. The grave was enclosed by small, upright slabs.
They were able to determine that this was the skeleton of a woman. She had been buried with an iron knife and sickle, an iron necklet and a pair of bronze brooches, which have survived in superb condition.
She was buried around AD 850–950, before the Vikings adopted Christianity. We know this because she was buried with grave goods. Other human remains found on the site suggest that she was not buried alone – it seems that other Vikings were buried here too.
As far as we can tell, people began using the site at some point between 500-200BC. When our Viking woman was buried here, the site was already at least 1000 years old.
We're not sure why these Vikings chose Broch of Gurness as burial site. However, recent research from 2015 suggests that it may have been chosen as a visible, well-known, already historic site. This was perhaps a way for the Vikings to establish their legitimacy in a new land .
Intriguingly, recent isotopic analysis of the bones suggests that this woman was not from Orkney. The results indicate that it is likely she spent her childhood on the east coast of Ireland or in south east England.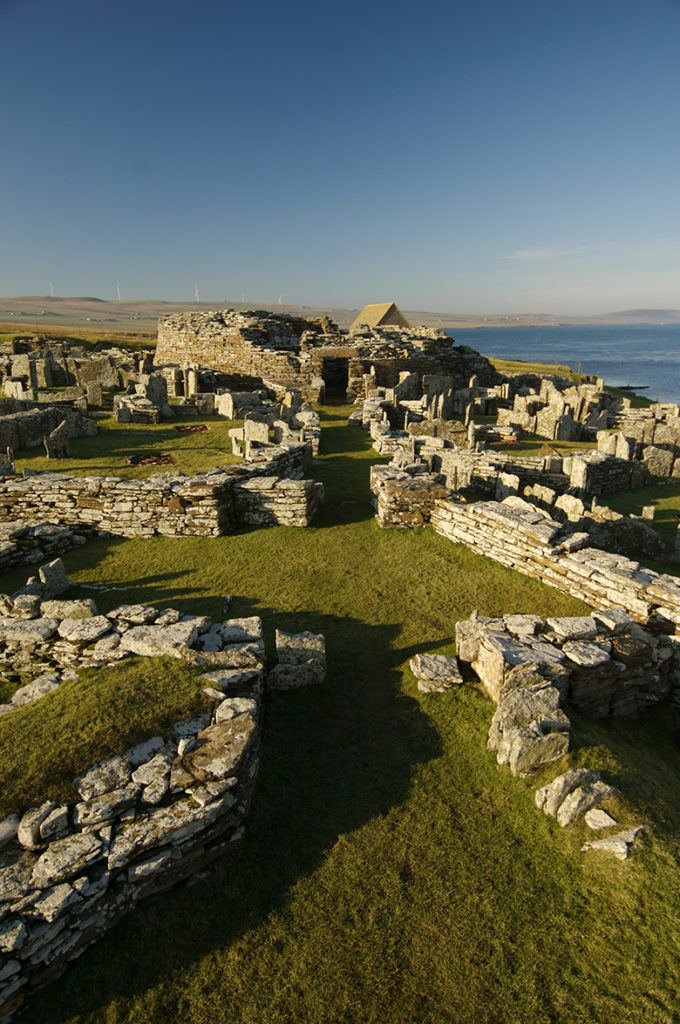 Back to the broch
Unfortunately, Richardson never managed to resume the excavations after the war. It was 1961 before archaeologists returned to this exciting site. Thankfully, it shouldn't be such a long wait for visitors wanting to return to the Broch of Gurness. It's currently closed but we look forward to welcoming you again in summer 2021.
If you want to visit other Orkney sites, you can find out what's open and when – and pre-book your tickets! – by following the links on our Historic Reopening page.
All of our unstaffed sites are also open to visitors. However, quite a few of these are exterior only due to the difficulty of managing visitor safety in small, confined spaces.
Thanks!
Special thanks go to Stefan Sagrott in the Historic Environment Scotland Cultural Resources Team for collaborating on this blog.
---
Share