It's Scottish Archaeology Month and to celebrate we're unearthing some of the curious objects found at Scotland's iconic historic sites.
The objects people leave behind can give us a glimpse into the lives of people who lived and worked in these places over the millennia. Sometimes they can illuminate, other times they might mystify! And we may always be left wanting to know more about who made them, who used them and why they were lost or discarded.
Our Collections Team looks after over 38,000 items which have a connection to our sites. They span 5,000 years of history and include archaeological finds which have been made over the years at the sites we care for. Let's take a look at some of the fascinating objects that have come out of the ground over the years…
Tantallon "bawbee"
Placks, half-unicorns, testouns, bodles and bonnets are all names for old coins of varying values through Scottish history. Unless you're fiercely into numismatics (the study of coins) or a dab hand at a difficult crossword, you've probably not heard of these coins. But the chances are that you've heard of a Bawbee! Immortalised in the song Ally Bally Bee, a bawbee is a Scottish sixpence. These were issued from the reign of James V of Scotland to the reign of William II of Scotland.
This coin dates to the reign of Mary Queen of Scots and was found at Tantallon Castle. It was produced sometime between 1542 and 1567.
One side shows the saltire in the centre – the cross we see on the Scottish flag. The word "Edinburgh" is also visible. This tells us where the coin was made.
The other side has the letters M for 'Mary' and R for 'Regina' – meaning 'Queen' in Latin. The letters are either side of a thistle with a crown on top of it. The thistle is the national flower of Scotland and the crown represents the monarchy.
The coin is very worn around the edge so we cannot see what was written there. However, we know that it would have read 'Mary, By the Grace of God, Queen of Scotland' in Latin from studying other bawbees from the same period.
Islamic glass from Caerlaverock
These rare fragments of 12th or 13th century Islamic glass were found during a 1999 excavation at the Old Castle at Caerlaverock. They are the only finds of their kind in Scotland.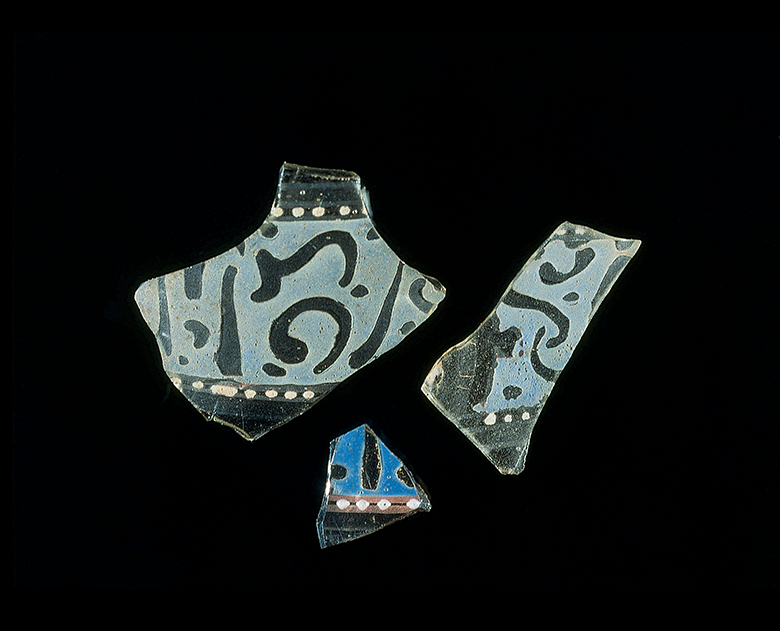 They're decorated with Arabic characters and are thought to have been made in modern-day Syria, but possibly Iraq or Egypt. All of these places were centres of Islamic glass-making at the time.
The inscription includes part of the word 'eternal', which suggests that it's an extract from the Qur'an. The largest shard is slightly curved and its shape suggests it may have come from a drinking beaker. The glass may have been brought back from the Near East by a crusader.
Roman brooch from Edinburgh Castle
Archaeological digs at Edinburgh Castle between 1988 and 1991 revealed that the people living and visiting the site of the castle in the first couple of centuries AD were big fans of Roman "bling". Archaeologists found several brooches from the time of Roman Britain.
These finds tell us that the people here were in contact with and shaped by the culture of more Roman parts of Britain.
This one is known as a 'dragonesque' brooch. Its S-shaped form has an animal head at either end, each with an eye, a snout and an ear. Dragonesque brooches were not just decorative – they also helped to fasten clothing. A curved pin (missing on this example) would have held a thick fold of cloth.
Tool from Skara Brae
This tool  from Skara Brae is a bit of a mystery. It likely dates to between 3100 and 2400 BC. There wasn't much wood available on Orkney, so even tools like this were carved from stone.
The roughly triangular slab has been coarsely notched along one edge into seven widely spaced, short blunt teeth. Perhaps it's some sort of hand held rake? If you have any theories, we'd love to hear them. Leave a comment here on the blog or stop by and say hello on our Facebook or Twitter accounts.
Ewer from Urquhart Castle
We reckon this jug has a tale or two to tell! This ewer was unearthed at Urquhart Castle in 1921. If you look closely, you'll notice a hole in the neck. There's a story that a musket ball was found inside the jug when it was excavated, but we reckon this sounds pretty fanciful!
This would have been a prized object within the castle. It is elegantly made with an animal shaped spout. Jugs of this kind were used to wash hands over a flat bottomed bowl.
The person who made this jug probably came from the mainland Europe, where similar examples can be found in paintings dating from the 1400s to the 1500s.
Communion token from Melrose Abbey
This little token, about the size of a new 5p piece, was found during an archaeological excavation of the great drain at Melrose Abbey. It was discovered just outside the walls of the Commendator's House. Commendators were lay administrators and during the Scottish Reformation in the 1500s they began to replace abbots as the men in charge of abbeys.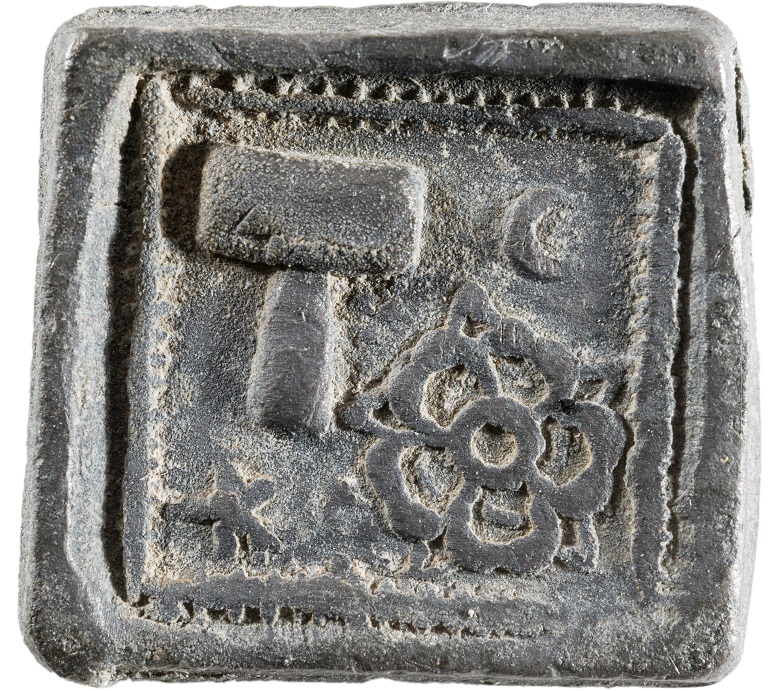 Communion tokens were first suggested by John Calvin, the leader of the Protestant Reformation in Geneva. The tokens were issued to members of Reformed churches in order to identify those considered worthy to take part in the communion service.
Tokens of this kind were common in Scotland in the 17th century. It features a mason's mell hammer and a rose, a visual pun on Melrose.
Find out more
Sadly we're not always able to display our Collections objects at the sites where they were found. Many of them are fragile and need to be cared for in special environments. The good news is, that many of the items in our collections are now catalogued online and you can explore them there.
---
Share