This blog explores the remarkable life of Peter Burnet, who travelled from Virginia to Scotland where he began a fascinating new life at the heart of Paisley's weaving society.
Most of what we know about Burnet's life (and the basis of this blog) is gleaned from John Parkhill's biography Life of Peter Burnet written in 1841. It is a life filled with friendship, adventure and triumph against adversity.
Virginia Beginnings
Peter Burnet was born on the Virginia estate of Thomas Todd around 1764. According to Parkhill, his grandfather worked in a prestigious role in the service of an African prince before being captured as a prisoner of war and sold into the Transatlantic Slave Trade.
The full details of Peter's early life are unknown. Parkhill states that Peter's grandfather worked as a gardener while his father laboured on the plantations. His mother had died when Peter was very young, meaning Peter was brought up by "the old people."
As his mother was not an enslaved person, Peter was considered freeborn, though as a Black person in America in the 1700s, his rights were still limited to education, certain professions and more. Peter's grandparents are also said to have become free, although it is not clear how or when. Nonethelesss, Peter's early life was inextricably linked to the institution of slavery, and Peter soon became keen to leave Virginia.
Escape to Sea
At the age of 11 or 12, with the American War of Independence in full swing, Peter joined a group of older enslaved persons who planned to seek their freedom by sailing a boat along the North River into Chesapeake Bay.
The going was tough, with Peter stationed at the bottom of the boat to bail out water. After sailing for 11 hours through the night, the group eventually reached the bay. Their craft was intercepted British privateer, The Fencastle, which employed Peter as a cabin boy.
Though he initially trusted the kindly Captain Furlong, Peter received a tip off that he would soon be sold into slavery, to a plantation in the West Indies belonging to Furlong's brother. He slipped away from The Fencastle while it was moored in New York.
From New York to Renfrewshire
Peter turned his attention away from seafaring, obtaining work in the service of Mr William Torrance, a Glaswegian merchant whose family owned successful businesses on both sides of the Atlantic, including "a large store" in New York.
Though an "excellent, kind and obliging" man who was "the best of masters", Torrance struggled with alcoholism. His ill health required close attention from Peter.
When he was forced to return to Scotland, Peter readily agreed to accompany him on the voyage. Torrance's recuperation failed. He died lamenting the fact that he had taken Peter to an unknown country.
Presented with a new start, Peter was encouraged to learn a trade. He moved to Kilmarnock where he met another Black migrant who worked as a millwright for a Mr George Tannahill. It was Tannahill who suggested Peter begin a career in weaving, and wrote him a letter of introduction to his Paisley-based cousin. The year was 1780.
Prosperity in Paisley
Peter arrived in Paisley armed only with a small amount of money and instructions to present himself at the home of James Tannahill. There's little doubt that a Black American, unfamiliar and striking in appearance, caused a stir in the Renfrewshire town.
Peter was welcomed into the Tannahill household, which, according to Parkhill, was strictly religious and included all manner of "books of interest, instruction and amusement."
With comfortable lodgings and a job in the booming weaving industry, "Black Peter" became a successful and popular figure in Paisley. After learning his trade under "an old weaver" called John Boag, he was able to set up his own business.
Peter's success gave him the wealth to dress in the latest fashions and enjoy a lifestyle of socialising and dancing. Parkhill's description of Peter at this time speaks of a "black velvet coat", "gold spangled vest" and "a tuft of hair on the crown of his head by which, according to his African mythology, he was to be lifted up into heaven."
Eighteen months in Edinburgh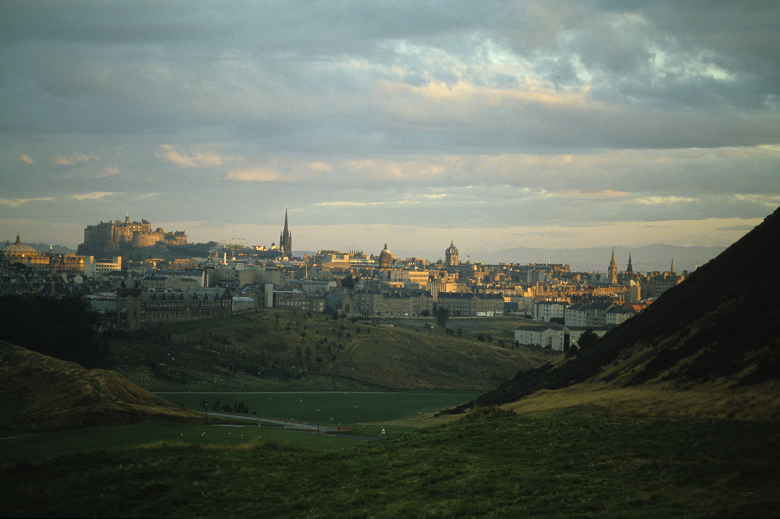 A stagnation in his weaving business around 1788 forced Peter to temporarily return to working in service roles. In 1790 he was working as a "livery servant" in Edinburgh.
The biography describes him waiting on high society including one Mrs Pringle, "an old lady with a sharp squeaking voice and fiery as gunpowder." Next came Mr Campbell, another wealthy man with a love for wine, then Mr Clerk, a "stately old gentleman" who sent Peter on shopping trips with his three daughters.
After a year and a half trade picked up, allowing Peter to return to his loom and "merry life" in Paisley. Parkhill notes that a "ball alley" had been built near Peter's loom, with Peter becoming "proficient at ball-playing."
With "a number of new companions" he "was looked upon as one of the smartest fellows of the day". Of all these friends and acquaintances, the most notable is the songwriter and poet Robert Tannahill.
Sorrow at Maxwellton Burn
Robert, the son of James Tannahill, composed his work at the loom, earning him the nickname "the Weaver Poet". He was greatly influenced by Burns and founded the Paisley Burns Club in 1805. Often writing in Scots, he enjoyed a flurry of success in the early 1800s with a volume of poems entitled The Soldier's Return.
Parkhill tells us how Peter would entertain Robert and his siblings with ghost stories and tales of his American adventures. Peter's influence almost certainly made its way into Robert's writing, which displays plenty of anti-Slave Trade sentiment.
Sadly, this unique friendship was to end in tragedy. Robert, suffering from bouts of depression, began to pin a great deal of hope on the release of his second collection of poetry. When it was rejected by his publisher, he destroyed all of his work and papers. A severe nervous breakdown followed.
On the morning on Thursday 17 May 1810, 36-year-old Robert was found drowned in a culvert of the Maxwellton Burn, which runs under the Glasgow, Paisley and Johnstone Canal.
According to reports, it was "Black Peter" who dived into the water to recover the body of his friend, an act which is still remembered locally.
Tragedy and the Tolbooth
Peter's own personal life was not devoid of tragedy or hardship. Some time after Robert's suicide, he was accused of owing his landlord money.
Too proud to allow his friends to help financially, he was imprisoned in the town's Tolbooth. The Tannahill family provided a bed and food. Parkhill claims Peter shared them with a convicted murderer. He was eventually released after taking an Oath of Poverty.
Having promised to improve his finances and cut back on his lavish lifestyle, Peter married Peggy. She was the daughter of his former employer John Boag, whom he had fallen in love with as an apprentice. But tragedy struck again when Peggy died in childbirth, along with Peter's first child.
Once again Peter was consoled and supported by the Tannahills. Eventually he re-married to a Glaswegian, "one of the prettiest creatures you could see amongst a thousand". A steady, proud and industrious marriage followed, producing three children.
A Denizen of Paisley
Peter was widowed three times in total. His second wife died of consumption, his third of an unspecified illness. He outlived two of his four children, the others moving away to Greenock and London.
By the end of Parkhill's biography he is "removed to the other end of town", an old man struggling with poor health. Peter Burnet died in 1847 at the age of about eighty-three.
But his life was not one of complete sorrow. For a Black migrant to arrive penniless in Paisley in the late 1700s to establish himself as a prominent businessman, enjoy the lifestyle he did and become a respected elder of his community was nothing short of remarkable. Life of Peter Burnet is testament to the regard in which Paisley's "Black Peter" was held.
Peter Burnet in Poetry and Prose
Parkhill intended that the book would aid his old friend financially. An 1841 poem by John Campbell (1814-85) explains how Peter himself sold copies door-to-door, for three pence each. Ultimately, it was a great success, running into several editions.
From the passionate introduction it is also clear that it was one small, but not insignificant, attempt to condemn the Transatlantic Slave Trade and promote racial harmony.
Peter Burnet is, writes Parkhill,
a man of colour who has lived amongst us for the long period of sixty years, and who may almost be considered a denizen of Paisley."
He is a man "whose opinions and manners have amalgamated with those around him, and whose characteristics have been those of an industrious and sober citizen, a good husband and a kind and indulgent parent."
Campbell, echoes Parkhill's sentiments:
To tell all Peter's rigs and loves would take a whole night's chatter,
For after this he married twice, 'twas all for love, no matter;
And now, alas! for Peter, he's grown old and poor also,
But he's still a fine old fellow, as ever you saw go."
---
Share