Whether you like to visit historic places, help to look after them, or run tours and visitor operations, you'll have noticed the boom in local tourism following the COVID-19 pandemic.
Although this is not a new phenomenon, sustainable tourism has become a bit of a buzz word lately. But what exactly does it mean?
With the world's biggest climate change conference, COP26, taking centre stage in Glasgow this year, every sector in Scotland is reflecting on the changes needed to tackle climate change.
Here at Historic Environment Scotland, we operate some of Scotland's most iconic historic places as visitor attractions. While world leaders discuss global initiatives to address the climate emergency, the Scottish tourism industry is asking what can we do to make a difference?
Sustainable and responsible tourism could be a way forward.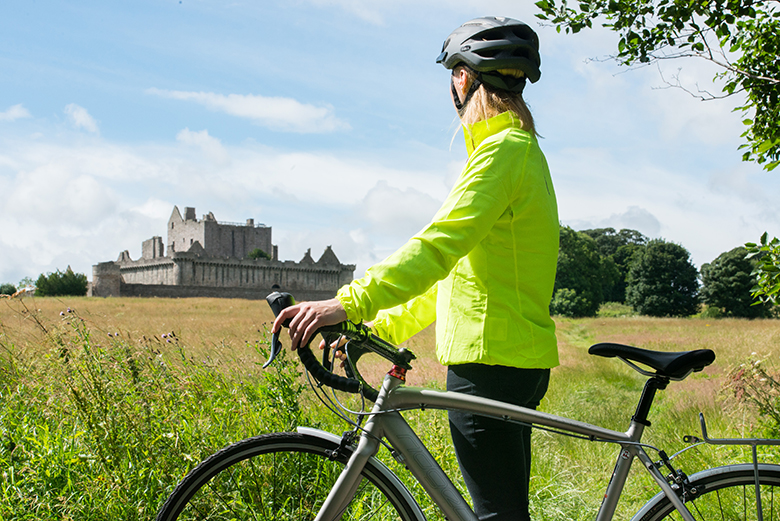 What is sustainable tourism?
Sustainable tourism is a way for visitors to enjoy Scotland's stunning landscapes, wildlife, heritage, and culture, whilst reducing tourism's negative impacts and increasing its benefits. It focuses on the tourism industry as a whole. Every step of the journey is important, from environmentally friendly ways of travel to authentic experiences at any destination. We must all work together to make tourism a real force for good.
Alongside responsible tourism, which focuses on enabling individuals and businesses to act sustainably, sustainable tourism should achieve two main goals:
reduce greenhouse gas emissions
benefit local communities and economies
What can sustainable tourism do for Scotland?
Tourism can have both positive and negative impacts. There are three main areas affected by tourism:
society and culture
the economy
the environment
The socio-cultural impact of tourism is rooted in how tourists interact with the culture and communities they visit. In 2019, Scotland saw over 150 million visitors. Any uncontrolled influx of people can place local areas under stress. In extreme cases, this can cause resentment by locals towards tourists and even the loss of traditional industries and authenticity.
However, when visitors support small local businesses (for example by buying food, gifts, and crafts made in the local area), or when they take part in authentic experiences, immersing themselves in the local history and culture, they enable communities to grow and thrive.
Income from our visitors supports our local businesses, generates jobs and helps to build and maintain infrastructure which should first and foremost benefit our communities, as well as our visitors.
As visitors flock to see destinations in Scotland, our environment can also struggle to cope. More visitors mean more traffic – pedestrians and vehicles – causing wear and tear to our landscapes, more pollution, and damaging wildlife habitats.
But, if we all tread lightly and promise to leave only footprints and take only memories, we can ensure the natural environment remains a place for all to enjoy.
How does tourism affect climate change?
The Scottish Government has ambitious climate change targets, and sustainable tourism has such a big part to play in our route to net-zero. Globally, tourism contributes around 8% of carbon emissions. The recent Intergovernmental Panel on Climate Change (IPCC) report has highlighted again the need to prioritise reducing emissions to avoid more than 2°C global warming by 2050.
Greenhouse gas emissions are produced by all aspects of tourism, including travel, accommodation, hospitality, and retail. Sustainable tourism can encourage visitors to lower their carbon footprint by taking fewer trips and spend longer at their destinations, choose lower carbon methods of transport and promoting energy efficiency.
How can we protect places we visit?
One of our first lines of defence is research. If we can better understand the impacts of tourism, climate change and more, we can find solutions to tackle them. It also means we're able to take decisions that will bring the biggest benefits.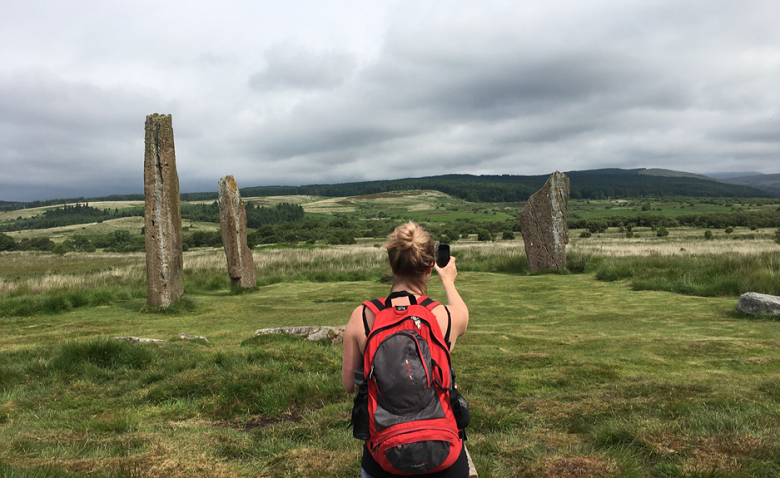 While we're out at sites – especially unstaffed sites that aren't routinely monitored – you can help with this research. Monument Monitor is a project inviting visitors to become citizen scientists.
Photos people take of our historic places can help us identify trends, including climate change impacts, and flag issues relating to heritage crime. With the help of responsible tourists, we can ensure our sites are cared for, for future generations to enjoy.
We can also manage our impacts on the environment and host communities. Remember you are a guest, so always respect locals, wildlife and the environment.
Some of the pressures on the environment and host communities can be alleviated by hosting events outwith peak times, which differ from destination to destination. Offering activities all year round and all around the clock not only creates more stable employment, but also ensures communities don't rely on typical tourist seasons.
These events are also a great opportunity to share the local culture and traditions with visitors, enriching their journeys, fostering respect and creating value.
A sustainable sector
It's not only visitors who can do their part. Tourism organisations and heritage bodies should develop low-carbon ways of working.
This includes how organisations like us operate and looking at the entire tourism life cycle:
retail and active
sustainable travel
sustainable procurement
circular economy
waste management, such as reducing food waste and the use of single-use plastic items
Want to know more? Discover how we're working towards sustainable tourism at HES in our Climate Action Plan.
---
Share