Travelling sustainably to visit Scotland's historic sites is a great way to reduce your carbon footprint. Plus it has lots of added benefits like improving your health and wellbeing, reducing pollution and improving air quality.
Inspired by COP26 coming to the city, we wanted to highlight some of the amazing historic places you can reach from Glasgow by using sustainable transport.
There's the magnificent Glasgow Cathedral, of course, which sits right in the heart of the city, and you probably know that the iconic strongholds of Edinburgh Castle and Stirling Castle are straightforward day trips. But there's much more to be discovered!
Below are five super Historic Scotland castles you can visit sustainably by train, bus, bike, foot (or a combination!) from Glasgow Queen Street. Let's go!
We've included carbon emission figures on some journeys so you see how each type of journey contributes to your carbon footprint. (Note that public transport emissions are per person, whereas car emissions are per vehicle).
Dumbarton Castle
A 10-minute walk from Dumbarton East station you'll find the mighty Dumbarton Castle. The stronghold occupies a daunting and dramatic position on a volcanic crag known around these parts simply as "The Rock".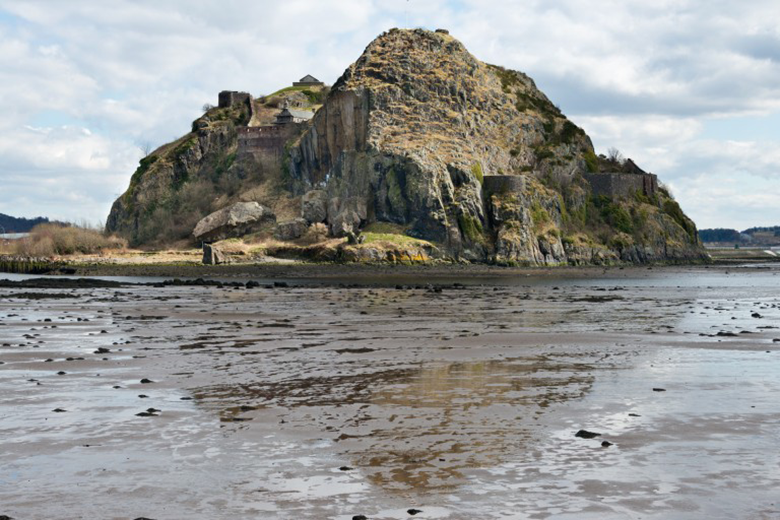 It's guarded the meeting point of the River Leven and the River Clyde for some 1,500 years. In that time it's been a target for the Vikings, an important royal castle and a World War II military garrison. In 1548, Mary Queen of Scots stayed at the castle until ships could take her to safety in France.
After exploring the fortifications and the Governor's House, it's worth climbing the 500 steps to take in the views from the White Tower Crag. On a good day they stretch as far as the peak of Ben Lomond.
How can I get there?
By train:
Hop on a 40-minute train from Glasgow Queen Street to Dumbarton. Alight at Dumbarton East for a shorter 10 minute walk along Victoria Street. Otherwise, a 25 minute walk from Dumbarton Central allows you to take in some of the sights of the town as well. The train's carbon emissions are 1.7kg CO2e, compared to 11.2kg CO2e going by car.
Cycling:
If you're up for a ride, you can go zero-carbon and cycle to Dumbarton Castle in about 1 hour and 30 minutes. Follow the National Cycling Route 7 which includes some traffic free tracks and Clyde-side vistas.
Crookston Castle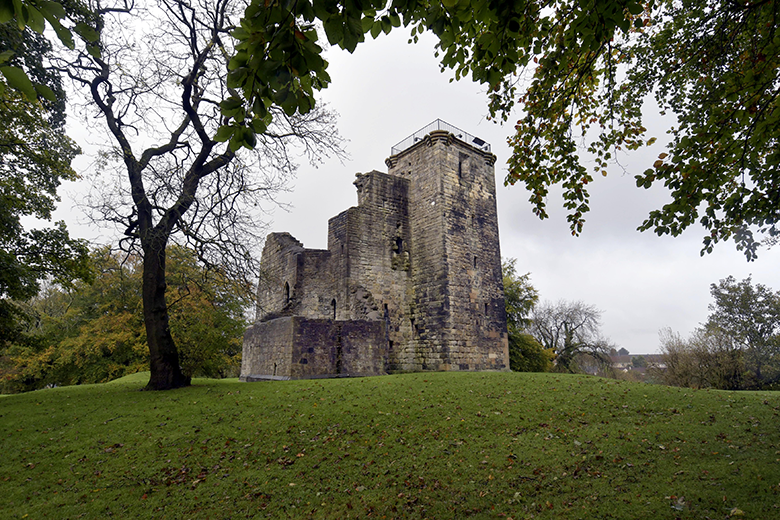 Crookston Castle is the only surviving medieval castle in Glasgow and you can get fantastic views of the city from its hilltop position. The uniquely laid out ruin we see today was built in the early 1400s, probably by Sir Alexander Stewart, who was lord of Crookston from 1374 to 1406.
During an uprising against James IV in 1489, guns which may have included the famous Mons Meg were brought from Edinburgh to besiege Crookston. Two of the castle's towers were possibly lost in that attack, but the north-eastern tower still stands proud. It was used as a watch tower during the Clydeside blitz.
How can I get there?
By Bus:
A short walk from Queen Street via Buchanan Street and St Vincent Street will take you to Renfield Street, where you can jump on an X8 bus to Crookston. Alight at Levendale Road and it's a short walk via Crookston Road and Brockburn Road to the castle.
By Subway and bus:
A trip to Glasgow wouldn't be complete without a ride on the Subway! One of the oldest underground metro systems in the world, it opened in December 1896. From Queen Street, head to Buchanan Street Subway station and catch the Inner Circle via Kelvinbridge to Govan.
The Glasgow-Govan Interchange is a minute's walk from Govan Subway station and from here you can take a number 3 or a number 49 bus to Brockburn Road and the castle.
Aberdour Castle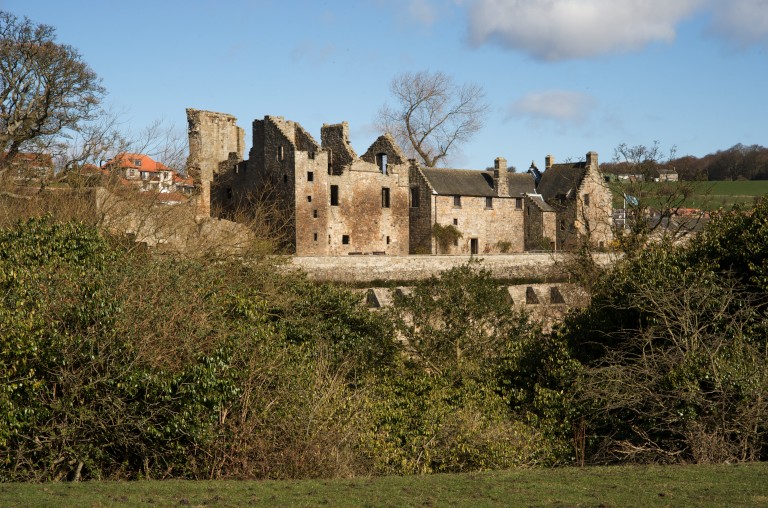 It's a short walk from the train station in the pretty Fife village of Aberdour to what is possibly Scotland's oldest standing castle. Dating back to the 1100s, it acted as a noble residence for centuries.
As you explore the castle buildings and the beautiful walled garden and terraces, it's possible to imagine what life was like here during medieval times. Stepping inside the wonderfully-preserved doocot is a highlight, as is enjoying a crunchy apple from the extensive orchards!
How can I get there?
By train:
The 1 hour and 30-minute train journey starts from Glasgow Queen Street station. Hop on the train to Haymarket and change at Haymarket for Aberdour. From Aberdour station, head towards the High Street and you'll soon see the signs for the castle! This journey clocks in at 4.4kg CO2e (it would be 27.4kg CO2e by car).
Huntingtower Castle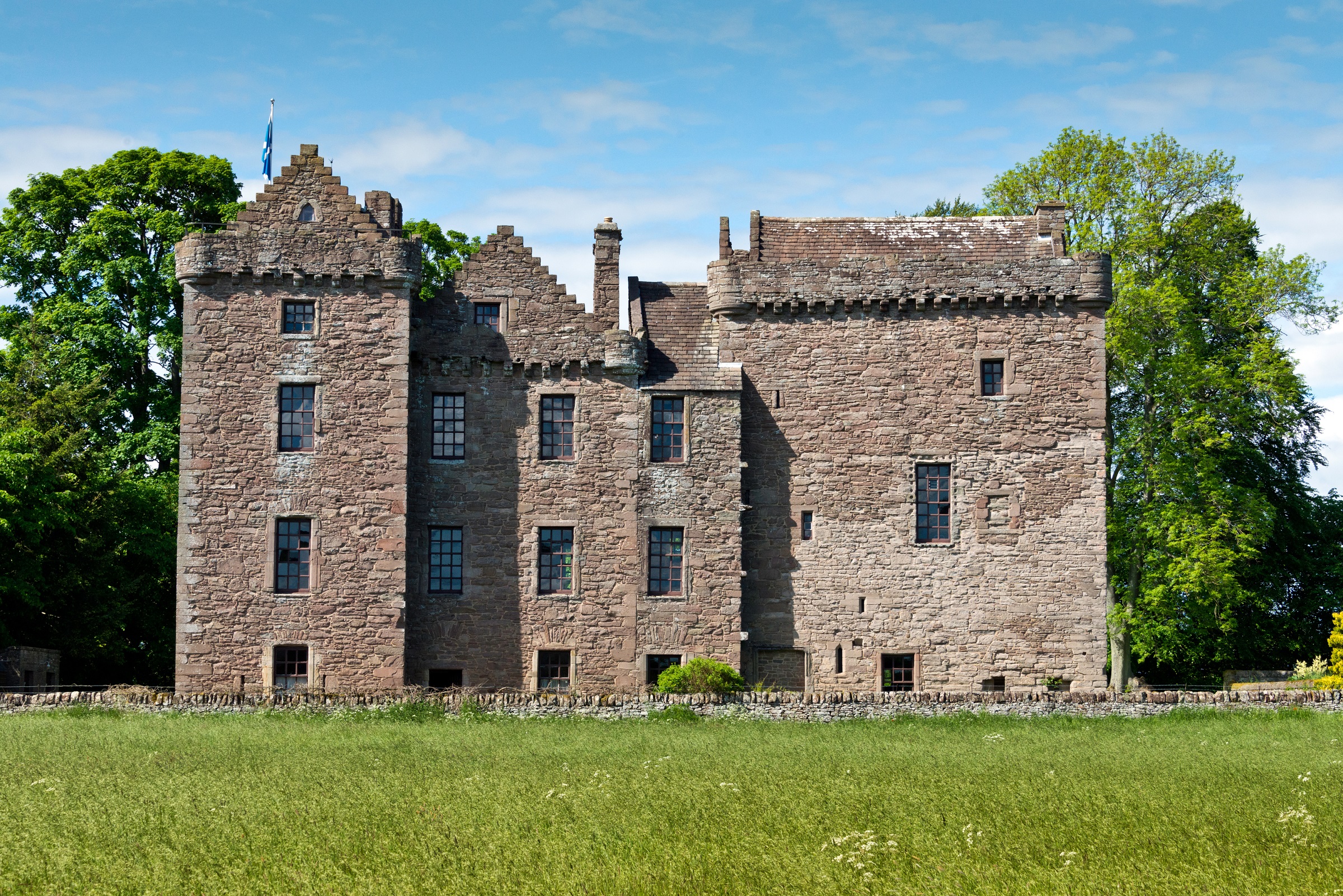 On the outskirts of Perth you'll find a quirky castle that acted as a lordly residence for about 300 years. Huntingtower Castle has an unusual arrangement: though it now looks like one building, it actually consists of two closely-placed tower houses about three metres apart!
It once served as a honeymoon destination for Mary Queen of Scots, and it is home to one of the oldest surviving painted ceilings in Scotland and beautiful fragments of wall frescoes.
A trip to Huntingtower is a perfect historic afternoon out, and it also gives you the chance to explore the rest of what Perth has to offer. Nicknamed the Fair City, it's a hidden gem full of attractions including Kinoull Tower and Scone Palace.
How can I get there?
By train and bus:
Hop on the train to Perth from Glasgow Queen Street train station which will take you about 1 hour and 10 minutes. From Perth station, walk up to the bus station on St Leonard's Street and get the number 15 bus to Castle Brae. Once you get off the bus, it's a very short walk to the castle. This combination of train and bus comes out at 6.4kg CO2e (the car would be 31.2kg CO2e).
By train and cycling: 
Instead of getting the bus to the castle from the train station, there's the option of cycling. A scenic riverside route will take you 30 minutes. Head towards the North Inch, up the River Tay, then turn left to cycle up the River Almond (part of the National 77 cycling route). Follow this path until you see a sign directing you to Huntingtower. This route uses 5.4kg CO2e.
If you're planning on taking a bike on a train journey, you'll find designated cycle spaces on all ScotRail trains. The majority of services operate non-reservable cycle spaces on a first come first served basis, but it's always worth checking with ScotRail.
Dunstaffnage Castle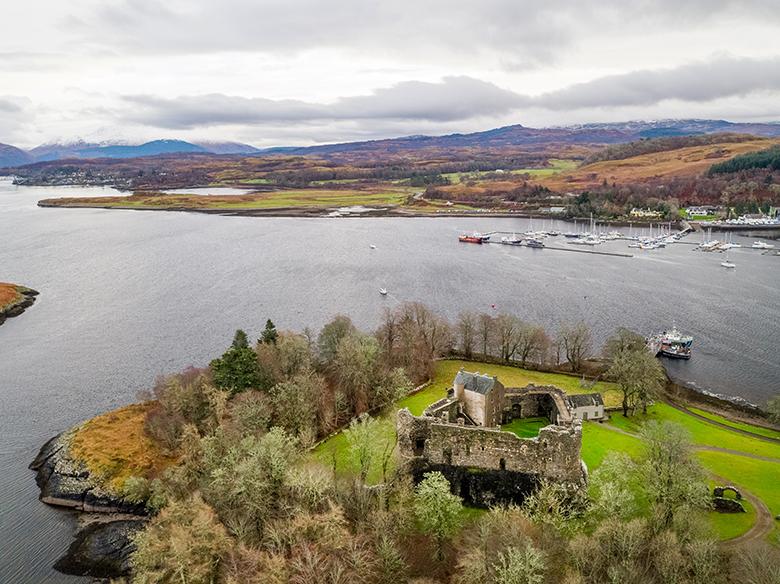 If you fancy a trip further north, you could head over to one of Scotland's oldest stone castles. Situated on a dramatic coastline near Oban, Dunstaffnage Castle once protected the heart of Scotland during struggles with Norway.
It's associated with one of Scottish history's most celebrated figures, Flora MacDonald, who was briefly imprisoned here after she helped Prince Charles Edward Stewart avoid capture after Culloden.
Oban itself is home to many other historical sites, including McCaig's Tower and Battery Hill. It's also a perfect place to go to learn about Scotland's marine wildlife. Why not pack an overnight bag and plan a short break round this bustling coastal town?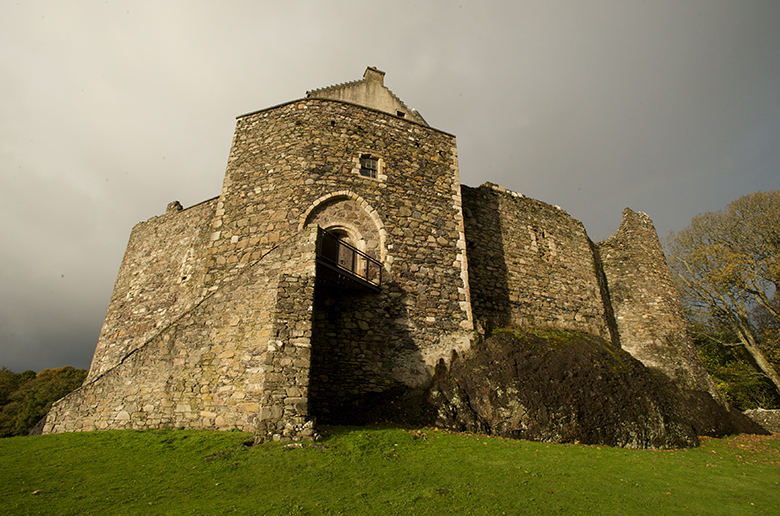 How can I get there?
By train and bus:
The train to Oban from Glasgow Queen Street takes 2 hours and 30 minutes. From Station Square in Oban you can find a number of buses that head towards the castle, including the 976 and the 405. Ride the bus for about 25 minutes and get off at Road End. From here, it's a 20-minute walk to the site, and a total of 7.8kg CO2e. The same by car would be 49.6kg CO2e.
By train and cycling:
You could also cycle from Oban train station which would take 30 minutes and make the trip 6.8kg CO2e. The route is mostly traffic free. It is essential that you book in advance with ScotRail if you're taking your bike on the Glasgow-Oban service. 
Share your adventures!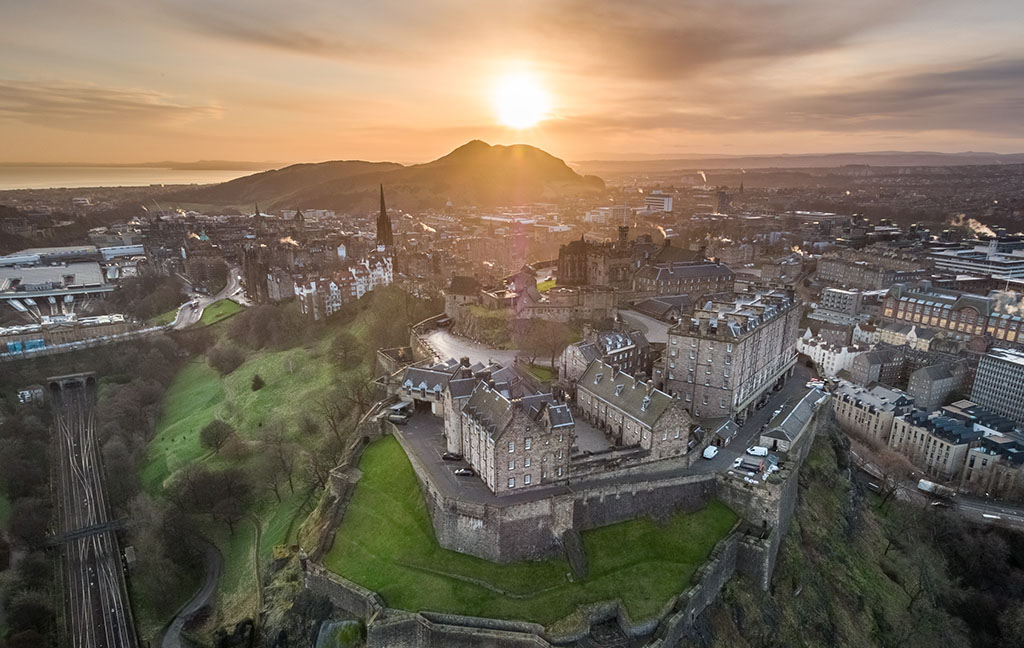 Inspired to leave the car behind and embark on an environmentally-friendly journey to one of our 300+ historic sites?
We'd love to see photos of your days out at our sites. Tag us on Historic Scotland Twitter, Facebook and Instagram. And be sure to let us know about any sustainable transport hacks you might have for reaching a historic spot!
For more on sustainability and climate change, head to the dedicated section of the blog where you find out why COP26 matters for our climate heritage, see us add solar panels to a medieval castle, learn how a monk's menu can help save the planet and much more!
---
Share