What better way to relieve stress than by delving into the stories of the past? At least that's what I've always thought. Getting out into Scotland's historic places (especially the more remote ones) has always been great for my wellbeing.
As part of the Historic Scot Youth Forum supported by Young Scot and Historic Environment Scotland (HES), I have spent the last year working with other young people equally as passionate about Scotland's history and heritage. We have been working together to create recommendations to encourage greater youth engagement with Scotland's historic environment. Throughout these discussions it came to our attention the positive effects connecting with heritage can have on our wellbeing.
Memories
From a young age my parents encouraged me to explore my local heritage. Growing up in Aberdeenshire 'Scotland's Castle Country', where there are over 300 castles, stately mansions, and ruins, I haven't been short of options.
Only a stone's throw from my childhood home is the enchanting ruin of Glenbuchat Castle. As a child my family and I would explore its many rooms, imagining the lavish feasts that would have been held in the Grand Hall.
Whilst as a child I wasn't aware of the concept of stress, now when I feel stressed, I revisit those memories. I find it offers me a sense of escapism as well as comfort.
Coping Mechanisms to improve wellbing
During secondary school I became more and more interested history. It quickly became my favourite subject. One of the most memorable taught topics was The Scottish Wars of Independence (1296-1328). Whilst learning about this time in Scottish history I was able to imagine first hand where some of its events occurred, with the main antagonist Edward I making visits to another local castle, Kildrummy. The castle, now ruined, is still an imposing and remarkable feature of the local area.
Tests and exams can be a challenging part of school life for children and young people. It certainly was for me. But there are ways to ease the stress.
For me, visiting physical historical sites became a productive coping mechanism. I was able to combine required learning with extracurricular activities. Whilst studying the Making of Scotland in my final year of school I explored with my classmates the many local standing stones and circles, even following the Aberdeenshire Stone Circle Trail. I acquired favourites that I would end up visiting during university when I needed to escape.
Organising your time
Fast forward to now, 2021. I'm currently a graduate navigating my first 'proper' job as an Associate at DWS Associates, a rurally based management consultancy. I love my job – especially the opportunities I have to help rural businesses prosper and thrive. I am able to maintain the enthusiasm for my job and alleviate stress through exploring Scotland's heritage.
Most recently I was lucky enough to take a staycation with some friends to the West Coast of Scotland. The mental health charity Mind suggest one way to ease stress is by organising your time. For me, this entailed organising an exciting day of discovering local heritage with my friends. With a new location to explore I was in my element. I identified sites, calculated travel times and gathered basic facts. Our day was finally planned.
Itinerary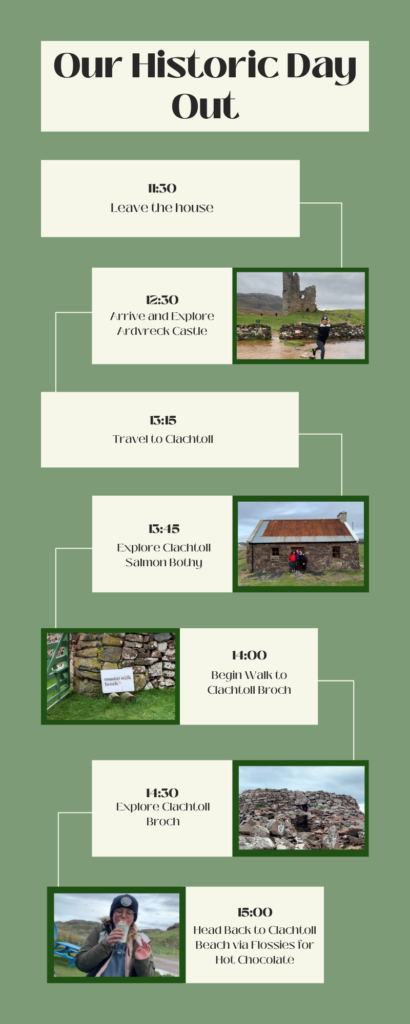 Our day out was a great success, see for yourself. To watch the video, login to Instagram on your mobile.
View this post on Instagram
All of the sites we visited allowed us to not only explore heritage but gave us the opportunity to be outside and take in the amazing landscapes of the West Coast. Additionally, we combined discovery with physical activity, with each site guiding us along a picturesque walk. This combination is what I believe makes visiting heritage sites such a great activity for my mental health. I'm not alone in this belief, a recent heritage and wellbeing study by Historic Environment Scotland highlighted 78% of those asked felt happier because of their engagement with the historic environment.
Whether it be reminiscing on old memories or making new ones, exploring historic sites and Scottish heritage brings me so much joy. It can provide the opportunity to escape real life stresses and instead discover and learn new things.
Over the years I have identified certain historic sites that provide me the most comfort. My standout site is Tomnaverie Stone Circle, it combines both my love for history and mountains with a stunningly framed view down the valley to my first ever Munro, Lochnagar.
What historical site is most comforting for you? Where do you go to find wellbeing?
About the author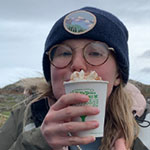 Alice is part of the Historic Scot Youth Forum managed by Young Scot and HES. In her spare time, she also volunteers on other Young Scot Projects including the COP26 Climate Group.
Additionally, she loves staying active as an avid hill walker and, when she feels up to it, a runner. At 23, she is currently living in Glasgow but is always aware of her roots in rural Aberdeenshire.
More wellbeing on the blog
If you've enjoyed this blog from Alice, why not delve into blogs from other authors on the topic of wellbeing.
---
Share