When you're visiting Blackness Castle on a nice, sunny day, it's easy to forget that one of its main functions – until at least 1745 – was as a state prison. It was one with quite an unsavoury reputation at that!
The Rev. James Young, in his Life of John Welsh (1866) called it
a prison pre-eminently wretched when compared with other prisons, and none of them in those days was anything else than a miserable hole".
Given this reputation, it's surprising that the stories of the prisoners of Blackness Castle are not more well known. Few people would probably be able to name any inmates other than the (in)famous Cardinal Beaton, who was warded there in 1543. Here then are four of the more unknown tales of the prisoners of Blackness.
Sir James Kirkcaldy
Sir James Kirkcaldy was a staunch supporter of Mary Queen of Scots, even after her abdication and imprisonment in England. In 1572, he was in France to retrieve funds in the form of the Queen's Dowager payments (Mary was queen dowager of France through her first husband, Francis II) as well as weapons and ammunition for her cause.
Upon his return to Scotland, he sailed to Blackness Castle. He believed it to still be loyal to Mary. Unfortunately, the keeper, Sir Alexander Stewart, had made peace with Regent Morton and promptly arrested Kirkcaldy. The goods and funds he was carrying were confiscated. Stewart then left for Edinburgh for a meeting with the Regent.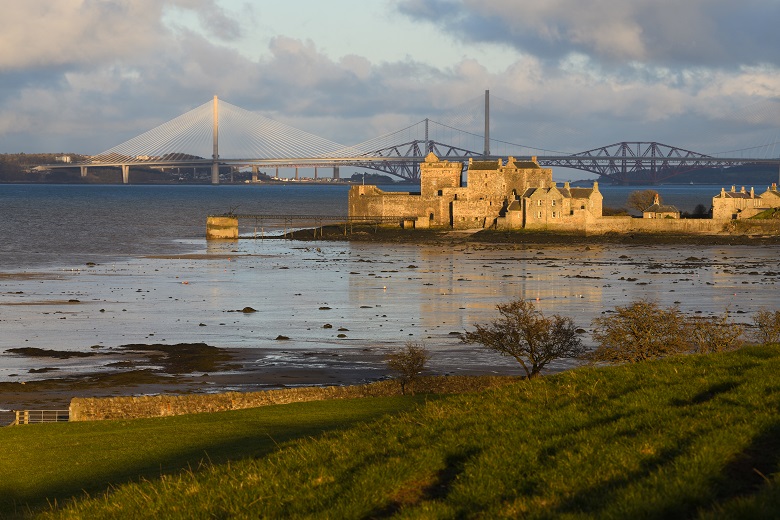 Whether with convincing arguments or bribes, Kirkcaldy took advantage of the absence of Stewart. He turned the castle back to his side. When he returned, Stewart suddenly found himself arrested and imprisoned in his own castle!
According to some versions of this story Kirkcaldy ended up being betrayed by his own wife, who came to visit him one day. When it was time for her to leave, she begged her husband to accompany her for a bit as she was afraid that Captain Lambie, the keeper of Linlithgow Palace, would try to get his hands on her.
Whether with the wife's help or not, Lambie did indeed intercept the pair and had Kirkcaldy taken to Edinburgh as a prisoner. It appears that James once again managed to escape. According to legend, a couple of days later his wife was found strangled in her bed…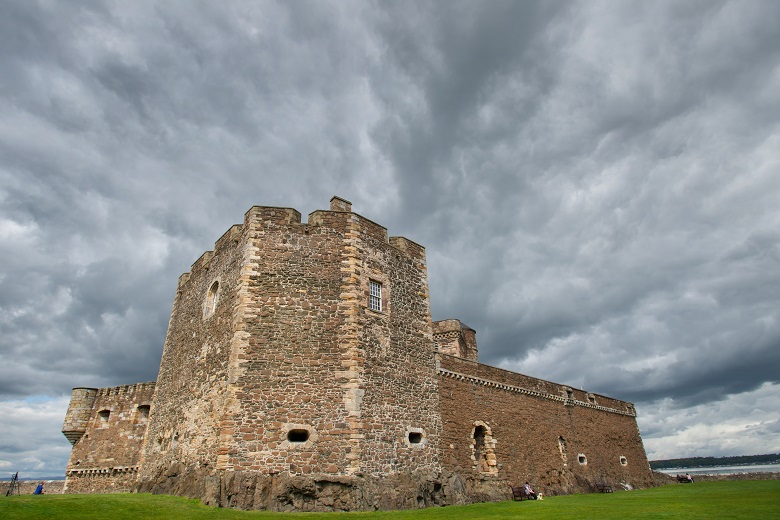 Margaret Hartsyde
Margaret Hartsyde seemed to be a lucky woman. Having entered the services of Queen Anne of Denmark, wife of James VI, she managed to rise through the ranks and gain favour with the royal couple once they moved to England. Her husband John was himself a servant to the King. After a while, they were able to purchase land and travel about in great style. This disgruntled some, who accused them of showing off.
Those people were probably delighted when Hartsyde was in 1608 suddenly accused of having stolen jewellery and precious stones from the Queen worth several hundred pounds. She was sent to Blackness Castle until her trial.
James VI was particularly enraged at the crime against his Queen and had Margaret declared "infamous" by special warrant. Margaret and her husband were sentenced to exile in Orkney and to repay the royal couple £400 for the jewellery. John was later given greater freedom to travel as his guilt could not be proven.
Eventually, in December 1619, Margaret Hartsyde and her husband were both cleared of the crime. All mention of their trial, judgment and Margaret being pronounced "infamous" was deleted from the records by royal warrant.
It has been speculated that Margaret's true crime was that she revealed some of the Queen's secrets, which a loyal and discreet servant was obviously not meant to do.
James Stewart of Killeith, 4th Lord Ochiltree
James Stewart, 4th Lord Ochiltree, holds the dubious honour of being Blackness Castle's longest-serving prisoner. After his conviction in 1631, Ochiltree was warded at Blackness for slander against the Lords Hamilton, Haddington, Roxburgh and Buccleuch, whom he had accused of treason. When this turned out to be unfounded, he was himself accused of treason and sentenced to perpetuity at Blackness Castle.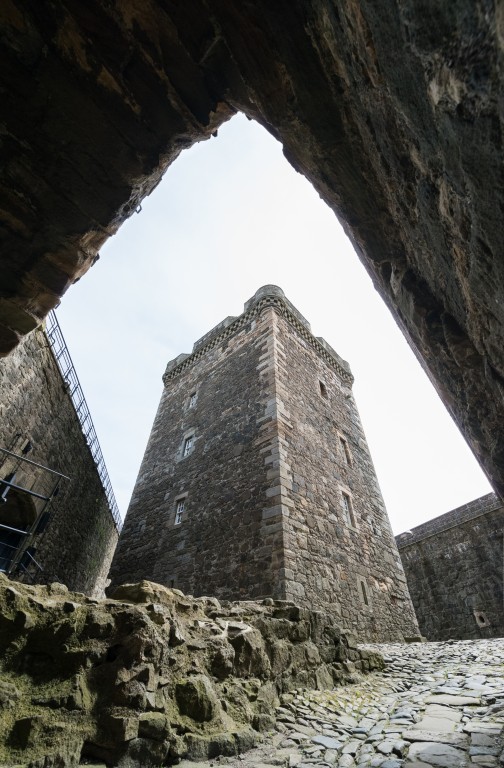 Ochiltree maintained his innocence and petitioned the Government several times for funds to support him. Prisoners had to pay for their own upkeep and he had by that point clearly exhausted his own resources. He was granted a small amount of money which was paid at irregular intervals, prompting the Lord to appeal to the Government again and again.
Ochiltree was thus one of the few people happy to see Cromwellian forces arrive at Blackness Castle in 1651. Once the castle surrendered, Ochiltree was finally freed. He appears to have turned to a career in medicine to support his family. Up to this point, nothing in his background suggested an inclination towards medicine. It's possible that he pursued his studies while imprisoned at Blackness.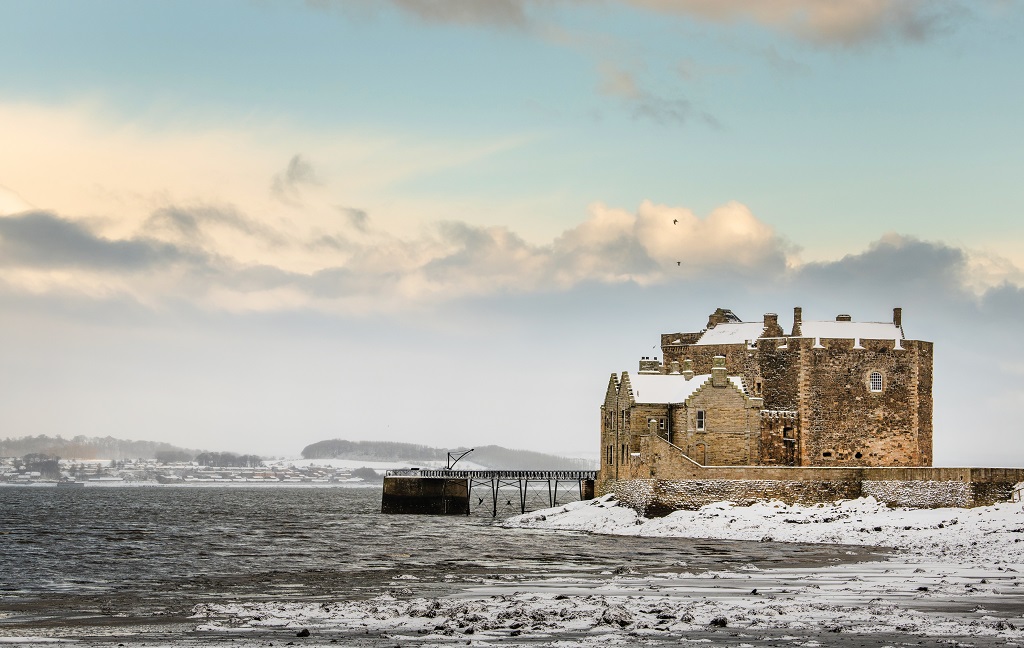 Barbara Cunningham, Lady Caldwell and her daughter Jean
The last prisoners in this list are just two of the large number of people who found themselves imprisoned at Blackness Castle for their religion. For most prisoners, warding at the castle would not have lasted too long. They were only meant to be there until their trial could be arranged. This, however, does not seem to have applied to political or religious prisoners. They could expect to spend years within the castle walls. Such was the fate of these two ladies.
In May 1683 an anonymous report accused Lady Caldwell of having welcomed a minister into her home in Glasgow. There, he was seen preaching at a small gathering. Eager to deal with any reported Presbyterians, the Privy Council ordered that both Lady Caldwell and her eldest daughter Jean should be imprisoned immediately at Blackness. The two women were kept in close confinement and were only rarely allowed to go for supervised walks on the castle wall or in the courtyard.
After half a year, Miss Jean started to get sick (as did a great many of Blackness' long term prisoners). Her mother started to petition for her release, which was eventually granted. Lady Caldwell herself remained imprisoned at Blackness Castle for over three years. As a widow, she was without any extra protection that a living husband might have been able to provide. She was not even allowed to briefly visit another daughter, Anne, when she was dying of fever.
Intrigued by the stories of these unfortunate prisoners? Plan a visit to Blackness Castle to see the dungeons for yourself. At the same time, you can discover 12 more forgotten stories from Scotland's past in our Scotland's Year of Stories exhibition, Unforgettable.
---
Share