It takes an incredible amount of hard work, tenacity and teamwork to turn an unsteady ruin in danger of collapse into a visitor attraction. Our Casework Team are often involved and were delighted to see two brilliant restoration projects cross the finish line in late summer.
A Speyside Stronghold
Castle Roy is an impressive, very early stone castle that has guarded Speyside for 1000 years. The four-side stronghold stands on a glacial mound on one side of the Spey Valley. Carbon dating has shown it to be one of the oldest unchanged castles of its kind in Scotland.
Traditionally the castle has been associated with the powerful Comyn family, who are thought to have built it at some point in the 12th century. It's changed hands several times since then, before being purchased by the Castle Roy Trust in 1994.
The castle has been a scheduled monument since 1959. You can find out more about its history in this comprehensive article from historian Simon Forder.
Roy's Restoration
More than twenty years ago, residents of neighbouring Nethy Bridge decided to take action and preserve the Castle for future generations.
It was no easy task and involved setting up a Trust, getting funding, appointing a project team, negotiating permissions and finding skilled tradespeople.
Because the castle is a scheduled monument, the HES Casework Team had a role to play. This involved early discussions about what would be possible and helping support the Trust in getting consent for the works to go ahead.
Our colleagues in Grants were also instrumental in unlocking funds for the project. Skilled HES conservationists were also on hand to give advice.
A Grand Opening
Decades of hard work paid off on 25 September with an official opening and traditional ribbon cutting at the Castle. It was 29 years since the restoration project had first been talked about.
Richard Eccles, Chairman of Castle Roy Trust said:
The Trust would like to thank HES for all its help, advice and support over the years. We are grateful that they could see our vision and their guidance did much to bring the project to fruition."
What's obvious to anyone visiting is that an amazing historic site has been transformed and is now a real asset to the local community.
The Trust plan to make the most of the Castle's romantic atmosphere and beautiful setting in the Cairngorms National Park. It can be a venue for weddings and other events, so bear that in mind if you are planning a special occasion!
Swipe to see the "before" and "after" appearance of Castle Roy 👇
The Tower in the Loch
At a sprightly 500 years old, Peel Tower near Lochwinnoch has less years behind it than Castle Roy. But was in just as much need of conservation!
The unusual late medieval fortification on an island in Castle Semple Loch is now part of a fantastic RSPB Nature Reserve.
The tower was built with massive, 3 metre-thick walls and four wide-mouthed gun holes. This suggests it was for defence, not for use as a residence. There's only a few examples of this in Scotland.
Peel Tower could therefore help us understand the relationship between temporary refuges and permanent residences in a period of intense inter-family feuding. It's been a scheduled monument since 1998.
Peel and Reveal
The building's conservation became a key project in the Garnock Connections Landscape Partnership, Revealing Peel Tower.
Work was carried out to reverse vandalism and neglect in and around the tower. Thick vegetation, embedded trees and fallen rubble were all removed from the monument.
HES helped to guide the project to a successful result over the last five years. The hard work of the partnership team was celebrated with a 'Big Reveal at Peel' on 11 August. Alyson Hunter, Project Manager of Garnock Connections said:
The consolidation of Peel Tower wouldn't have been possible without the unwavering support from HES, the grants and monuments teams especially."
Swipe to see the "before" and "after" appearance of Peel Tower 👇
Find out more about potential restoration
You can read more about how we recognise nationally important monuments through scheduling on the HES website.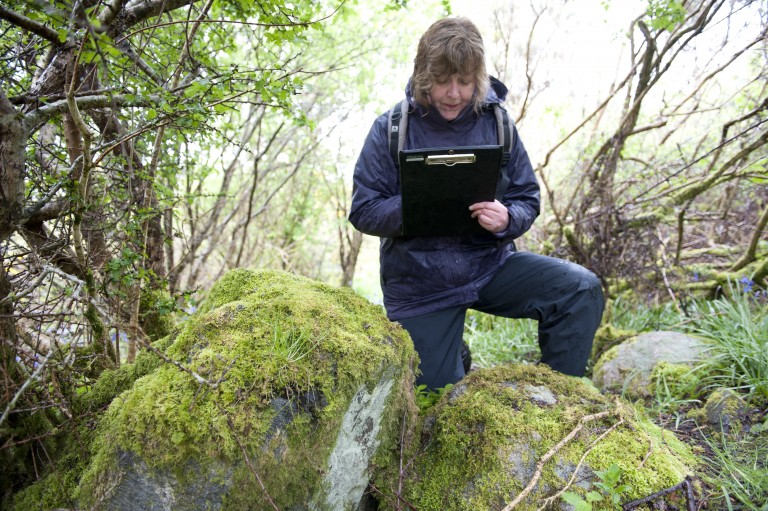 Scheduled monument consent is used to ensure that any changes to these monuments are appropriate. Everything you need to know about scheduled monument consent, including information on how to apply, is on our Advice and Support pages.
Grants are available to support the cost of conservation-standard repair projects for buildings, places of worship or ancient monuments which are of special architectural, historic or archaeological interest.
---
Share