Dig It! 2017 is the year-long celebration of Scottish archaeology, and the team has been busy assembling events from many partners across the country into one massive programme – with excavations and exhibitions sitting alongside cookery courses and Minecraft builds. During the Year of History, Heritage and Archaeology 2017, we'll be sharing Scotland's most remarkable stories, taking you closer to our iconic sites and uncovering hidden gems from Shetland to Dumfries & Galloway. If we're going to run with the "celebration" metaphor, my job as the Communications Officer is to send out the party invitations, help coordinate the entertainment and decorate everything in our signature Dig It! 2017 pink.
Discover Scotland's Stories
To mark the "archae-occasion" (sorry), we commissioned an intricate illustration for our leaflet and website from Glasgow-based artist, John Felix, who worked closely with the team to bring six archaeology-inspired stories to life in six intertwining scenes. This was my first time working with an artist, and as someone who still draws people as stick figures, it was amazing to watch John turn our ideas into artwork. He did an amazing job with the pink, black and white design and I love how it blurs the lines between time periods and mixes folklore with reality. The illustration covers Orkney to Edinburgh and the stories run from the Mesolithic to Modern era, with hidden details packed into every scene. We've also created six different event themes for Dig It! 2017, which are reflected in the design:
Adventurous, Delicious, Inspirational, Unscripted, Playful and Festival.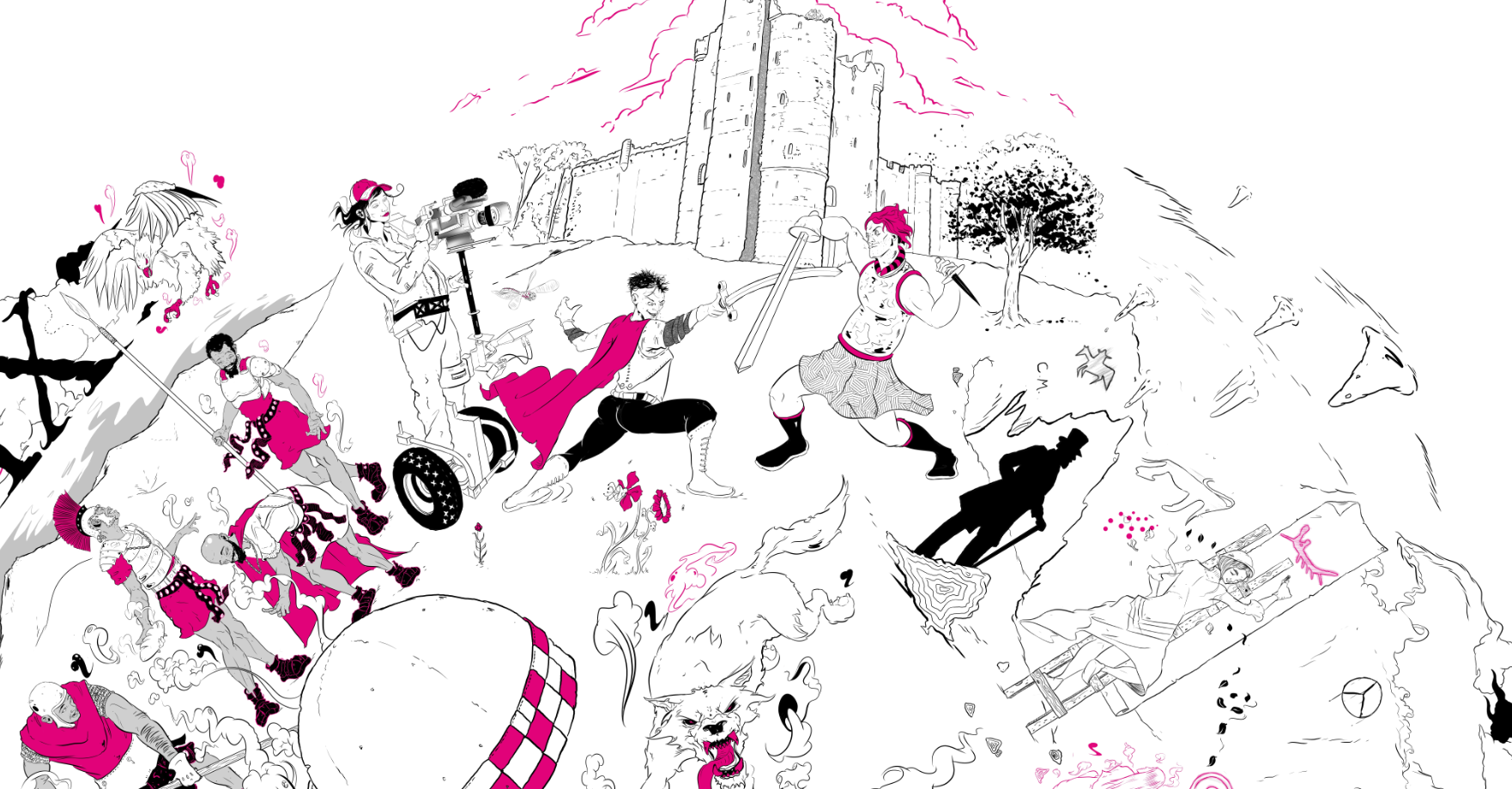 One of my favourite scenes in the illustration features Doune Castle, which represents the Unscripted theme. Every event in this category explores the links between archaeology and popular culture, so Doune Castle (also known as Winterfell, Castle Leoch and "that French castle in Monty Python and the Holy Grail") was a natural fit. At first glance, you might only see a woman filming two swordsmen in front of a castle. However, closer inspection reveals numerous film and television references. Can you spot all of these "Easter eggs"?
If you ever thought, "archaeology isn't for me", we're hoping that these themes can change your mind. The Rock of Ages event at Dumbarton Castle, for example, appears in our Adventurous category – it takes a certain sense of adventure to join the Vikings for the day! Spectacular Jousting at Caerlaverock Castle features in our Playful category – you'll be able to cheer for favourites knights (like the medieval version of a rugby game).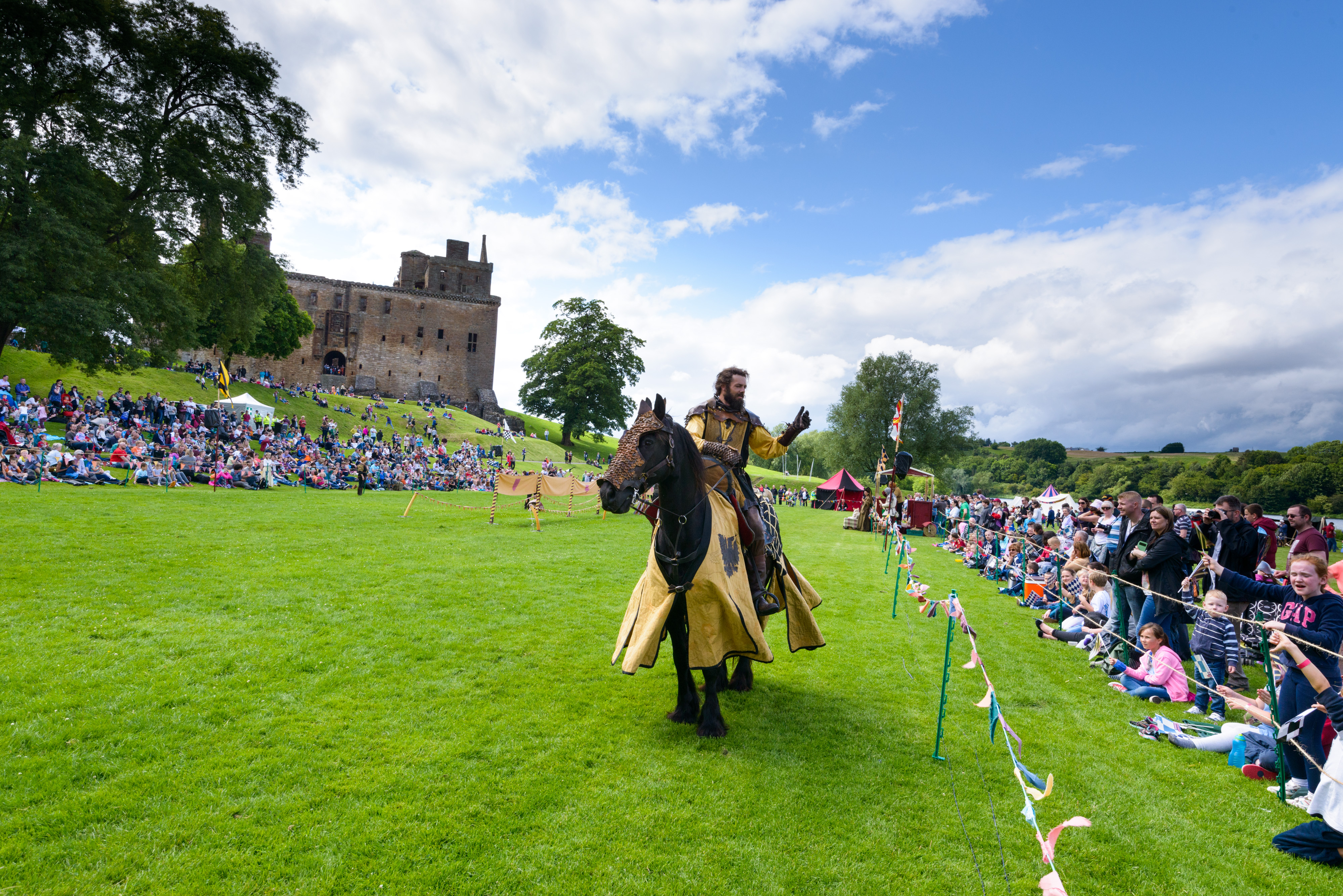 I love these events because they offer something for everyone, and allow you to explore the stories behind the sites. Of course, you'll find archaeological digs in Stirling, the Highlands, East Lothian, and the Scottish Borders in the programme too – all of which are open to everyone, with no experience required. I went on my first dig in 2015 and quickly learned that they are a lot fun, but also very addictive – you have been warned!
Scotland in Six
In addition to highlighting amazing archaeology events across the country, we're on a mission to shine a spotlight on our iconic sites and hidden gems with our Scotland in Six initiative. Thanks to funding from EventScotland, we'll be running six events on World Heritage Day (18 April) to highlight Scotland's six UNESCO World Heritage Sites – what a tongue twister!
On World Heritage Day there will be six quirky events to celebrate what makes St. Kilda, Edinburgh Old Town and New Town, The Heart of Neolithic Orkney, New Lanark, The Antonine Wall and The Forth Bridge so special. We've been working closely with the World Heritage team at Historic Environment Scotland to create the best possible experience for you, with activities ranging from wandering minstrels to glow-in-the-dark festivities. If I wasn't going to be overseeing press calls and the social media activity, I would definitely be running in the Picts vs Romans 5k.
Everyone is encouraged to get involved online using the #ScotlandinSix hashtag – whether you want to talk about your favourite World Heritage Site or sum up Scotland with your own #ScotlandinSix list. I'll be watching the hashtag all year and I'd love to hear from you! How about #ScotlandinSix castles" or "#ScotlandinSix abbeys"?
As for the hidden gems, we'll be inviting you to pick Scotland's "best-kept heritage secrets". Historic sites from across the country will be put to a vote and you can pick your top six. The winners will then be celebrated with an event during Scottish Archaeology Month in September, so keep your eyes peeled!
---
If you'd like to see the illustration or learn more about Scotland in Six, visit DigIt2017.com. You can also follow the archaeology fun on Facebook, Twitter or YouTube.
On Wednesday, 22nd February 2017, Dig It! will be hosting the monthly #ScotlandHour on social media.
Dig It! 2017 is coordinated by the Society of Antiquaries of Scotland and Archaeology Scotland, and primarily funded by Historic Environment Scotland.
---
Julianne McGraw is the Communications Officer at Dig It! 2017 and the co-founder of the Scottish Heritage Social Media Group. Her wardrobe is slowly but surely being conquered by bright pink t-shirts.
---
Share