And so ends the idyllic 2017 Year of History, Heritage and Archaeology; a year filled with abundant and insightful celebrations of Scotland's rich heritage. Here at Historic Environment Scotland, we have been extra busy working on celebratory events showcasing Scotland's past.
Archaeology InSites
Over the last 12 months we created 97 features exploring hidden treasures from archaeological sites across the country. Our #ArchInSites were released twice weekly throughout the year, and looked at 12 archaeological themes.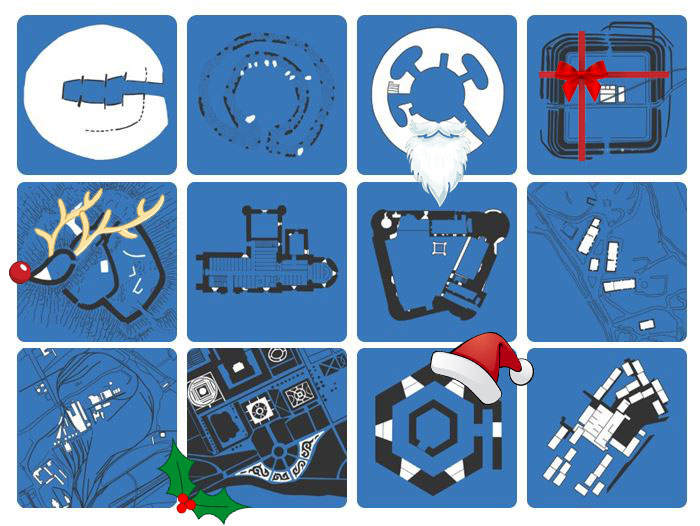 Over the 12 days of Christmas, we've been celebrating the most popular archaeological sites featured in each of our 12 themed months over on Twitter.
Here are the most popular sites from a wonderful year.
1. Age of Stone: Stemster Chambered Cairn
Stemster Chambered Cairn in Shean, Caithness proved a popular site way back in January. Could this be related to the fantastic watercolour paintings created by local artist John Nicolson during excavation in 1904? Or are our followers just really into cairns?
To find out more about this fascinating site, revisit our feature about this 5000 year old Neolithic tomb.
2. Age of Bronze: Acharole, Beaker and Cist
Did you know beakers – a unique style of pottery vessel – have been found at archaeological sites across the whole of Europe? February's most popular InSite shed light on this Bronze Age phenomenon, and featured another site from Caithness.
The beaker burial from Acharole was also found in 1904 and is thought to be over 4000 years old. Once again we illustrated it with an archival treat from John Nicolson.
For further insights into this remarkable discovery, check out the original feature.
3. Age of Iron: Ousdale Burn Broch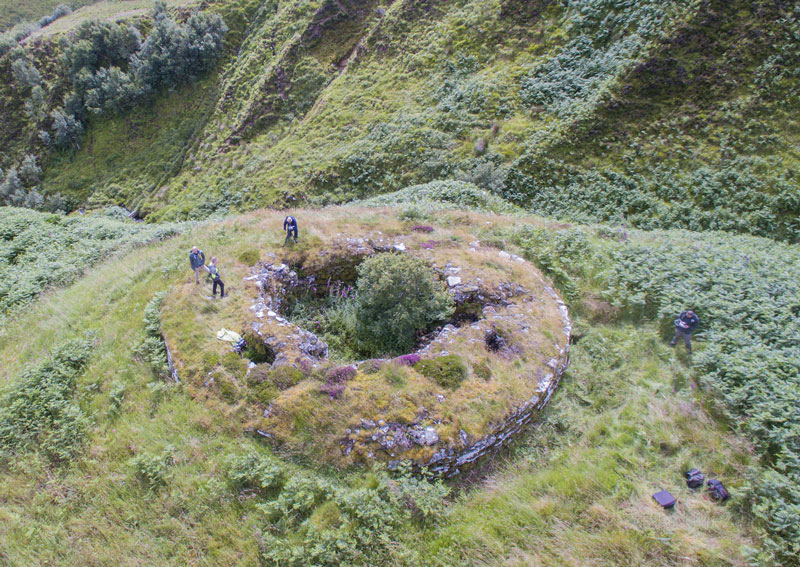 Boy, do you guys like Caithness archaeology! And what's not to love? Here at Ousdale we have another fantastic example highlighted and nominated by the Caithness Broch Project.
In fact – since the blog was written, the CBP team have started looking at how to consolidate and conserve this remarkable monument, so keep your eyes peeled for any developments in the future.
The Caithness Broch Project team kindly wrote a feature about this site earlier in the year; why not take a look?
4. Age of Invasion: Rubers Law Fort and Signal Station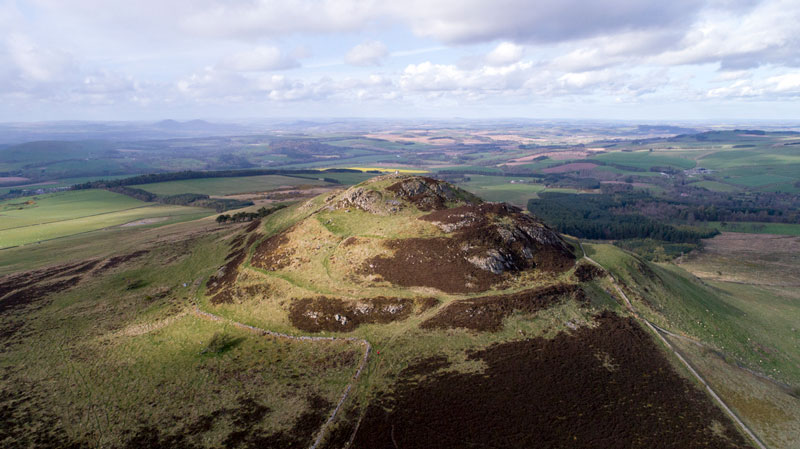 Now we journey to the opposite end of the country, to one of the hundreds of forts that litter the landscape in the Scottish Borders. Here, the puzzling discovery of a lost Roman building was thought to be that of a signalling station used by the Romans for long-distance communication.
Has this site grabbed your attention? Why not read all about it from the experts?
5. Age of Warriors: Rhynie Pictish Stones and Complex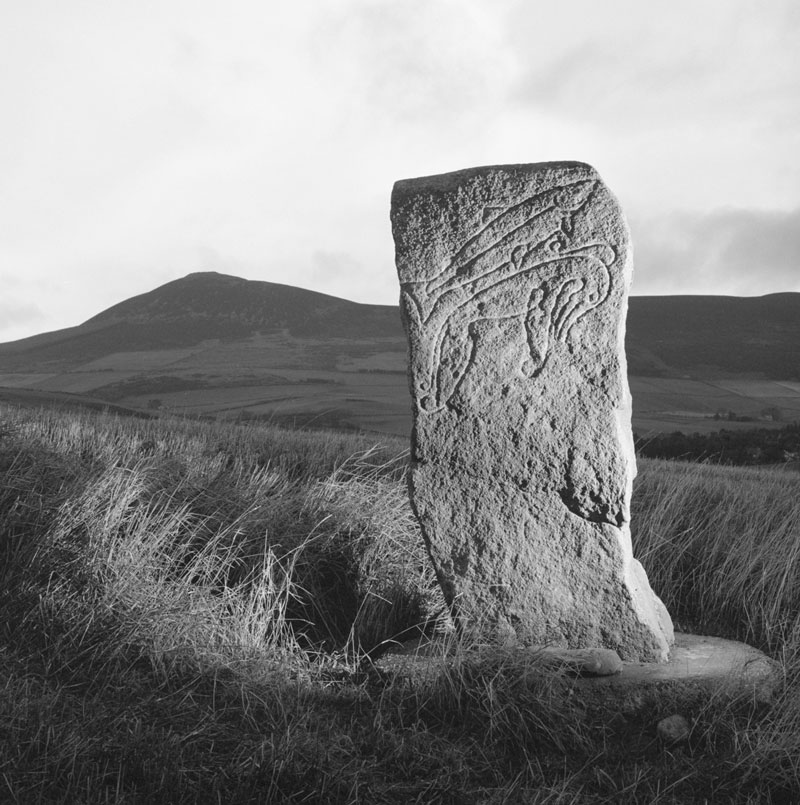 The landscape around the village of Rhynie is rich in Pictish archaeology. Investigations by the Rhynie Environs Archaeology Project has revealed a rich assemblage of high status material, and rare examples of Pictish buildings.
Fancy finding out more? We've plenty on offer in the original InSites feature!
6. Age of Worship: Scar Viking Boat Burial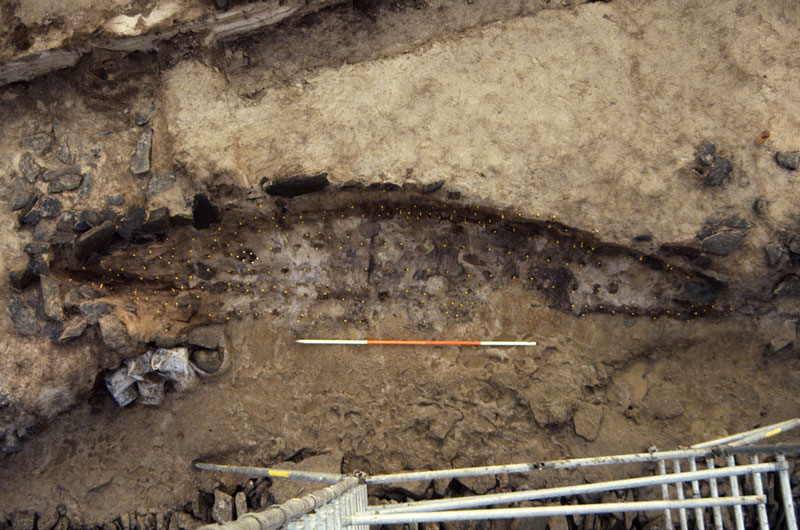 Whilst you might understandably expect the Age of Worship to feature a Christian site, the most popular feature for this theme was in fact that of a Viking boat burial in Sanday, Orkney.
This included the skeletons of three individuals: a woman in her 70s, a man in his 30s and a child of approximately 10 years. The burial material prompted interesting discussions about heirlooms and artefacts.
Fascinated? Revisit the feature from the Age of Worship!
7. Age of Kings: Roxburgh Castle and Burgh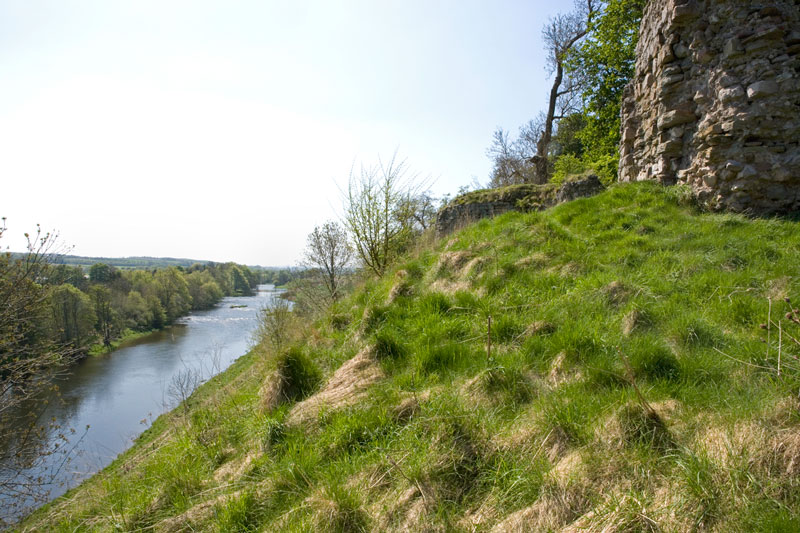 Now, we travel back to the Southern end of the country – once again in the 12th century – to Roxburgh Castle and burgh in the Scottish Borders. Founded by David I, it was destroyed following a successful siege in 1460 by James II. Plans and knowledge of the burgh were lost until recently, when work was done to retrieve information through a combination of documents, topographical analysis and serendipity.
Fancy learning how archaeologists re-discovered this lost information? Visit the InSite feature here!
8. Age of Clans: Bàgh Hairteabhagh, Hartavagh Bay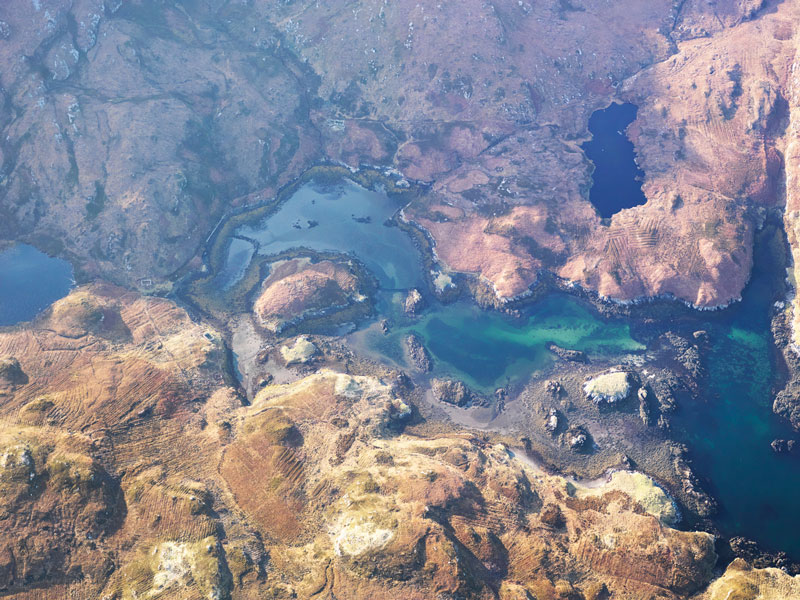 Out in the Western Isles on South Uist, the abandoned settlement of Bàgh Hairteabhagh proved the most popular during the Age of Clans. It was creatively explored through the Gaelic poetry of Dòmhnall Aonghais Bhàin which provides a useful guide to the surviving archaeology.
In addition to this gorgeous aerial photo, our experts gave us some brilliant insights – find out more about this InSites feature here!
9. Age of Industry: Tar Works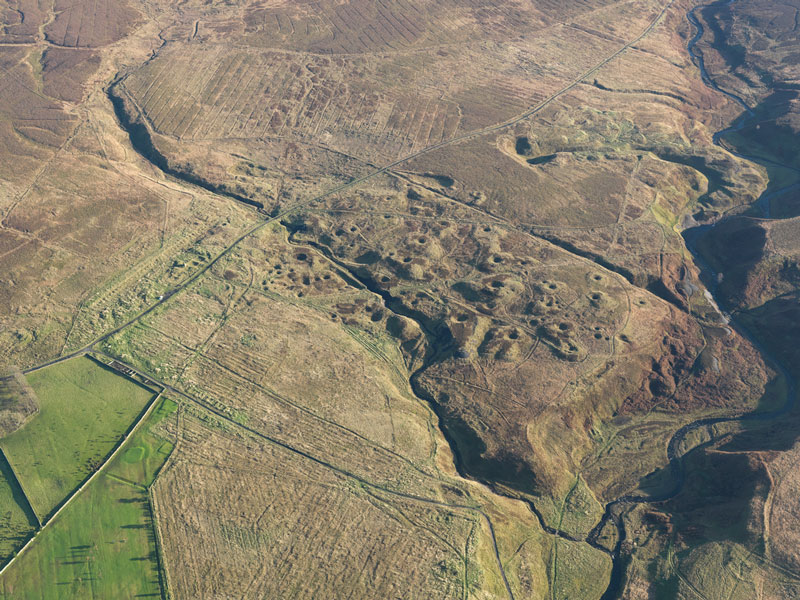 A significant and arguably under-explored part of Scotland's heritage are the archaeological remains associated with our industrial heritage.
The tar works at Muirkirk in Ayrshire sit within a remote landscape, which few passers-by will recognise as an area of remarkable achievement and entrepreneurship, once at the forefront of the Industrial Revolution.
If the charm of Scotland's industrial archaeology has captured you, check out the InSites feature!
10. Age of Leisure: Ben Nevis Meteorological Observatory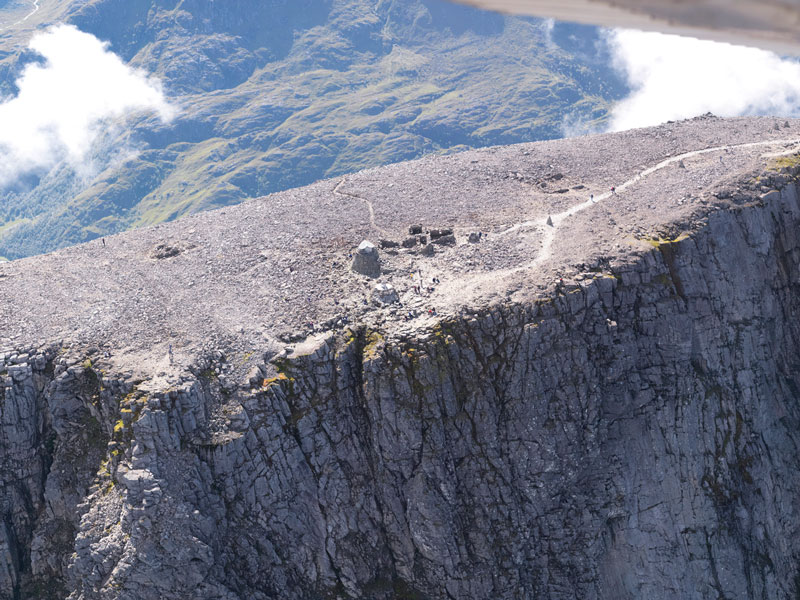 You might think the highest point of the country is an unlikely location for an archaeological site, but the remains of the meteorological observatory atop Ben Nevis were the most popular site for our Age of Lesiure. A remarkable site, it is well worth a visit – if you're up for a 1345m climb!
Learn more about this site and the research undertaken in our original InSite feature.
11. Age of War: Atlantic Wall at Sherriff Muir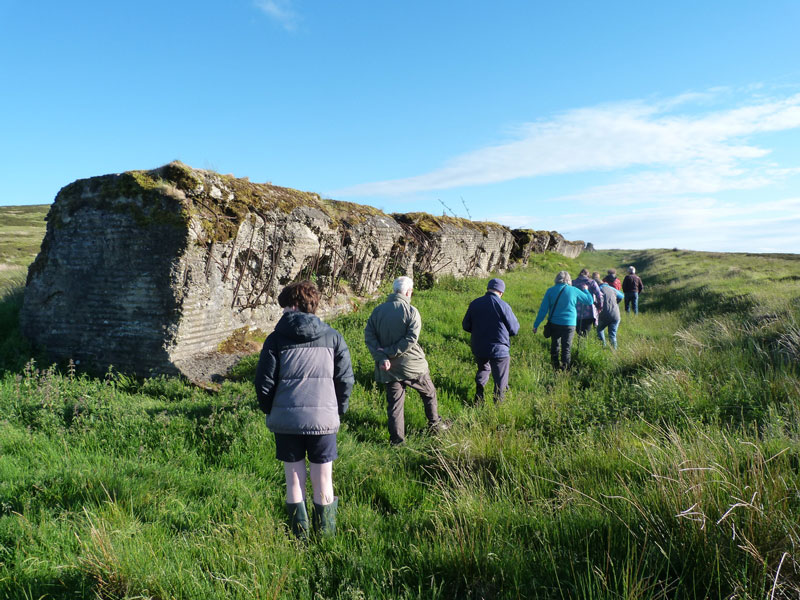 A secret military training site, crucial in the preparation of troops before D-Day, was the most viewed site for our Age of War.
After Hitler ordered the construction of a massive series of defences along Europe's coastline – which were designed to repel tanks – the plans for the walls were smuggled out of Europe in a biscuit tin. This top secret information was used to construct the replica wall at Sherriff Muir and aid the British forces to figure out how to breach the defences.
This one is a fascinating read – why not discover the story behind this unique site?
12. This Age: Polphail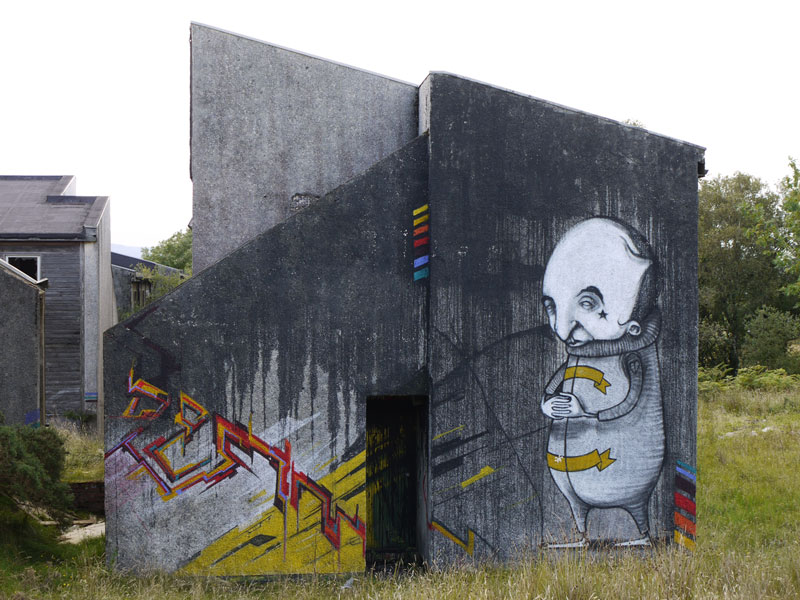 In 1977, a worker's village was built on the east side of Loch Fyne, near Portavadie. It was built to house around 500 workers, but it was never occupied, and immediately began the journey to ruin after it was completed. In 2009, a group of graffiti artists were invited to paint the village, which changed the significance of the place.
Here's your chance to discover more about this artistic intervention – in the original InSites feature!
What Was Your Favourite?
We hope that you have enjoyed the Archaeology InSites project this year. What was your favourite feature? Has the project inspired you to visit any new sites? If so, where did you go?
We would love to hear from you, so let us know your thoughts on Twitter @HistEnvScot using the #ArchInSites hashtag.
Happy New Year!
---
Share