Earlier this month we upgraded the solar panels at Crichton Castle. That means visitors can now enjoy a greener visit to this 14th century tower house.
Climate change is projected to cause Scotland to become warmer and wetter in winter and hotter and drier in summer. The impacts on the historic environment could be devastating.
At Historic Environment Scotland, we're committed to helping limit the impact of climate change on Scotland's wonderful old buildings. We've got an ambitious target of a 69% carbon reduction by 2050, in line with the Scottish Government's framework. The new solar panels and renewable technology that we've installed at Crichton Castle will help us towards this goal.
Sourcing electricity when you're "off grid"
Crichton Castle isn't one of the most isolated places we care for, but it is off the beaten track. That means we don't have a mains electricity supply to the castle. But for the comfort and safety of visitors and staff it is essential for us to have an electricity supply at the secluded castle.
Our main source of power at the castle used to come from a petrol generator. This was far from ideal. Burning fossil fuels releases carbon into the atmosphere and the noise of the generator disturbed the tranquil setting. Our staff also had to handle flammable substances on a regular basis. We knew something had to change.
Back in 2005 we installed our first set of solar panels at the site. These were fitted to the roof in a way that was unobtrusive and respectful to the historic building. The first set of solar panels were able to provide power for the lighting, card reader and fax machine. The generator was only required to supply heating during cold weather, or as a backup when there wasn't enough sunlight striking the solar panels. This was a great benefit. It reduced both our carbon footprint and the amount of money we need to spend on fuel – the sunlight is free, after all!
Keep up with the times
In the 14 years since we first brought solar energy to Crichton Castle, the technology behind renewable energy has come on leaps and bounds.
The panels installed in 2005 converted 15% of the solar energy that hit them into usable power. Our new panels achieve a market-leading conversion of 22.2%.
We've also slightly increased the surface area of the new solar panels. With these changes, we have been able to almost double the power output at Crichton Castle.
Batteries included
As part of the upgrade project, we have also installed new batteries with a larger capacity. This means more power can be stored for longer, and the extra output from the new panels won't be wasted.
The new batteries can store a total of 13.9kWh. That means that if the panels were producing their full 1,800W, you could run the whole site for over 26 hours before the lights went out! That is a significant improvement over the old system, and easily enough to cover the castle's opening hours.
Thanks to this extra capacity, we now have several options that we didn't have before. We could:
Use the extra power to run the heating system. This would mean much less reliance on the petrol generator. (We are also planning to make some changes to the heating system that will enable us to keep staff and visitors warm without using so much energy.)
Power the castle's lights even when it's too dark to get any solar power.
Install additional lighting across the site to improve the visitor experience and bring more of the building to life.
Provide power to a computer or electrical cash register in the office.
And the new panels will last much longer than the old ones. Even after 25 years (in 2044), the panels we have installed today should still be producing 87% of their nominal output.
Reduce, Reuse, Recycle
We needed to upgrade the solar panels at Crichton Castle to help meet more of our energy needs at this secluded spot. Every kilowatt-hour we can squeeze out of the solar panels at Crichton Castle is one we don't have to get from the petrol generator.
The old panels and batteries that we've removed from the castle are still in good working order. We are going to keep hold of them and, if possible, re-install them at another of our sites.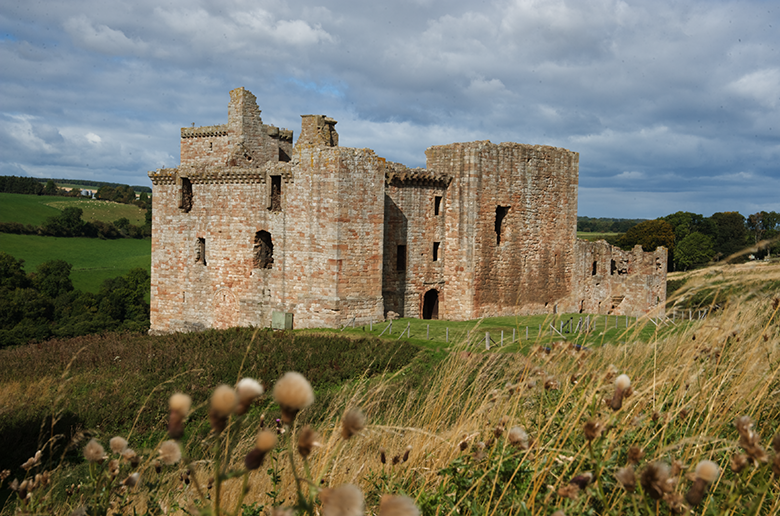 Just the start
At present, Crichton Castle is the only ancient monument in our estate that is fitted with solar panels. Climate change is a very real threat to Scotland's historic environment and we're committed to doing everything we can to get more of our energy from renewables.
Crichton Castle is a valuable pilot project which has demonstrated the benefits of investing in renewable energy. Over the coming months and years we will take what we've learned at Crichton Castle and apply them to our other sites, so that these carbon savings can be replicated elsewhere.
Have your say
We are asking for your views on our draft Climate Change and Environmental Action Plan (CCEAP) 2019-24. Our CCEAP consultation, which takes around 5 minutes to complete, is open until Wednesday 19 June.
---
Share