Calling all citizen scientists! Would you like to contribute to an exciting and  innovative way of monitoring remote HES properties?
This spring marks the start of Monument Monitor – a new collaborative research project between Historic Environment Scotland and the Institute of Sustainable Heritage at University College London.
Picture perfect
Here at HES we look after over 300 properties, ranging from mighty medieval strongholds to ancient brochs and standing stones. These historic sites might be found in the heart of a busy city or in the remote depths of a Highland glen.
Our team of conservation architects do a fantastic job of looking after each and every one, however they can't be everywhere at once. 
This is where you come in…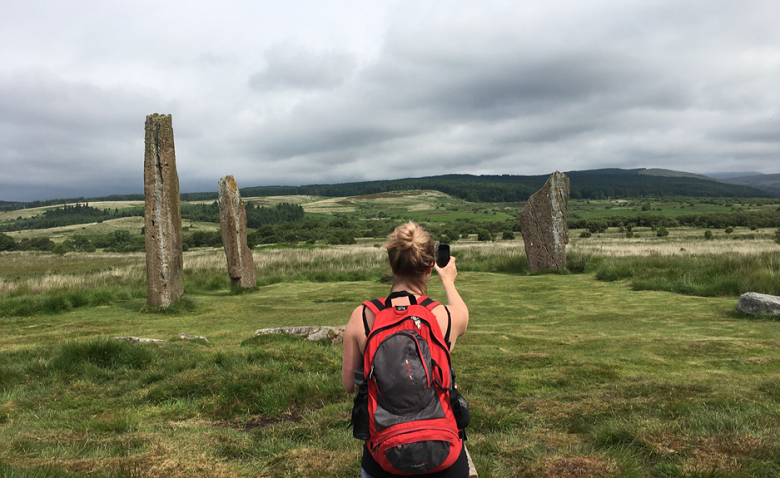 If you're out and about at historic site, chances are you'll be taking a few photos.  The aim of Monument Monitor is to encourage you to share your snaps and to get involved in some citizen science!
The project will assess how these photographs can be used to inform site conservation and monitoring efforts.  
Your photos may be able to identify trends that we would otherwise be unable to observe, especially at smaller, remote or unstaffed sites.
What can citizen science tell us?
Submissions to Monument Monitor could tell conservators a great deal about a historic place.
For example, research has shown that crowd-sourced photographs from modern camera phones can accurately measure colour. These measurements can be used to monitor things like discolouration and algae growth on a standing stone. Or it could tell us about erosion of peat caps the walls of forts.
Photographs might also contain evidence of water damage, vandalism or littering.
There's already been some interesting results from trials held in Arran. Images of the standing stones on Machrie Moor sent to Monument Monitor over the period of a year have allowed us to better visualise groundwater levels at the site.
Monument Monitors also helped to combat heritage crime by highlighting an act of vandalism at Machrie.
Where are we looking?
The Monument Monitor project will run until the spring of 2022. It covers the whole of Scotland and thousands of years of history.
You'll find special Monument Monitor signs at 20 HES sites, from Drumtroddan Standing Stones in Dumfries and Galloway to the Ness of Burgi in Shetland. 
There's a chance to become a citizen scientist at mighty strongholds like Caerlaverock Castle, Tantallon Castle and Bothwell Castle.
Remote religious sites, along with mystical spots and splendid homes are also included.
Become a Monument Monitor
Fancy lending your photography and smartphone skills to the project?
Signs at participating sites will direct you to take photographs of specific features at the properties. You can submit your photos to the project via email, WhatsApp, Instagram or Twitter.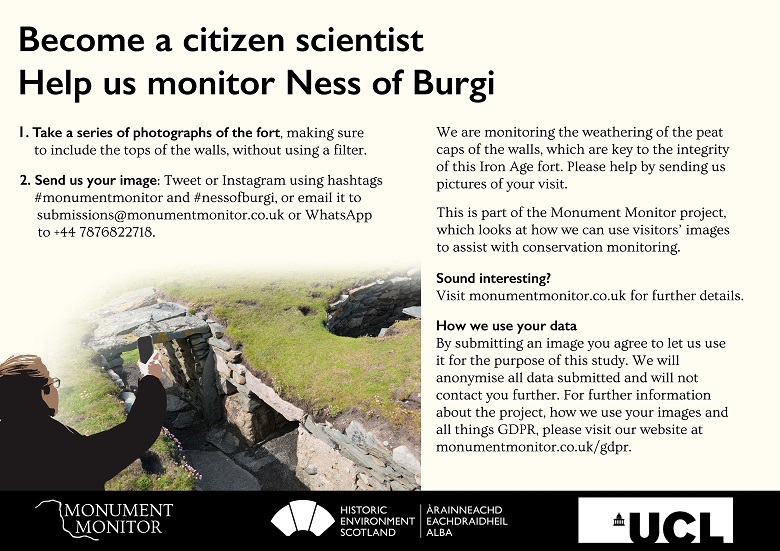 So if you're enjoying a day out at a historic site and fancy trying your hand at citizen science, grab your camera, take a snap and tag it with #MonumentMonitor!
---
Share