"You learn something new every day", so the saying goes. The visitors to our sites certainly keep our volunteers on their toes! In this Volunteers' Week blog, three of our heritage volunteers share their stories of how they got involved and what they love about championing Scotland's amazing places.
Patrick Scott – Volunteer Guide at Huntly Castle
Although I would eventually teach mathematics, history was always my favourite subject at school.
Perhaps my parents had a little to do with this. By the age of seven, I had visited Huntly Castle with them on several occasions.
When I took early retirement, I really immersed myself in local history. In due course, I produced several local books of which The History of Strathbogie has been the most popular. In researching this book, I delved into the history of the castle and that of the Strathbogie and Gordon families.
When I saw an advertisement for volunteers to give tours at Huntly Castle, I jumped at the chance. After receiving valuable advice from the castle's volunteer coordinator and having worked with him to produce an essay outlining the theme of my tour, I was ready.
No such thing as a stupid question
I soon learned that I would have to cope with all sorts of unexpected questions!
One lady (I think she must have been a chef!) asked many questions about the food which might have been prepared for King James IV when he visited the castle. Children were immensely intrigued by the medieval latrines and asked many searching questions about them. Two youths from Florida whose surname was 'Huntley', were sure that their family would have originated from Huntly and they asked me what my opinion was.
Each time I take visitors round the castle, I learn a little more about the castle myself. I notice perhaps a mason's mark or an alcove which I hadn't seen before or a piece of medieval graffiti. The more I learn the better equipped I am to give visitors a really good day out at Huntly Castle.
Pat Brechin – Volunteer Ranger at Holyrood Park
It all began in October 2011 when I saw a notice inviting people to volunteer in Holyrood Park and applied. Around 15 of us were interviewed and those selected were given a wonderful induction programme and lots of support from the volunteer coordinator at the time, Ranger Katie Firth.
I have enjoyed the role immensely. The great thing about volunteering in such a unique, large and interesting site is the variety of tasks and areas of work.
Patrolling the park
Personally, I enjoy doing a patrol – walking around, talking to visitors, giving information or just being a visible presence. It also involves picking up litter, reporting wildlife sightings and advising people about what activities are permissible in the park – or not, such as camping and mountain biking.
The number of visitors to the park has grown enormously over the last few years. It is more important than ever that visitors see the Ranger Service, know the park is cared for and that they can get assistance.
I also help with educational events. These have included archaeology day; species surveys – we have some rare plants in the park; ranger-led walks and walks led by outside experts such as excellent geologist, Angus Millar.
Cracking on with conservation
Another part of the role is helping with conservation. Gorse cutting, pulling up Himalayan Balsam and planting wildflower seeds are just some of the tasks.
A highlight was helping Conservation Ranger Matt McCabe with the park's contribution to a national bat survey. We had to put out recording equipment at dusk and collect it again at dawn over six nights.
There is a wonderful team of full-time Rangers in the park who are enthusiastic and have great ideas. They're all very supportive of the volunteers.
One of the good things about volunteering in Holyrood Park is that there's no pressure to commit to a regular number of hours a month. You just do what you are able and interested in doing, and that works well.
Everything you do is appreciated and you really feel that you are making a contribution to this iconic site which is so important to the people of Edinburgh and the hundreds of thousands of visitors who come here each year.
David McCreadie – Volunteer Guide at Dryburgh Abbey
Living in the Scottish Borders we are surrounded by beautiful scenery which is enhanced by the many historical sites and buildings. In autumn 2017 I saw on Twitter that Historic Scotland were looking for volunteers for Dryburgh and Jedburgh Abbeys.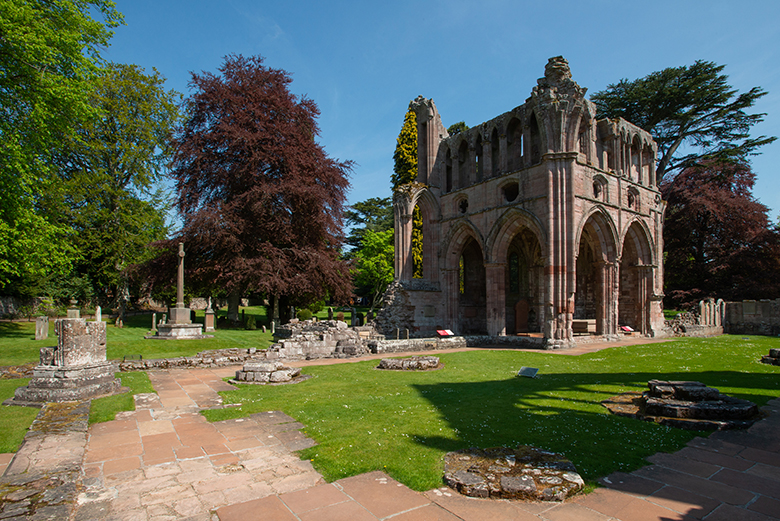 Dryburgh Abbey has always been a favourite of mine so I decided that I would like to give this a try. After some paperwork and meeting with the volunteer co-ordinator, it was agreed that I would take on the role of tour guide at Dryburgh Abbey at the beginning of the 2018 season. This gave me ample time to do some research (which continues to this day) and to write up a tour. I also visited the abbey several times and gained more information from the ever-friendly staff there.
Volunteering whatever the weather!
I started at the beginning of April. As the weather was still quite wet, we decided that I would base myself in the Chapter House with the handling box. This is a fascinating box of reproduction items similar to those that the canons would have used. An item that is always guaranteed to raise a few laughs from our younger visitors is the piss-pot. The box proved of great interest to many of the visitors, both young and old.
On one occasion a seven year-old boy was showing interest in the items and as we looked at an illuminated document. He knew that these were written with a feather and proudly told me his class were studying medieval times and he found it interesting. His parents were so proud of him.
Once the weather improved I found that our visitors preferred to speak about things they were particularly interested in rather than a formal tour. I patrolled the abbey speaking to visitors for the rest of the season. On many occasions visitors would approach me with a question which often led on to an interesting conversation.
For me it has been fascinating to learn about the history of Dryburgh Abbey and be in a position of being able to impart this knowledge to many of our visitors. I am fortunate that I have been able to use skills from previous occupations. I have also renewed my researching skills which enabled me to learn so much about the history of our country. I have derived a great deal of enjoyment from my role and from working beside such friendly staff.
Join us!
If you're like to get involved with volunteering at Historic Environment Scotland, check out our volunteering opportunities now.
---
Share