For the last seven years Historic Environment Scotland has taken part in the RIAS Awards, organised annually by the Royal Incorporation of Architects in Scotland.
Here, we present our own special Award for Conservation and Climate Change.
The award promotes best practice in building conservation and supports social, economic and environmental sustainability. Last year, we gave a joint award to a small rural development and a large urban office refurbishment.
RIAS Awards 2019
This year, we had a strong field of diverse and inspiring projects. All involved the repair, upgrading or reuse of listed buildings.
Several, including both commendations, had been supported financially through our grants programme.
The shortlisted schemes included:
The schemes have boosted tourism and economic development, as well as helping to develop traditional skills. They utilise local materials, assisting local supply chains and employment.
Regeneration
Every shortlisted project could have won our award. But this year we decided to concentrate on the regeneration of Scotland's economically disadvantaged town centres.
We awarded a commendation to two projects. Both acknowledge the positive and practical reuse of listed buildings by local authorities.
West Dunbartonshire Council Offices, Church Street, Dumbarton
The first commendation was for a building rescued from the brink by the local authority, with grant aid from HES.
For over a decade, the retained Gothic façade of Dumbarton's former Academy had been supported by a complicated steel skeleton. Now, this nationally important landmark building is the focus of a new council headquarters and a new hub in the heart of town.
The Ingram Enterprise Centre, John Finnie Street, Kilmarnock
The second commendation was for The Ingram Centre in Kilmarnock.
It's the last piece of the jigsaw in a long-term urban renewal project spearheaded by East Ayrshire Council, and supported by HES through our area grants scheme.
A converted disused B-listed building, it provides a characterful base for a series of start-up businesses. We were struck by the popularity of the units and the positivity of their tenants.
The Winner
Our winning project was the Borders Distillery in Hawick, the first distillery to open in the Borders for almost two centuries.
Instead of a new build on an out-of-town site, the decision was taken to convert an empty listed former industrial building within the town centre.
Gray Macpherson Architects have taken an inventive approach to both architectural conservation and climate change.  There has been a light-touch towards the original building with original elements cleverly reused or salvaged.
This has combined with well-designed contemporary additions to the building.
Going Greener
Reuse of buildings will almost always be greener, as it respects the embodied energy of a building. It also reduces the carbon footprint and resources involved in demolitions and new builds.
At the Borders Distillery, there has been a strong push towards energy efficiency. There is natural ventilation and a target of zero-waste. River water is taken to cool the machinery, the same approach used by the Electricity Company who built the building over a century ago.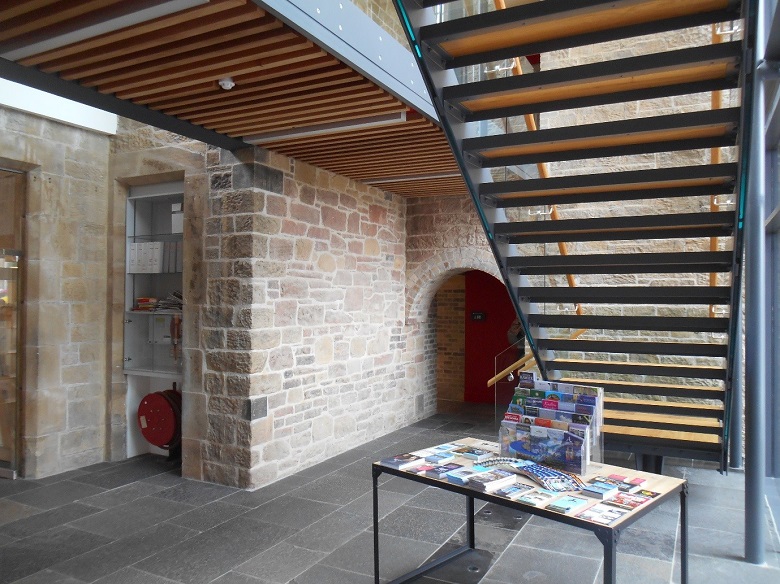 Interior of the Borders Distillery
Legacy
We have worked hard to show how traditional buildings can be sensitively upgraded to address climate change and regenerate local communities. We recently published a new Managing Change guidance note on the Use and Adaptation of Listed Buildings.
Both our winner and commended projects show a strong belief in the regeneration and revitalisation of Scotland's town centres. For instance, the projects deliberately provided no canteen or restaurant facilities, compelling people to support local businesses.
The projects have provided employment and aided tourism to towns that really need such investment. There is already evidence of renewed optimism and prosperity as a result of these sensitive and sustainable projects.
The Chief Executive of HES, Alex Paterson, presented our award to Gray Macpherson Architects at the RIAS awards dinner on Thursday 30th May.
We now intend to write up several of the shortlisted projects as HES case studies. For further information on the work of Heritage Directorate you can download our Planning Performance Report.
---
Share