Samuel Johnson (AKA Dr. Johnson), is famously remembered as the writer of the first comprehensive English Dictionary, published 1755. Johnson is also well-known for his poor opinion of Scots and Scotland, he once remarked "The noblest prospect which a Scotchman ever sees, is the high road that leads him to England."
Nevertheless, in 1773 Dr. Johnson accompanied his Scottish friend James Boswell on a tour of Scotland, visiting far-flung places like Fort George, the isle of Coll, and Renton.
Along the way, both Johnson and Boswell had a number of interesting and bizarre experiences, which they recorded in writing. We'll now follow Johnson and Boswell on some of the highlights (or lowlights!) of that tour.
First Impressions
The journey began in Edinburgh, at Boyd's Inn, where Boswell met Johnson after he had just travelled from London.
Unfortunately the hygiene at the inn did not make a good first impression on Johnson. Boswell wrote:
He asked to have his lemonade made sweeter; upon which the waiter, with his greasy fingers, lifted a lump of sugar, and put it into it. The Doctor, in indignation, threw it out of the window".
Friends in High Places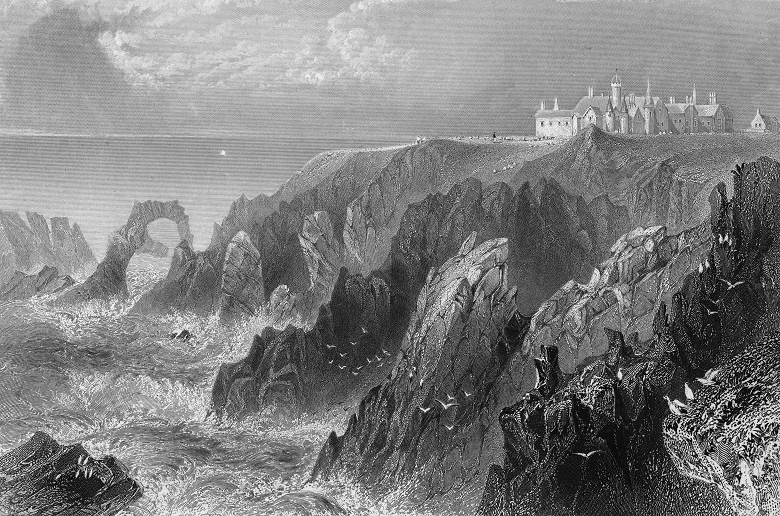 On their journey Boswell and Johnson stayed at a number of stately homes, one of which was Slains Castle, near Peterhead. The castle on the cliffs may have been one of Bram Stoker's influences when he wrote Dracula.
Johnson wrote "I would not for my amusement wish for a storm; but as storms, whether wished or not, will sometimes happen, I may say, without violation of humanity, that I should willingly look out upon them from Slanes Castle".
Island-hopping
Boswell and Johnson visited a variety of islands during their tour, including Skye, Coll, Mull, Iona, and others.
Sailing between these islands was often unpleasant or dangerous. Travelling from Skye to Coll during a storm, Johnson got seasick and spent the trip below-deck.
Boswell, meanwhile, spent the crossing worrying about whether the ship would sink or explode, as it may have been carrying gunpowder. The Gaelic shouting of the sailors just scared Boswell all the more, as he wrote
A man is always suspicious of what is saying in an unknown tongue".
Sacred Sight-seeing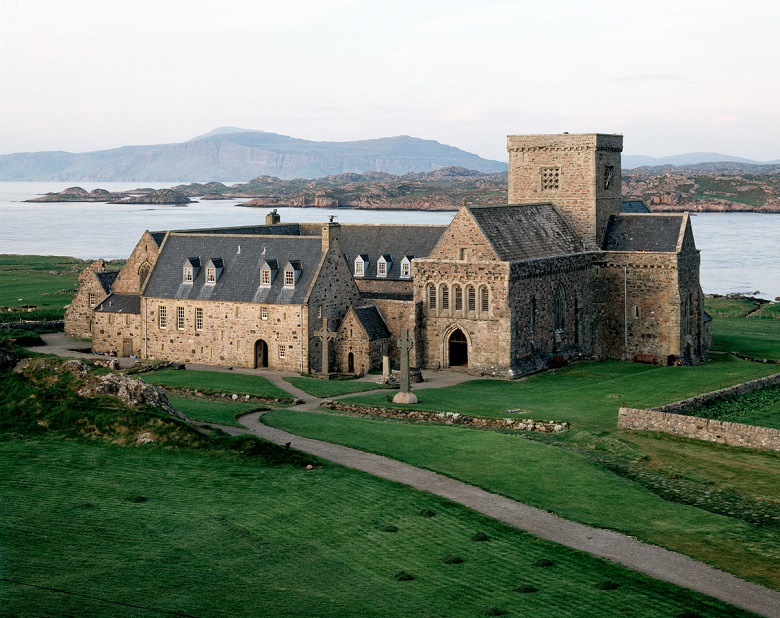 One of the highlights of the tour for the two travellers was seeing Iona.
Despite complaining that the ruined nunnery on the island was covered in cow-muck, and the friends had to resort to sleeping in 'a large barn', Johnson was still inspired by his visit.
He wrote "Whatever withdraws us from the power of our senses; whatever makes the past, the distant, or the future predominate over the present, advances us in the dignity of thinking beings."
"New images in my mind"
After the end of the tour, Boswell recorded a conversation he had had with Johnson about their journey:
He said to me often, that the time he spent in this tour was the pleasantest part of his life, and asked me if I would lose the recollection of it for five hundred pounds. I answered I would not; and he applauded my setting such a value on an accession of new images in my mind"
We hope that you have also appreciated seeing some new images!
You can view many more pictures related to historic sites across Scotland whenever you wish on our Canmore website.
If you have not already read Boswell and Johnson's accounts of their tour, you can find them online and in print in a number of different editions, and they are still good reads in 2019! The titles are:
Samuel Johnson, A Journey to the Western Islands of Scotland
James Boswell, A Journal of a Tour to the Hebrides with Samuel Johnson
---
Share