Twenty years ago, on Saturday 4 December 1999 the Heart of Neolithic Orkney World Heritage Site (HONO) was inscribed on the UNESCO World Heritage List.
Between them, the extraordinary monuments at Skara Brae, Maeshowe, the Stones of Stenness and the Ring of Brodgar make up one of the richest surviving Neolithic landscapes in Western Europe.
Tonight we're gonna party like it's 1999…
For monuments that were built between 5100 and 3500 years ago, those twenty years is barely a blip. For some of us, it feels a little longer!
1999 was the year the Scottish Parliament opened, and devolved powers were transferred to the Scottish Executive.
The millennium was fast approaching, and the Euro had just been established. Mobile phones were much bulkier, The Matrix and Notting Hill were in cinemas. Harry Potter was entering his third year at Hogwarts in Harry Potter and the Prisoner of Azkaban.
On Saturday 4 December Cliff Richard's Millennium Prayer was No 1 in the Charts. Maybe you bought the single in Glasgow's brand-new shopping mall, Buchanan Galleries?
What's changed at the World Heritage Site?
The monuments that make up the Heart of Neolithic Orkney still look much as they did in 1999. In fact they are pretty much unchanged since they were first recorded by  the antiquarians of the 18th and 19th centuries.
But there have been plenty of other changes…
The Orkney World Heritage Ranger Service was formed in 2005. Since then, it has gone from strength to strength. If you take one of their free guided walks at Ring of Brodgar, they'll be happy tell you about the changes they've seen over the years
Visitor numbers have gone up – a lot! For instance, Skara Brae had about 66,000 visitors in 2004-2005. By 2018-19 this had gone up to almost 112,000
Back in 1999 there were just a handful of cruise ships visiting the islands each year. This year Orkney Islands Council had 170 ship bookings. Of course, many of their passengers wanted to see the World Heritage Site.
We have published three Management Plans, a Research Agenda and a Research Strategy – phew!
With the big milestone approaching the Orkney Rangers and the World Heritage Team put their heads together and came up with some ideas to celebrate 20 years of HONO.
Popping Up Across Orkney
A new and improved Ranger Service pop-up museum visited schools, the St Magnus Centre, Visit Orkney travel centre and more. The museum showcased replica artefacts like bowls, stone knives and bone jewellery.
Archaeologist Dr Mike Copper used his expert knowledge to make two beautiful decorated replica Unstan Ware pots.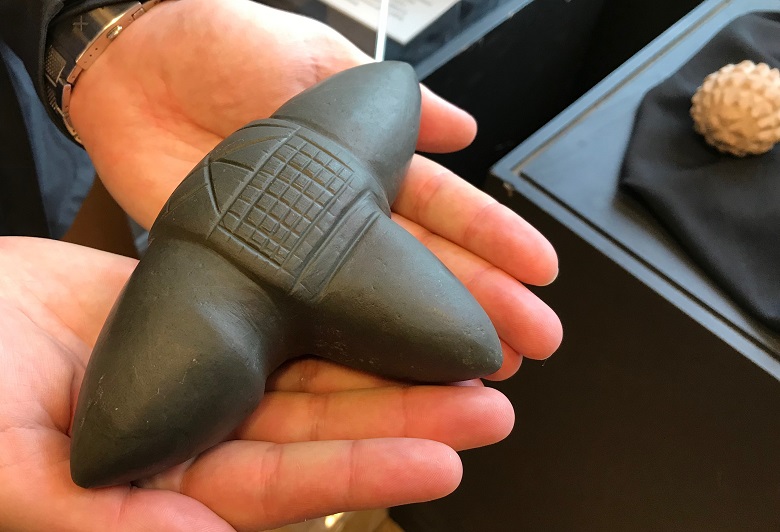 Chris Gee's mysterious object
Chris Gee, an Orcadian archaeologist and stone mason, crafted a stunning replica of a mysterious stone object found at Skara Brae. Chris used authentic Stone Age techniques such as 'pecking' with a stone hammer, and rubbing and smoothing with other stones.
Out and About
An eye-catching new HONO 20 design was in evidence all year. It appeared on bunting, t-shirts, flags, stickers, and even (briefly) on a cake.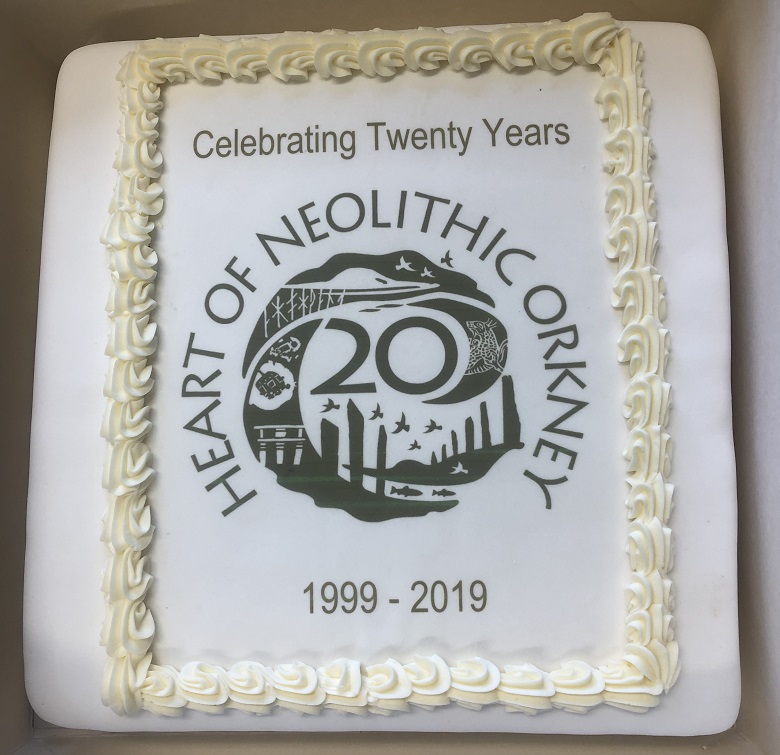 The flags, along with a specially-designed selfie frame, were on display at the Dounby Agricultural Show in August. Both were very popular with show-goers of all ages.
Clad in our stylish HONO 20 t-shirts, the World Heritage Team joined the Orkney Rangers for a very busy and rewarding day meeting and talking to a wide range of people about the World Heritage Site and surrounding landscape.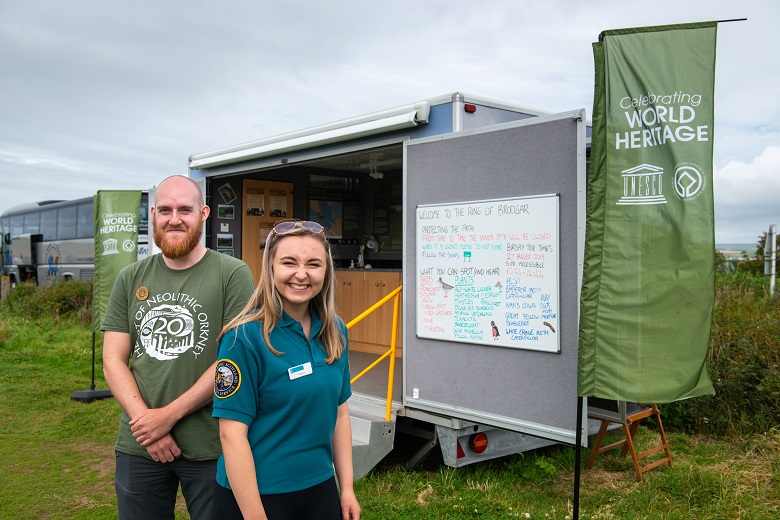 Seeing the future – from above!
Children from the nearby Stenness Primary school joined the Rangers at the Stones of Stenness to form a human "20" in the middle of the stone circle.
HES photographers were on hand to capture some brilliant images with a drone, and afterwards everyone shared a HONO 20 cake at the Maeshowe Visitor Centre.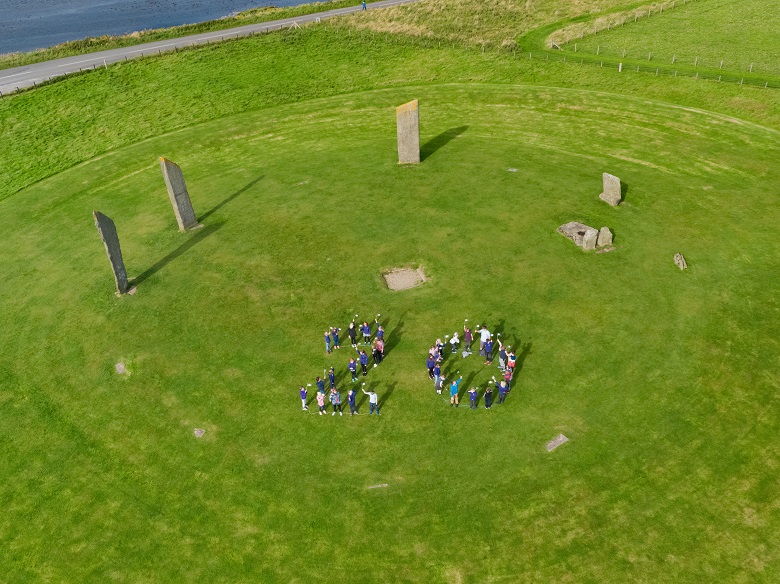 This was the highlight of our year of celebrations, not least because in another 20 years the pupils on the ground will have grown up as part of the community who appreciate and care for the monuments that make up the World Heritage Site.
Here's to the next 20 years!
It's hard to predict exactly what changes we might see at the Heart of Neolithic Orkney over the next 20 years. We're preparing to start the next five with a brand new HONO management plan.
If you would like to contribute, keep an eye out on the HES website and social media in the New Year!
Want more from Neolithic Orkney? Check out these fascinating facts about the monuments, from Indiana Jones to Viking graffiti. You can also meet the Orkney Rangers on our World Ranger Day blog. 
---
Share