In this blog post we head to the Forth Valley and the town of Grangemouth to look at how survey fieldwork and archival research can complement each other to shed new light on our understanding of Scotland's historic environment.
Surveying Scotland's heritage at risk
This year, the Buildings at Risk Register for Scotland is celebrating its 30th birthday.
The Register, also known as BARR, aims to raise awareness of properties of architectural or historic merit throughout the country that are considered to be at risk or under threat. By highlighting these historic places, our work acts as a catalyst for marrying-up potential restorers, communities, friends groups and developers with suitable available buildings and sites and supports them in bringing them back into use.
The Register is also an invaluable national statistical database which provides us with an ever-evolving dynamic picture of the state of Scotland's built heritage. For instance, we can show that in the last 3 decades over 1,900 At Risk buildings that were neglected, unloved and under threat have been brought back into use.
Unfortunately, though, there are still currently 2317 'At Risk' buildings in Scotland and it is really difficult for us to keep up to date on all the properties on the Register. We rely greatly on the help of local planning authorities and readers like you to ensure that information is as up to date as possible. Later in our 30th year celebrations, we'll be announcing new ways that you can get involved so stay tuned!
From Risk to Record
In order to accurately highlight these historic places At Risk, we need to understand their historic role and the present-day context. One way to do this is through survey fieldwork.
My role in the team is to travel all over Scotland assessing the condition of a wide variety of building types for the Register, from cinemas to clocktowers, tenements to telephone call boxes. We really get to appreciate the contrasting architectural styles that Scotland has to offer.
In the HES Survey and Recording team, we're always on the lookout for opportunities to better understand Scotland's buildings, and to add new and improved information to our National Record of the Historic Environment held in Canmore.
One of our most recent BARR surveys was of Falkirk Council's conservation areas and listed buildings (the results will be updated soon and available via buildingsatrisk.org.uk). On this survey, I visited the town of Grangemouth, where the sole Building at Risk is the Category C listed Empire Electric Theatre, which has been on the Register since 2015.
For a town the size of Grangemouth, it's unusual to find only one single Building At Risk. We therefore took this opportunity to explore the rest of the town, outwith the designated heritage buildings.
A changing town for changing times
Grangemouth was established as a town with industrial purpose. The townscape has been almost entirely shaped by its industrial expansion since the 18th century through to the present day. At the core of this, the town's port and dockyard has supported the earliest industries of shipbuilding, ropemaking, timber and grain trading. Since the post-war period, the main industries in the town have been based around production of petro-chemicals. Its modernised port remains the country's busiest.
The constant and often comprehensive change in Grangemouth's industrial purpose means very few of the early buildings of the town have survived. A core of Victorian and early 20th century civic buildings and townscape for the most-part remains in use, except of course the aforementioned Empire Electric cinema. Little, you might therefore think, for my attention when seeking historic buildings at risk. But during fieldwork, we turned our focus to the 1970s redevelopment of Grangemouth town centre, designed by the Scottish post-war architectural practice Wheeler and Sproson.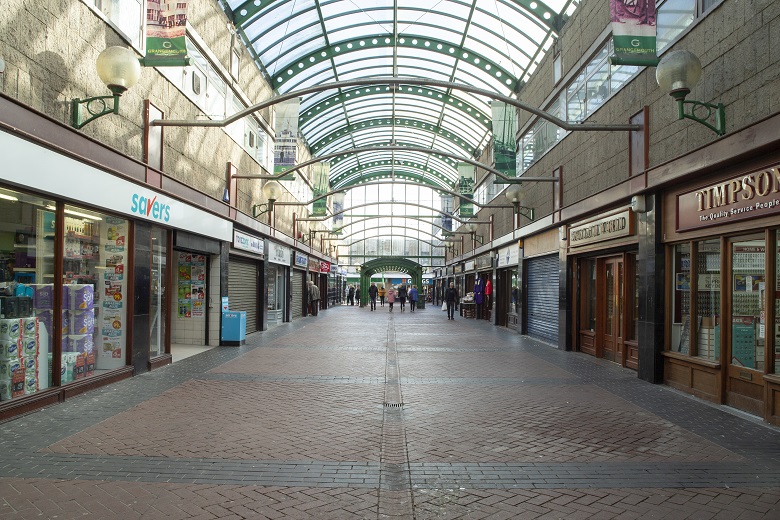 The continuing legacy of Grangemouth's industrial prosperity might not be immediately obvious in this 1970s shopping arcade, but it is very much linked to the innovations of the time.
Prosperous ports make popular places
In the 1960s, Grangemouth saw massive expansion of its petro-chemical industry and a subsequent increase in its population. The Town Council were quick to recognise that the town centre facilities fell far short of what was needed for an increasingly prosperous, expanding town.
In 1967, they commissioned Wheeler and Sproson to develop a master plan for the area. They came up with a vast re-imagining of the 19th century town centre that featured new housing, modern shopping facilities and a new post office and telephone exchange. The proposals, designs and other material from the practice are now cared for by the HES Archives.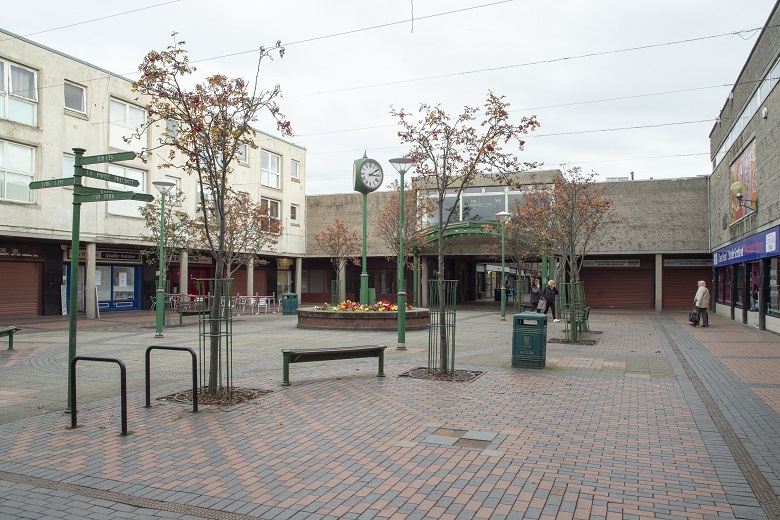 The Grangemouth town centre plans envisaged people were now shopping and living in new ways.  As a result of the rapid rise in private car ownership in the mid-20th century, this included parking spaces for approximately 400 vehicles. Many 19th century terraces and shops were demolished to make way for the new structures.
Interestingly, news articles from the time report widespread support for these plans. The scheme would not have been possible without the cooperation of local residents and commercial business owners and traders.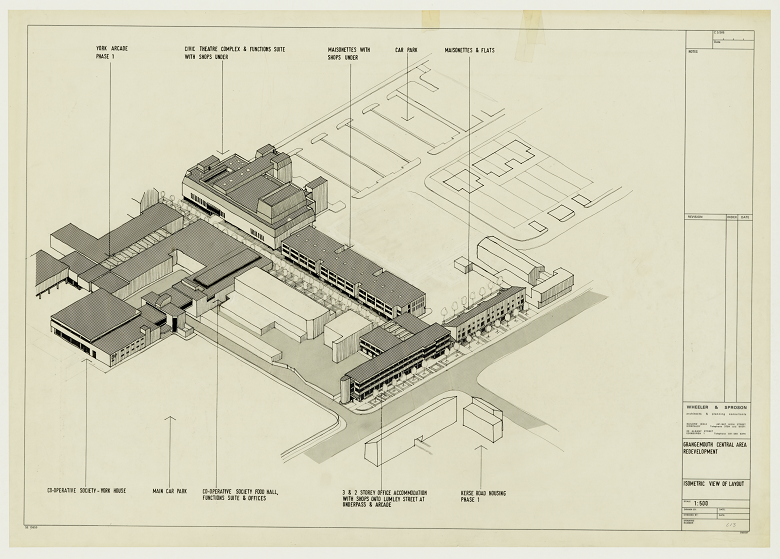 The first phase of the development officially opened on January 15th 1970 so it will soon be celebrating its 50th birthday. As part of this work we've also produced a photographic survey of the development as it is today. It will be available soon via Canmore.
An appetite for art? 
My job isn't all travel – archives play an important role in our survey work. I joined forces with my colleague Katherine Breen who is currently in the process of completing her PhD in Architecture.
Her research is focussed on the regional housing projects of Wheeler and Sproson. Together we pored over their collection of drawings in the HES Archives. We pieced together a picture of the various phases of the Grangemouth development.
Our most exciting discovery was of a design for an unbuilt Grangemouth Civic Centre. This was to be a multi-use arts centre with theatre, exhibition spaces and shop units. The proposal seems to exemplify the optimism of the time. The architects were evidently inspired by the Town Council's desire to improve the living conditions for a growing population and designed a building that symbolised the town's aspirations.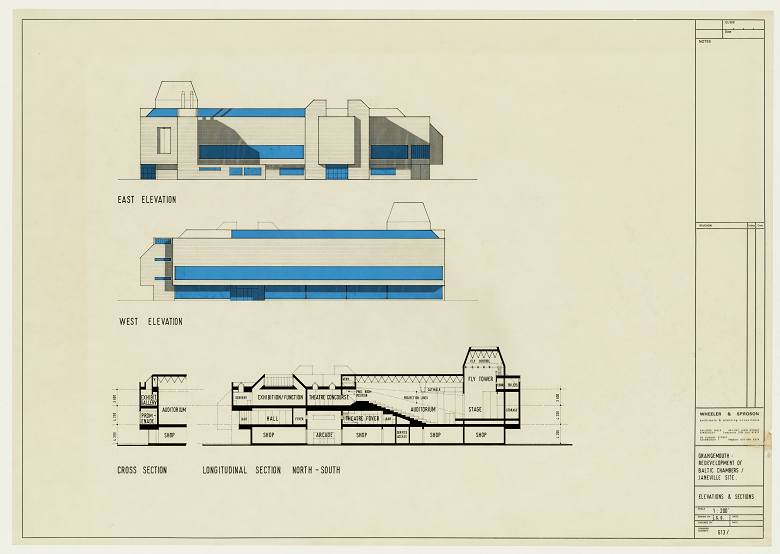 The drawings aren't dated but it's likely these designs were part of the final phase of the Grangemouth Town Centre Redevelopment. It's not clear why the Civic Centre was never realised. Perhaps the local government reorganisation of 1975 had a part to play? At this time Grangemouth lost its small burgh status, and with it its autonomy, when it became part of the larger Central Region council area.
Other factors may have been widespread strikes of the 1978-9 Winter of Discontent, or the fast-approaching 1980s recession. It's likely the optimism of that previous decade had begun to fade – and perhaps the money along with it!
These drawings showcase a building worthy of the most prosperous town in Scotland at the time. They set our imaginations alight with what could've been and suggest the untapped potential for the Empire Electric Theatre.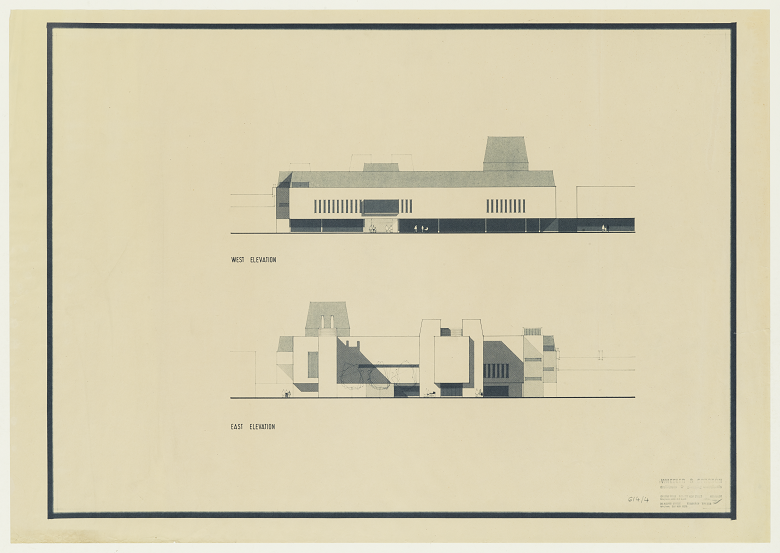 Inspired by Grangemouth?
Find out more about Grangemouth's history in our Industry + Aesthetics exhibition on display in the York Square development until Saturday 11 January 2020.
Interested in saving Scotland's At Risk heritage? Let us know about a building At Risk or learn more about the use and adaptation of listed buildings.
---
Share