Ramadan is the month of fasting, when many Muslims around the world give up food and drink between dawn and dusk. It's a month of contemplation, supplication and re-evaluation of one's self. Believers aim to improve ourselves, shed bad habits and seek to be closer to their Creator.
What's it like to celebrate Ramadan in Scotland's historic capital? And what has life been like for Muslims in Edinburgh over the years? Zahid Ali tells us.
A brief history of Muslim worship in Edinburgh
It is not an accident that the area around Edinburgh's historic university is at the historic heart of the Muslim community in Edinburgh. Many of the first Muslims who came to live in Edinburgh were students of the prestigious University of Edinburgh.
At the beginning of the 20th century, Muslims living in Edinburgh didn't have an established mosque to attend. A story from The Scotsman in 1911 tells us that Muslim students hired rooms at the Carlton Hotel to observe and celebrate Eid al-Adha, another major Islamic festival.
In the 1970s, the Muslim community in Edinburgh was still quite small. There was (and still is!) a tiny mosque in a repurposed flat in Roxburgh Street, near The Pleasance.  However, for big celebrations like Eid, prayers used to be held at Edinburgh University's Adam House on Chambers Street.
Edinburgh is now home to 16 mosques, dotted across the city, including Edinburgh Central Mosque which was purpose built and opened in 1998. However, many of the city's mosques still make use of older buildings.
Sighting the moon
Muslims use a lunar calendar, so every month starts with the sighting of the new moon. The start of Ramadan is often marked by families gathering anywhere where you can get a clear view of the western horizon to sight the new moon. My family likes to climb the historic Calton Hill.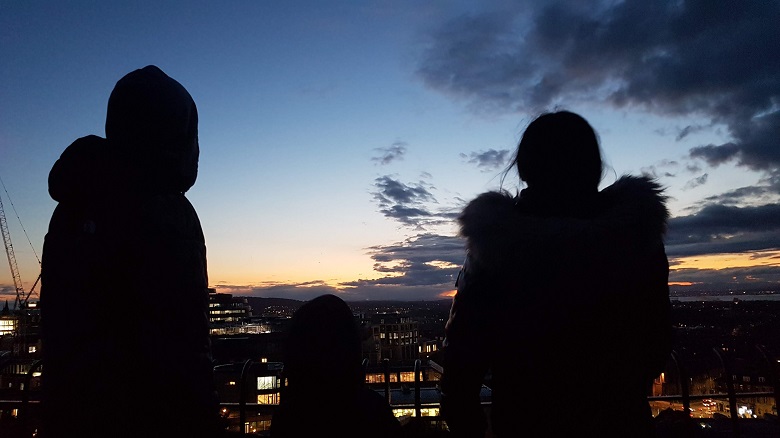 The first official record of a Muslim living in Edinburgh is from 1858. Wazir Beg from Mumbai (then "Bombay"), was a medical student who studied at the University of Edinburgh. Perhaps Wazir also climbed up Calton Hill to sight the new moon. This view would have looked very different in his time!
Self-isolation, family and community
During the month of Ramadan we make more time for our families and communities. Families to come together to break our fasts collectively and eat traditional food. Every mosque offers free food during Ramadan.
And for the last 10 days of Ramadan, if we are able to, we self-isolate. Cut off from the daily routine of life, we concentrate on the worship of God.
Going to the Mosque
Ramadan is a time to engage in communal worship by gathering in mosques every night to pray. There is a great buzz in the community as people are busy working, cooking, praying and engaging in good deeds. Sleep during this month is at a premium!
However, the past two Ramadans however have been a very different kind of experience, as the world has engulfed by a global pandemic.
During Ramadan 2020, mosques were closed and restrictions on movement meant that families could not gather to share food when they opened their fasts. The buzz in the community had to adapt to Zoom calls and Zoom sermons and Zoom dinners.
Thankfully, this year we are able to return to our mosques, with restrictions in place.
Never more needed
The Muslim community quickly adapted to the challenges of the pandemic. A huge part of Ramadan is doing good deeds, engaging in charity work. Mosques across Scotland opened up food banks, Muslim charities set up hot food kitchens and there was a great drive to help those in need.
The world's biggest charity donation comes during the month of Ramadan, when Muslims are obliged to give 2.5% of their excess wealth to charity. According to the Muslim Charities Forum, British Muslims form "the most charitable religious community in the UK" and last year, "donors contributed over £130 million".
Severely impacted by Covid-19
Covid-19 has had a devastating effect on Muslim communities across the country as death rates far exceed the national average. Muslim doctors and medical workers had a high rate of deaths.
Muslim communities from poorer sections of society also suffered disproportionately, as they were front line workers in the NHS, taxi/bus drivers and shop workers.
During Ramadan Muslims have not only prayed for relief from the pandemic, but have tried their best to support all of our communities, Muslim and non-Muslim in a practical way. The spirit of Ramadan is alive and well. Muslims endeavour to come out of this month as better people compared to when we entered this month.
Find out more
If you'd like to know more about observing Ramadan during the pandemic, this BBC Social video with Sumayyah from Glasgow is a good one to watch.
You can also tune in to Radio Ramadan, a community radio station which is run by volunteers in Glasgow.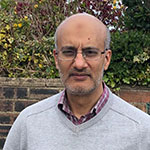 Zahid Ali is an Edinburgh based community activist. He runs the Facebook page @ScottishMuslimMedia and is the leader of Scotland's first ever Muslim Scout group, the 8th Braid Salaam Scouts.
---
Share