South Asian Heritage Month aims to build an understanding of the diverse heritage that continues to link the UK with South Asia. It celebrates South Asian history and culture. This year marks the 75th anniversary of the independence of India and the creation of Pakistan.
This year's theme is 'Journeys of Empire' and it conjures up a multitude of emotions. Many people from former colonised countries of the British Empire, like my grandparents, left their homelands to migrate to a new land for promises of a better life. Their sacrifices, contributions and, in some cases, their existence, are barely acknowledged.
A British Story: Partition of India and Pakistan
There's been a British presence in India since the 1600s. The violent and oppressive British colonial rule in India, and previously the British East India Company, ended in 1947. Before exiting, the British hastily drew a border splitting British India into two independent countries
The partition of British India saw the traumatic birth of two nations along religious borders of Hindu majority India and Muslim majority Pakistan. An estimated 10-12 million people had to flee their homes and move across borders, causing chaos.
This led to one of the largest migration and refugee crises in human history. Around a million people were killed in the violence. Displaced communities, families torn apart, massacres and killings followed. Tensions continue to this day.
Such trauma and fear can be passed down to second and third generations of immigrant families, where it sits in the silences of unspoken words and memories that hide behind haunted eyes.
Kavita Puri is doing the incredible work of chronicling these previously unspoken partition stories from families who are now settled in Britain. Goosebumps rippled across my skin when I heard Puri speak of the 'inheritors of partition' piecing together hidden memories of partition.
Those who lived through the formation of India and Pakistan are telling their stories, and their grandchildren are asking the questions' (Kavita Puri)
A Scottish Story
My late father was born in the tumultuous year of 1947 in newly created Pakistan. Following his death a few years ago, grief gripped me within its iron clutches. As I struggled with compounding loss and heartbreak, it was writing, which somewhat rescued me.
My father was a gentle storyteller. While cooking up a delicious curry, he never demanded any attention as he slipped in a story about our Pakistani family, culture and traditions or how we all eventually set down roots in Scotland. I can feel those memories slipping between my fingers like particles of gold dust. I fear if I don't start collecting those memories, my children will grow up not knowing that side of their beautiful heritage.
As a child of first-generation immigrants, it was hard to make sense of the world when you had to straddle multiple identities and deal with hostility and racism for not 'belonging here.
As an adult, I realise how much of my family's journey from Pakistan to Britain is part of a global story, which so far has largely excluded voices like ours.
Connecting our shared heritage
The intentional exclusion is what I've grappled with most. People from all over Scotland were involved in the British Empire, and the wealth generated from these imperial systems was invested across many areas of Scottish society.
So, I began educating myself on my South Asian roots. I delved into colonial archives and challenged myself with the narrative around Scotland and South Asia.
My little family joined me on a trail all over Scotland as I traced and connected with my South Asian and Scottish heritage, and discovered some lesser-known stories of Scotland's heritage.
On a trail of Scotland's hidden South Asian stories
A corner of Pakistan in Scotland
In Scotland's beautiful Highlands, between the rugged hills and towering mountains of the Cairngorms, you will find Kingussie in Inverness. The quiet village tells the little-known story of World War II Punjabi soldiers in Scotland.
From the work of Colourful Heritage, I learnt about Force K6, an all-Muslim Punjabi regiment in the British Indian Army, where thirteen World War II soldiers died whilst training in Scotland.
Far from home, nine of the Force K6 soldiers have found their final rest in graves in Kingussie cemetery. They were from present-day Pakistan. Isobel Harling, a local Scottish woman, has tended to the nine graves in Kingussie with kindness and dedication for more than 70 years.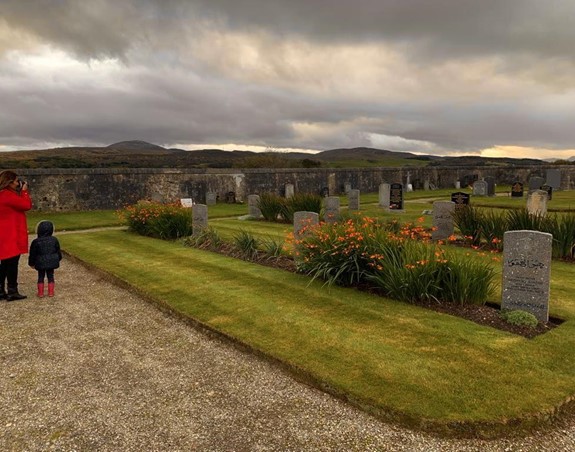 Driver Abdul Ghani, Force K6
Connecting the dots, our trail took us to Kelvingrove Museum and Galleries in Glasgow. This is the home to the magnificent Henry Lamb painting of Driver Abdul Ghani (1941) from Force K6.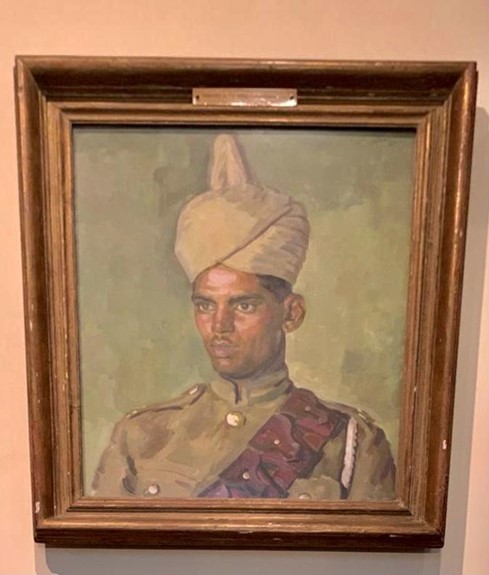 Ghani was just one of about 4,000 Indian soldiers who came to Britain, after the evacuation from Dunkirk. This was after Germany's invasion of  France and Belgium.
Colourful Heritage have campaigned successfully for a memorial for the fallen soldiers of the British Indian Army. It's the first of its kind in Scotland! This finally recognises the service and sacrifice of over 4 million soldiers of the British Indian Army.
Tipu Sultan and the Siege of Seringapatam
Tipu Sultan, the ruler of Mysore in Southern India (1750-1799) fiercely fought against the British East India Company. They were on their colonial quest to aggressively expand and conquer India. Tipu Sultan was also known as the Tiger of Mysore.
His Indian rivals and especially the British feared him as a powerful ruler. He was defeated and killed in combat at the siege of Seringaptam. The British looted and seized his vast royal treasury, library and personal effects. All over the UK, you can find items and treasures belonging to Tipu Sultan.
The National War Museum at Edinburgh Castle displays a number of objects from the collection.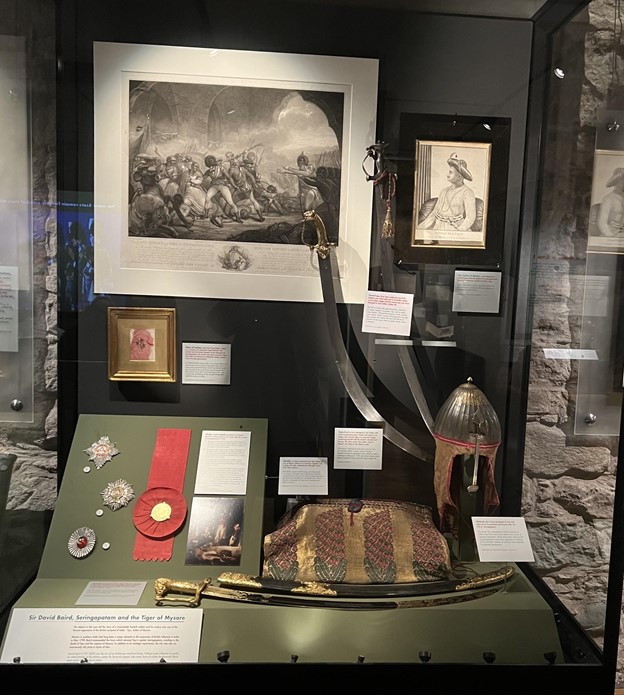 Representation matters
Recently, I was honoured to be included in Edinburgh's Women's Mural, an exhibition celebrating 100 trailblazing women, past and present in Edinburgh. Slightly bittersweet, it was an acknowledgement of my anti-racism activism, writing and research uncovering the hidden histories of working-class Indian women present in Scotland from the 19th century as the Ayahs of Scotland.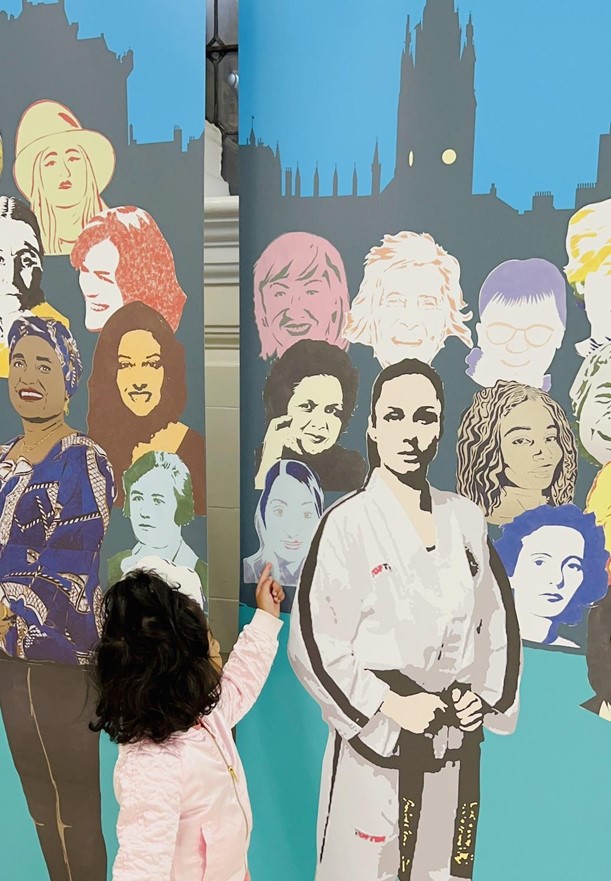 My heart leapt with joy at the precious moment of seeing my four-year-old daughter squealing in delight as she recognised me on the mural at Edinburgh's Central Library. At such a tender young age, she saw herself reflected. With the lack of South Asian representation in media and books, I missed this growing up.
Surrounding us, there are so many more untold stories and hidden histories from Black, Asian and Minority Ethnic communities, which are not present in display cabinets and exhibition spaces.
As a nation with shared and diverse histories, we have a duty to honour not only these erased voices but to celebrate and remember their dedication and sacrifices, for they too are part of the Scottish story.
About the Author
Shasta Ali works in the Third Sector and is a writer and anti-racism campaigner. Her writing explores race, identity and heritage, with work published and featured in The National, STV Scotland, Scottish BPOC Writers Network and Books From Scotland, among others. Shasta lives in beautiful Edinburgh and can often be found with a cup of tea, pondering over how we're all part of a global story, with more uniting us than dividing us.
Twitter @ShastaHAli
Scotland's South Asian heritage
On the trails of Scotland's South Asian heritage? South Asian Heritage is rooted in Scotland's history. Explore more of Scotland's South Asian connections in our blogs.
---
Share