HES recently listed the Palacerigg Visitor Centre in Cumbernauld, which houses one of Alasdair Gray's fascinating murals, at Category B. But how much do you know about the multifaceted muralist?
Alasdair Gray was a true polymath. His unique vision spanned multiple mediums – from plays, poems, novels and political essays to paintings, prints, drawings and murals.
"Pictures and stories were the closest I could get to the magic that might make me powerful and loved." – Alasdair Gray
The early beginnings of Alasdair Gray
Born in 1934 in Riddrie in the east end of Glasgow, he took an early interest in books and picture making. Aged eight, Gray started writing and illustrating stories and verses which his father would then type.
Gray was a proud supporter of socialism throughout his life. He believed in a fair and equitable society, and culture as a right for all. Gray created artworks in public spaces that everyone could access, such as pubs, churches and parks. He reimagined the city as a creative place and produced ripples of creativity that are still flowing forcefully today.
His murals create ambiguity and offer a space for the viewer to reflect and place themselves. Let's take a look then at Gray's Glasgow and its surrounds through some of his famous murals.
Art School: The Horrors of War mural, 1955-57
Gray's four years spent within the mural making department at the Glasgow School of Art offered him creative freedom. Images could be created in whatever was to hand: pen, paint, ink, biro and they weren't restricted to canvases either.
During this time Gray completed his first mural commission for the USSR Friendship Society, The Horrors of War, 1955-57. This is his take on the painting 'Triumph of Death' by Dutch Renaissance painter Pieter Brueghel and German painter Albrecht Durer's 'Apocalypse'.
The mural combines a Glasgow landscape, Sighthill Cemetery, and mountains with a biblical crucifixion and other horrors used to symbolise the terrors of nuclear warfare.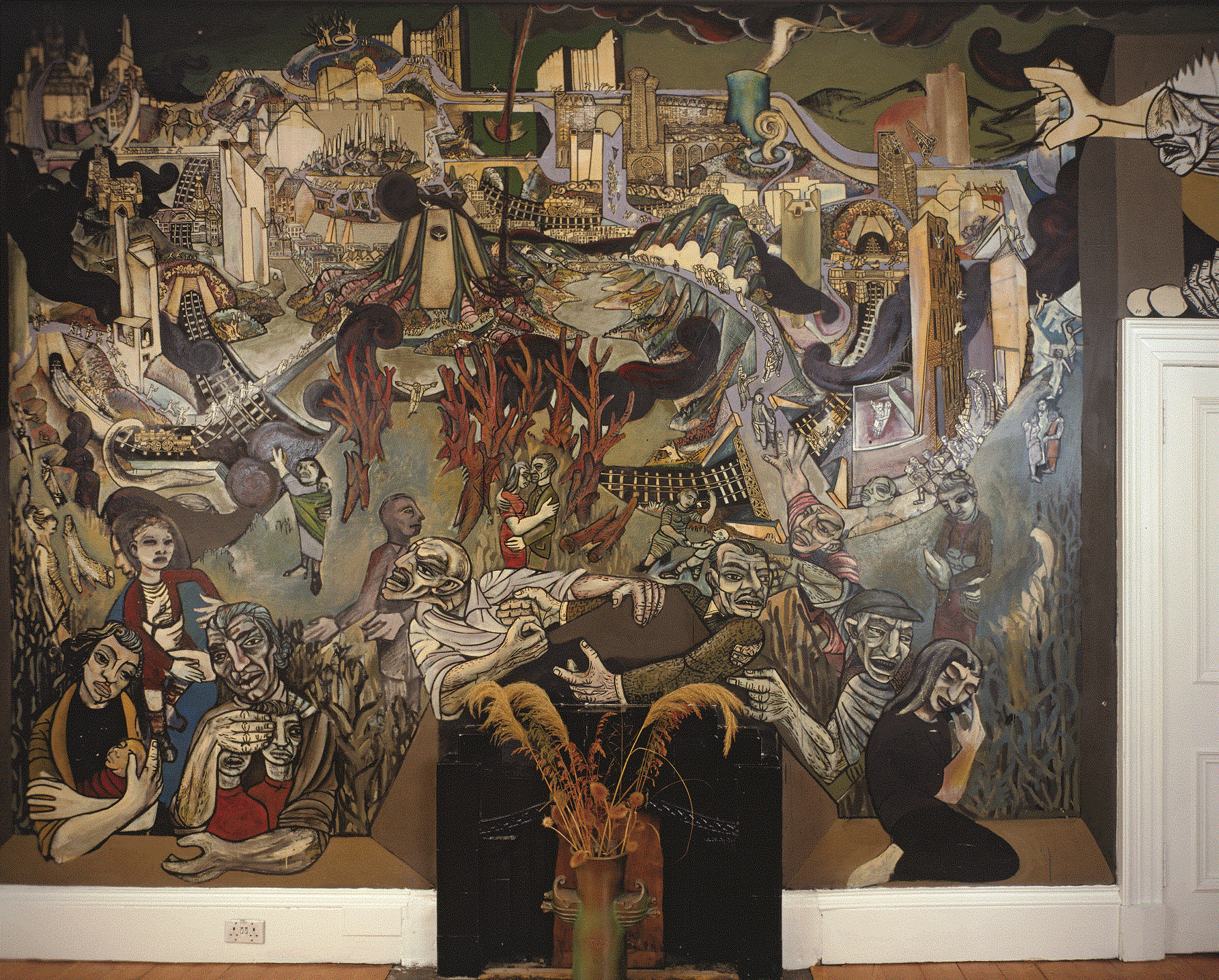 Horrors of War, South Wall, 1958, Courtesy The Alasdair Gray Archive.
Post art school: Greenhead Church of Scotland mural 1959-63
After graduating in 1957, Gray resisted the pull to London, hoping that "something would turn up" that would allow him to continue as an artist.
He created a mural at Greenhead Church of Scotland in Clarkston in 1959, an area south of the city of Glasgow.
In this mural, life imitates art as Gray paints the fictional artist Gulley Jimson from the novel 'The Horse's Mouth' by Joyce Cary. In the story, Jimson paints a mural. But as he colours the last supper, workmen are demolishing the building around him. Jimson eventually dies before the mural is completed. The idea of things remaining unfinished is one that Gray returned to again and again.
The Greenhead Church was a poor church situated in a working-class area of the city. It took 4 years to complete the mural. The church paid for the materials and scaffolding costs and Gray covered all other expenses. Gray wasn't financially well-off but he absorbed these costs.
In 1974, author and warden of Palacerigg Nature Reserve, David Stephen, approached Gray to paint a mural. Gray wanted to reflect the acres of wilderness outside of the centre but also the impact of heavy industry and farming that were destroying this natural habitat. In consultation with Stephen, they decided to include an oak tree in the mural as they house whole ecological systems from insects, birds, and animals to herbs.
The quote Gray painted on the central stone in the mural 'The future of wildlife depends on man' is attributed to Stephen. Gray more recently revised this for a series of text works inspired by biodiversity in collaboration with the artist Siobhan Healy.
The Alasdair Gray Archive captured these texts posthumously in 2021 as a series of carved stoneworks with support from Scottish Canals. These are placed at The Garscube Links, adjacent to the city centre nature reserve of the Clay Pits in Glasgow.
Family and friends became regular subjects with Gray often sketching in homes, cafes, pubs and restaurants. He often completed drawings quickly and with materials to hand – ballpoint pens, pencils and brown paper. Gray sometimes left areas blank or blocked in to highlight the subject. He also began experimenting with text or layering images to create worlds within worlds, a technique he has developed further in his drawings, paintings, printed works and murals.
Glasgow's West End has always been the bohemian hub of the city with The Ubiquitous Chip being a popular bar and eatery frequented by artists, writers and bon vivants alike. In 1979, the original owner, Ronnie Clydesdale, commissioned Gray to produce a mural in the main restaurant and back staircase in exchange for food and drink.
The painting features many of The Chip's regulars at the time, including the owner himself. Many regulars remember Gray sketching and painting them in situ for the mural. Gray would also sit by the bar, working on final edits of his book 'Lanark'.
The mural remains intact today. I like to imagine many of the faces being in attendance at the launch of Gray's book 'Lanark' at The Third Eye Centre back in February 1981.
Oran Mor, 2004-ongoing
Gray started the renovation and painting of The Auditorium at Oran Mor in 2004. It was commissioned by his friend, supporter and owner of the property, Colin Beattie.
The mural is one of the largest pieces of public art in Scotland. It includes a ceiling fresco, marbled balustrades and mirror portraits of staff both past and present.
The main ceiling features astrological depictions and the zodiac signs based on those which appeared in Ladybird books.
All text uses Gray's own font, 'Oran Mor Monumental'. The mirrors surrounding the columns have paintings featuring the staff at Oran Mor, from management to waiting staff and cleaners. It reinforces Gray's beliefs in equality and equity.
The balcony features three detailed sections inspired by Gaugin's 1897 painting 'Where Do We Come From? What Are We? Where Are We Going?' which ponders the fundamental questions which are the origin of every art, science and religion.
This mural is Gray's master work and it seems appropriate therefore that it should remain as a work unfinished.
Continuing Gray's legacy: The Alasdair Gray Archive
In Alasdair Gray's murals, as with all of his work, there is a generosity, an aspiration to live by your principles and values, to seek truth through kindness, and see the importance of culture and the spaces it provides.
These spaces seem critical and we need to cherish them, now more than ever. This is why preserving them is of national importance and why we at the Alasdair Gray Archive are foregrounding this in our approach.
About the Author
The Alasdair Gray Archive was established in 2020 after Gray's death in late 2019. It holds the collection of original visual artworks, sketches and drawings held here for research and learning purposes.
We house all of Gray's original prints, a restaging of his working studio set up, a section of his personal library and all Gray publications (including those he designed for others). We also have a section of literary papers, photographs and correspondence.
The Archive also works in partnership with others to maintain and share the stories behind the many murals Gray sited in bars, restaurants, private houses and civic spaces within the city. It is free and open to all!
Please get in touch if you have your own Gray story or would like to visit the Archive
mail@thealasdairgrayarchive.org 
www.thealasdairgrayarchive.org 
Banner image: Alasdair Gray painting the Greenbank Church, 1974, photo by Gordon Lennox, Courtesy The Alasdair Gray Archive.
We're currently reviewing Alasdair Gray murals for surveying and listing andwould welcome any information or listing proposals about surviving works at designations@hes.scot
---
Share