Visitors coming to Linlithgow Palace are greeted by spectacular stone sculptures. High on the sandstone walls, animal heads, angels and human figures are set among glorious carved canopies.
When visiting the palace this summer, we identified the need for some high level access to the 15th and 16th century carvings above the entrances. A closer look at the sculptures would not only show us whether there was a need for conservation work, but would also help us with interpretive research.
In August, colleagues from across the organisation came together to facilitate the work, which included thorough condition checks of the sculpture, photography and academic research.
Stone conservator, Christa Gerdwilker, carried out the detailed inspection of the carvings. The results will determine the extent and type of conservation work that may be required to the sculpture, including any material analysis and treatments.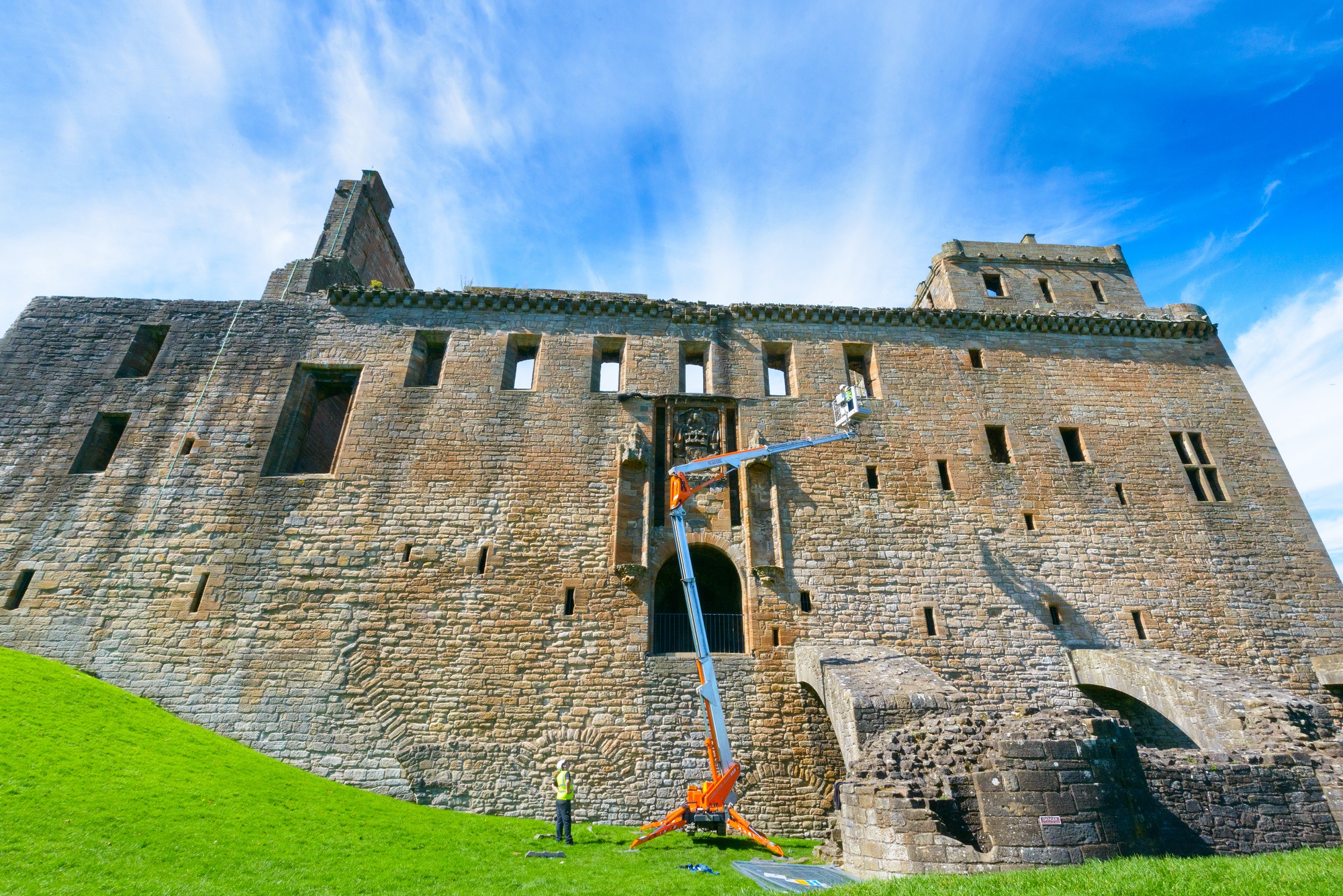 Also on site was Dr Sally Rush of Glasgow University, who has been commissioned by the Visitor Experience, Content and Learning team to undertake fresh research into the significance of the sculptures. This is the first time in recent history that the carvings have been studied in this way and it has been vital to Sally's research, giving her the opportunity to appreciate rarely seen details that could be key to unlocking the stories of these remarkable features. Sally's work forms part of a wider programme of the new research into the palace, which will feed into new interpretation for the site.
At the same time, our photographer joined the Digital Documentation team to create a full photographic survey and digital scan of the sculpture, recording its current condition and building a resource that will help monitor and inform future needs.
Gallery
The Monument Conservation Unit also carried out high level inspections of the stonework in other areas of the palace. Their findings will inform future conservation works across this important site.
Next time you're at Linlithgow, make sure to look up and marvel at these spectacular carvings!
This is only one of many examples where experts from across Historic Environment Scotland come together to protect Scotland's heritage. Subscribe to this blog to be kept up to date with the important work we do day to day.
Written by Fiona Fleming and Peter Ranson.
Peter Ranson is an award winning architect who has worked both in private practice and the public sector before joining Historic Scotland in 1997. As our District Architect he is currently responsible for the maintenance of Properties in the Care within the areas of the Scottish Borders, Falkirk and the Lothians.
---
Share