Your chance to explore Stirling with History Live is nearly here! This festival of fun involves a weekend of walks, talks, exhibitions and workshops to enjoy. We met up with Stirling actor, writer and historian David Kinnaird to find out how he's celebrating.
What are you most excited about?
For History Live we've arranged to open the Stirling Old Town Jail, which is normally closed by this time of year. It's an exciting opportunity to be able to re-open and welcome more visitors.
What are you planning for the festival weekend?
I'll be running tours of Stirling Old Town Jail,  historical Walking Tours, and a series of  Ghost Walks. It's going to be a very busy weekend!
The tours are aimed at anyone and everyone. In all my work, I try to mix drama, comedy, fact and fancy – making the performances accessible to locals and visitors alike. Hopefully this will encourage them to get involved with other events, and explore Stirling with History Live.
Where will the walking tours go?
The Walking Tour starts at the brand new Engine Shed conservation centre on Forthside Way. We'll then head up to the Mercat Cross and towards the castle.
Along the way we'll stop to explore the secrets of many Stirling sites. Some highlights are The Tolbooth, Mar's Wark, Church of the Holy Rude, Cowane's Hospital, Back Walk (the line of the Burgh Wall), Ladies' Hill and Argyll's Lodging. The final stop is at Stirling Castle.
You can find the schedule online.
Meanwhile the Stirling Ghost Walk leads from the Old Town Jail into the heart of the Holy Rude Cemeteries. In their time, these were the location for battles, body-snatching and witch-burning.
For both walking tours we use the locations which provide links to the most colourful, comic, couthy or dramatic stories and characters.
What can visitors expect from the Old Town Jail tour?
Comedy, drama, audience participation and an entertaining introduction to the colourful history of crime and punishment in the Royal Burgh. You'll also get some of the best views of Stirling and the Forth Valley from our Observation Tower.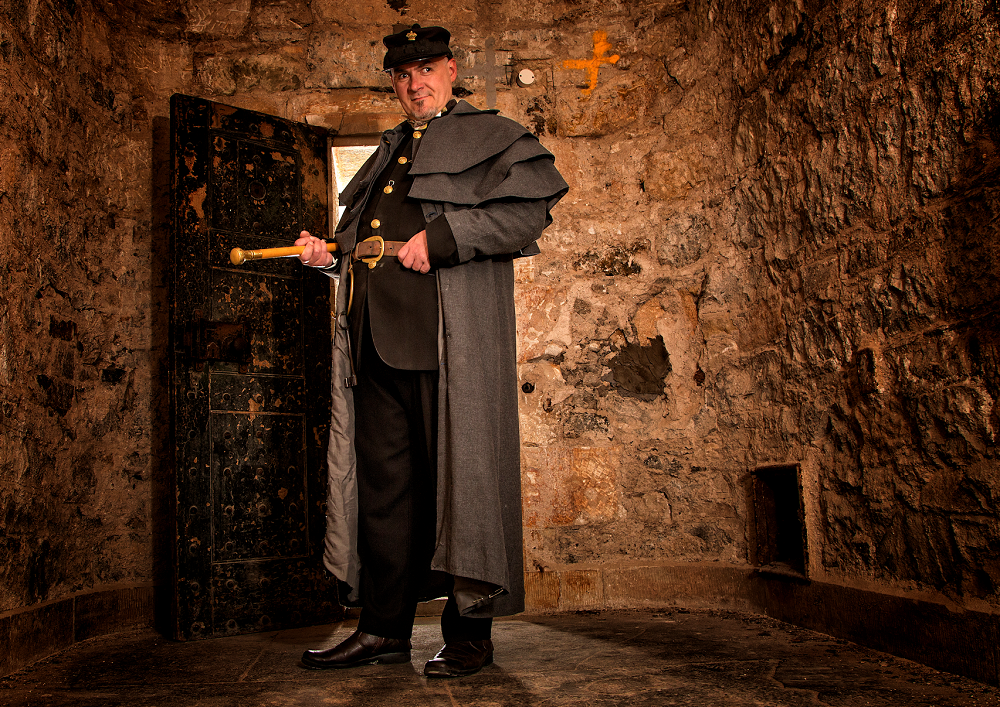 What's your favourite part of Stirling's history?
I'm always finding new characters or stories to quietly obsess over because of my long-standing association with the Jail and the Ghost Walk. I have an affinity with history's outcasts and oddities!
Because of this, I'm probably better known to the people of the Old Town as 'The Happy Hangman', Stirling's (second-) last executioner, Jock Rankin.
Explore Stirling with History Live
David's tours and walks are just some of the many great events taking place over the weekend of Friday 29 September – Sunday 1 October  for the first History Live festival.
Download our programme or browse our event pages online and delve into our rich history and heritage.
You can also keep up to date by following the hashtag #HistoryLive17
---
Share