Since we're in the midst of celebrating World Poetry Day, let's discuss the patron saint of poets himself. You may know him by his Gaelic name (Colmcille)? Or perhaps its Latin equivalent (Columba). This historic figure's influence can still be felt in Scotland today – and, this year, HES are participating in an extensive celebration of St Columba's life and legacy, demarcating the 1500th anniversary of his birth.
As a poet myself, I've been invited to join the celebration as writer-in-residence for HES. My goal is to publish a short portfolio of poems which engage with Columba's impact on Scotland. I'm incredibly excited to be exploring and responding to one of the most significant figures in early Scottish history. Today, I wanted to share a little of what I've learned from the experience so far.
"A Brief Narrative of His Great Miracles"
One of the most fascinating things about St Columba is the degree to which the man and the myth are entwined. Much of what we know of him comes from the Vitae Columbae. This was written by Adomnán of Iona roughly a century after Columba's death. Over time, myriad retellings and reinterpretations have expanded and exaggerated the figure presented in Adomnán's work. And we should bear in mind Adomnán's writings are an exaggerated depiction of a man he never met.
It is difficult, then, to separate fact and fiction when examining St. Columba. But this should be understood in the context of history. The fact that we know anything about a man who died more than a millennium ago is a testament to his unique influence, both then and now.
But what do we actually know about St. Columba? He was born and raised in Ireland, where he studied under monks, bards, and other learned figures. In 563 he set sail for Scotland. Some sources describe this as a willing pilgrimage; others suggest Columba was exiled from Ireland following disputes with fellow priests and scholars.
What we can be sure of is that he settled on the island of Iona. There – along with his twelve travelling companions – he founded a monastery. This monastery would come to wield not only significant religious influence, but also a considerable degree of political and cultural power.
The patron saint of poets
It's fitting that Columba is venerated today as patron saint of poets; Iona Abbey was a vital institution in the production of literature in Scotland. Like other monasteries, the monks of Iona would have taught reading and writing to the brothers within their community. They also curated libraries, bringing together and copying books from across Christendom. There is also some evidence that they encouraged communication between the various peoples who inhabited the country at the time, although this communication was not necessarily written.
In 575 Columba spoke at the assembly of Druim Cetta in defence of poets facing criticism from the Irish ruling class. He's also often credited as a poet himself (although we can't know for certain if the poems traditionally attributed to him are truly his work). More than that, though, it's fitting because to my eye St. Columba strikes quite a poetic figure: the man who sailed into Scotland from across the sea and taught languages, spread religion, advised kings, and – if we take Adomnán at his word – banished a monster from the river Ness with a prayer. Honouring such a legacy through poetry seems only appropriate.
Celebrating St Columba in Lockdown
In my attempts to begin compiling a collection of poems engaging with St. Columba, I initially felt overwhelmed. The broad and compelling range of narratives associated with him makes it difficult to know where to begin.
Inspired by previous research I'd done into poetry as cartography, I decided to structure my burgeoning collection around the physical locations in Scotland which have some historic association with Columba. The cave where he took shelter following his departure from Ireland and the site of the early church at Dunkeld where his relics were moved to to keep them safe from Viking raiders are just two of the "stops" on the map.
As part of this project, HES is putting together a digital map of Scotland. This map will blend information on the history and significance of these various sites with excerpts from my poetry. This is one aspect of the celebration I'm particularly excited for.
Of course, the ongoing COVID-19 crisis has impacted this project. I had hoped to visit at least some of these significant places for myself, but that seems unlikely to be possible for the foreseeable future. More practically, the physical and social isolation of the current stay-at-home environment has been difficult for me to contend with, as it has been for all of us.
It's my hope that the collection, and the accompanying map, will provide readers with a fresh perspective on historic Scottish landmarks. Especially at a time when these locations themselves are inaccessible.
We are also in the process of organising writing workshops, hosted digitally by HES. These will provide a more active opportunity for people to engage with and respond to Columba's legacy on their own terms.
Find out more about St Columba
If anything I've mentioned here has sparked your interest, I'd highly recommend diving a little deeper into the lore surrounding St. Columba.
You could learn a little more about his encounter with 'Nessie', for example, or investigate the wonderfully-named St. Columba's Pillow. Similarly, you could try a virtual day out at Iona Abbey.
We'd love for you to join in the celebration by sharing what you learn on social media. Use the hashtag #Colmcille1500 to commemorate poetry's very own patron saint.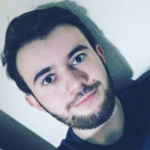 Alex Aldred is working as writer-in-residence for HES, as part of our Celebrating Columba project. He is currently studying towards his PhD in creative writing at the University of Edinburgh.
---
Share