According to golfing champion Arnold Palmer, golf is deceptively simple and endlessly complicated. It satisfies the soul and frustrates the intellect. It is at the same time rewarding and maddening – and is without a doubt the greatest game ever invented.
Whatever your take on it, there's no doubt that golf is part of the fabric of life in Scotland.
One figure in particular – Old Tom Morris – played a major part in securing Scotland's role in this story of sporting history.
A Scottish pastime
The origins of the earliest golf-like games using a ball, a stick and a hole are uncertain, but modern golf as we know it today was born and raised in Scotland.
The game became a favourite pastime of the Scottish nobility, including James IV (1473-1513). While the parliament of James II had previously banned golf in 1457 as a nuisance and a distraction, James IV had the ban lifted in 1502. He even owned a set of clubs, hand-crafted in Perth.
The game developed its rules, customs and ceremonies as it went along. The social aspect, as well as the cost of equipment, saw golf gain a reputation as an elitist pastime that only the privileged could afford to play properly.
But advances in science and manufacturing techniques during the 19th century levelled the playing field. The cost of golf equipment, course maintenance and construction became more affordable.
This paved the way for a huge increase in the game's popularity, both at home and abroad.
The home of golf
The earliest courses were built on the sandy links land of Scotland's east coast. With sand dunes, hardwearing turf and wild grasses tolerant of drought, the coastal flats (or links) at St Andrews made a perfect spot for the sport.
Golf is known to have been played on these links from at least 1552, but the game may have been played in some form for centuries before that. Today, St Andrews is widely referred to as 'the home of golf'.
On 16 June 1821, the father of the modern game was born. Tom Morris Senior or 'Old Tom Morris' had a great influence on the development of golf as a sporting profession.
Who was Old Tom Morris?
Modest and well respected, Morris helped raise golf's profile as a legitimate sporting profession. He was an expert player and repeated championship winner.
But his skills went beyond the game itself – he was also a highly respected course designer and greenkeeper, a skilled club and ball manufacturer, and nurturer of young talent.
Many developments in golfing took place during Morris' lifetime. The rules were standardised, the golf tournament was invented, and the number of holes on the course was fixed at 18.
Old Tom Morris was right at the centre of it all.
The Tom Morris Shop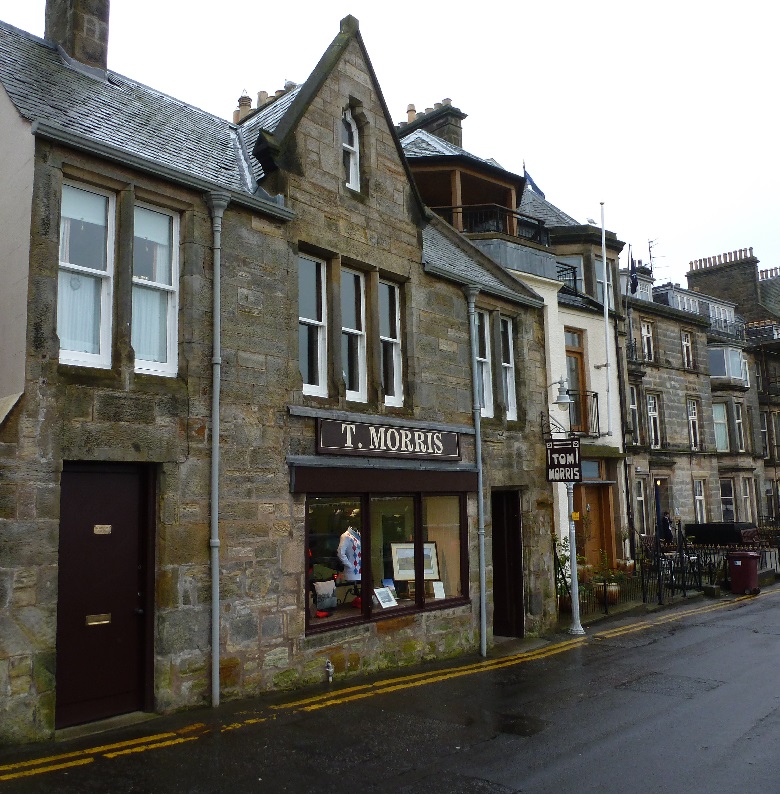 After 16 years as apprentice club maker and playing partner to Allan Robertson, the world's first professional golfer, Morris set out on his own path. Eventually, he purchased a little shop.
The Tom Morris shop at 7 The Links is located opposite the 18th hole of the world-famous Links Old Course. It is the oldest golf shop in the world still operating commercially.
The building is listed at category A in recognition of its special golfing history, architectural character and associations with important people in Scotland's sporting heritage. Its continuous golf-related lineage dates back nearly 200 years.
Morris ran his business here from 1866 until his death in 1908. This broadly coincided with his 39 years as Keeper and Custodian of the Greens at St Andrews Links.
Tom could often be spotted looking out of his upstairs window over his beloved Old Course. These are the windows he would leave half open at night, even during the winter, leading to the claim he awoke one morning to find a blanket of snow across his bedcovers!
More importantly to golfers, these are also the windows he used to throw open to shout at trespassers to "get off that green!". No golfing was allowed on Sundays because as Morris stated:
The Links need a rest, even if the golfers don't."
Opposite the shop is one of the oldest and grandest golf club houses in the world. The Royal and Ancient Golf Club House is also listed at category A but the two buildings couldn't be more different!
Nurturing the next generation
Morris was a great supporter of young golfing talent. Many youths kept a locker at his workshop while they were too young to be members of the various golf clubs in St Andrews, including the Royal and Ancient.
His own son Tommy ('Young' Tom Morris) was also a renowned professional player. After debuting at age 14 in the Open Championship, he went on to win the Open four times consecutively. Tragically dying at age 24, he contributed significantly to the popularisation of the game during his short lifetime.
Remembered in Ayrshire and Argyll
The Open is the oldest and among the most prestigious golf tournaments in the world. It was started in 1860 at Prestwick in Ayrshire, where Old Tom Morris was greenkeeper at the time. He helped to set up the tournament and was recorded as striking the first shot at the first Open.
Tom Morris designed or remodelled more than 70 golf courses during his career, including the initial 12-hole course at Prestwick (an important forerunner of his work at St Andrews) in 1851, and additions to the course at Machrihanish, on the far west coast of Argyll, in 1879. Machrihanish is known for Tom's notorious opening hole, rated by top international players as one of the best.
Iron Women
As with many other sports, women had to fight for a role in golf.
In 1811, the wives of Musselburgh fishermen competed for prizes including a creel and a shawl in what is believed to be the first recorded women's golfing competition.
By around 1850, women golfers began using a caddie's putting green at the St Andrews Old Course. While it would be some time before women were granted playing rights on the links course, there were some privileged exceptions. Elizabeth Wolfe-Murray for example (whose father and husband were both members and previous captains of the Royal and Ancient Golf Club) played the course regularly from 1855.
When women were finally officially permitted to play, they were segregated from the male players both on the course and off. A rare survivor of a purpose-built Ladies' Golf Club House can still be found at Machrihanish.
St Andrews was home to the first ever putting course for women only, laid out 1867. This rolling nine-hole course was designed as a miniature links by none other than Old Tom Morris.
An Edinburgh Establishment
In 1894, Edinburgh Council invited Morris to judge the suitability of land at Barnton, near Cramond, for a new course. Morris declared to the Council's satisfaction that "the turf was so good that there would be no need to lay greens."
Delighted, The Royal Burgess Golfing Society of Edinburgh, one of the oldest golfing clubs, moved to the new course. It also built a handsome Arts and Crafts club house at Barnton.

With golf booming in popularity by the end of the 19th century, Edinburgh saw the introduction of suburban 'golfing hotels'. The Braid Hills Hotel – which boasted 'seventeen golf courses within a radius of fourteen miles' – and the former Barnton Hotel, Cramond are early examples and designed by the same architects.
Old Tom Morris Remembered
After he passed away in 1908, Old Tom had a public funeral befitting of a statesman in St Andrews. The whole town lined the streets. News of his death was reported in almost every national paper in Britain and many further afield.
Morris's robust figure, with characteristic cloth-cap and heavy beard, remains instantly recognisable to all golfing enthusiasts.
Today, his portrait hangs in thousands of golf club houses around the world.
This blog was contributed by Laurence Parkerson and Emma Stephenson from the Historic Environment Scotland Designations Team. 
There's more sporting heritage to be found on the blog – you can take a trip to some of Scotland's most fascinating sports venues, from stylish stadiums to curious clubhouses.
---
Share