Standing in an attractive river valley a few miles from Kirkcudbright in Dumfries and Galloway, Dundrennan Abbey is considered to be one of Scotland's most picturesque abbeys.
It's a quiet spot now, but in medieval and Renaissance times it was a seat of power. Indeed, Mary Queen of Scots spent her last hours in Scotland here in May 1568, after the disastrous Battle of Langside. But our story of intrigue takes us back several hundred years before the fated queen's visit.
Medieval monks
Dundrennan Abbey was founded in the mid-12th century. For over 400 years it was home to a community of the austere Cistercian order.
Although monastic life here came to an end in the 16th century, the abbey's ground plan is still largely complete. This allows us to understand the range of buildings and spaces involved in the everyday lives of the monastic community.
Some fantastic architecture survives, especially in the church and in the chapter house. There is also an important group of grave memorials here. These commemorate abbots and other noteworthy members of the local community.
One of this great abbey's functions was as a burial place for members of the community and for local dignitaries.
Fascinating discoveries at Dundrennan Abbey
Over the past 200 years, many fragments of carved stone have been discovered at the abbey during conservation and excavation work. These finds are a highly important group of memorials. Some of these are now displayed within the abbey's church. To help ensure their future preservation, some of these important memorials have been carefully conserved in recent years by HES's dedicated team of applied conservation specialists.
In 2015-16, an important grave memorial depicting an unknown abbot underwent conservation treatment. This large slab would originally have covered a tomb chest.
This particular carving had long been an object of interest thanks to its grisly subject matter. Thanks to the work carried out by our conservation experts, the details of this rather gory carving can be seen with greater clarity.
In the carving, the abbot is wearing his monastic habit and he is holding a long staff across his body with his left hand. This is known as a crosier and was a symbol of his high status.  His right hand is placed over his chest, and a small dagger is shown alongside, penetrating his chest.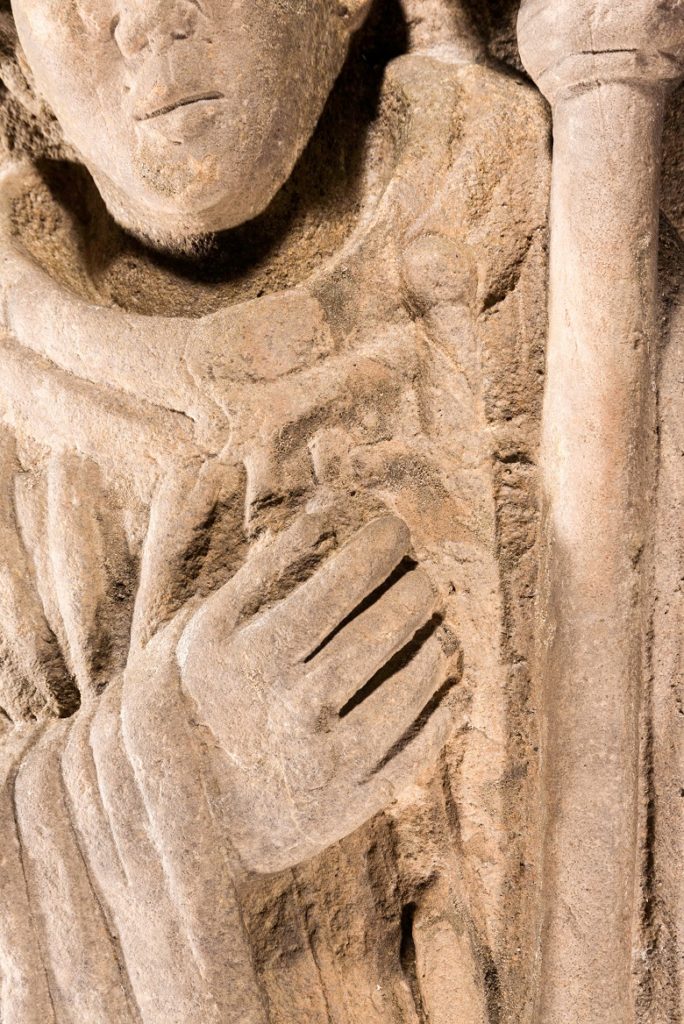 At the abbot's feet lies a much smaller figure, wounded by a large gash below the waist. The entrails of the man can be seen spilling out below his navel. The pointed end of the abbot's crosier rests on this smaller figure's head.
It seems possible that this memorial commemorates an abbot of Dundrennan who was wounded or assassinated. The small figure at his feet likely represents his assailant. The symbolism is rather poignant, the scene depicting the abbot as triumphant over his assailant in perpetuity.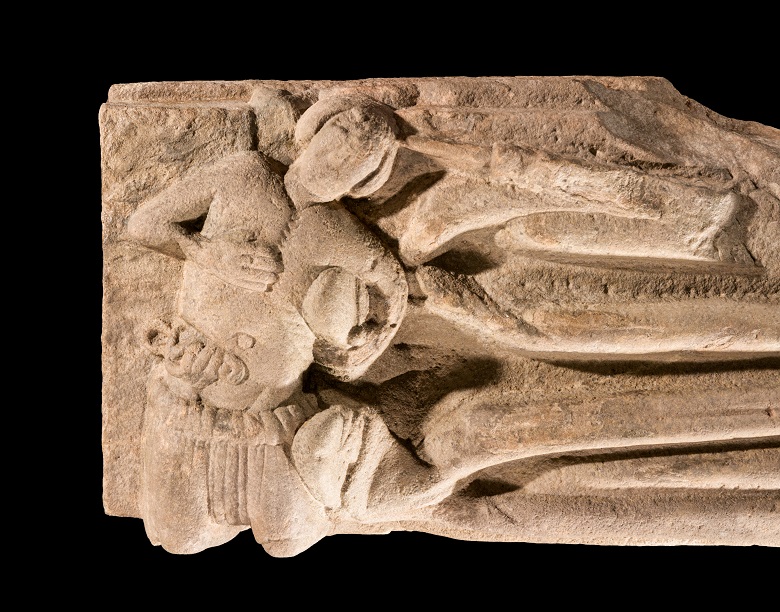 Clues to past splendour
This effigy is just one of over 1,000 fragments of carved stone found at Dundrennan Abbey and managed by HES's Collections Team. This important group of objects, much of which is on display, includes fragments of stonework from vaulted spaces such as the chapter house. These remains provide vital clues to the former elegance of the vaulted ceiling. There are also fragments of the fine carving that would have decorated the doorways, windows and arches.
Visit the abbey
Dundrennan Abbey has now reopened, but tickets must be booked in advance due to current Covid-19 restrictions.
---
Share