Scotland has a wealth of modern landscapes and gardens. As we embark on a project to identify, record and celebrate more of this overlooked part of our post-war heritage, here's five intriguing outdoor spaces.
Poetry and Provocation in the Pentlands
Born in the Bahamas to Scottish parents, Ian Hamilton Finlay was a poet, artist and writer. He was a pivotal figure in the concrete poetry movement in the 1950s. This was an avant-garde movement where poets explored how the poem looked on the page – often arranging letters in grids, columns, spirals, or other basic visual forms.
In 1966, he began a long collaboration with his wife, Susan Finlay to create the garden and isolated retreat at Stonypath, tucked away in the western Pentland Hills near Edinburgh. This eventually became Little Sparta – a unique sculptural garden recognised internationally for its innovation and unusual beauty.
Both poetic and provocative, the garden is created from the open fields and buildings of a former farm. Short word pieces and poems are carved in granite, marble, slate, garden tools and wood. Sculptures stand in woodland glades, across streams, or in heather where the garden edge meets the moorland beyond.
The artworks, produced in collaboration with other artists and craftspeople, explore themes of classical mythology, order and disorder, civilisation and chaos, war and the sea. Hamilton Finlay died in 2006 having barely left Little Sparta in 40 years. His legacy and collaborations live on in this amazing modern landscape.
You can head over to Canmore to explore more photos snapped in this unique landscape over the years.
Bridging the Gallery Gap in Edinburgh
Charles Jencks, who died in 2019, was another giant of the landscape art world. An architectural historian, writer and co-founder of the Maggie's Centres, he is also remembered as the designer of ambitious and striking landforms and gardens. Jencks' projects are located in Scotland, England and further afield in Milan, New York, and South Korea.
His 2001 landform in Edinburgh bridges the gap between two of the Scottish National Galleries, the Modern One Gallery and the Modern Two across the road. It is a grass-covered, stepped, serpentine mound with two large crescent-shaped pools and a small tooth-shaped pool.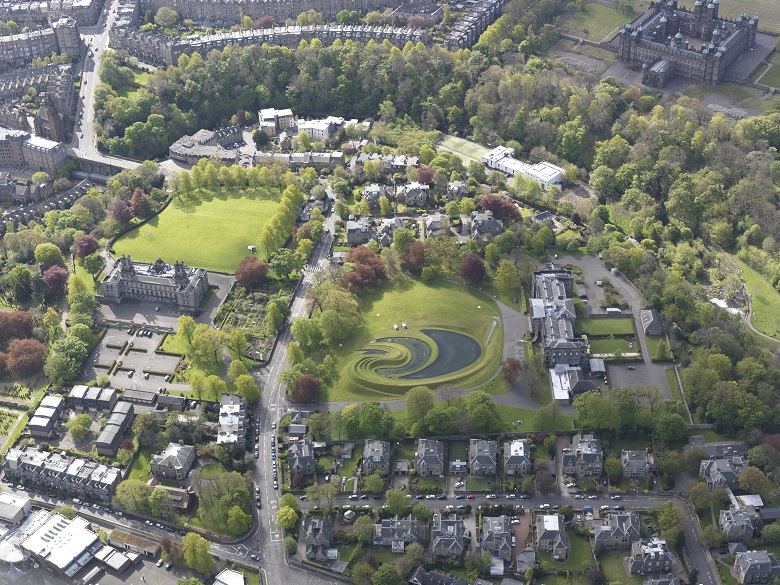 Based on the concept of chaos theory, the mound recalls shapes found in nature like waves, clouds and rock formations. Unlike the more traditional artworks in the galleries, this is a piece designed to be walked on, explored and sat upon! It's a much loved outdoor space by gallery visitors.
Jencks' other works in Scotland include the Garden of Cosmic Speculation at Portrack House, and the more recent Crawick Multiverse, Sanquhar, both in Dumfries and Galloway.
Reinvention and Recognition in Kilsyth
The walled garden at the Colzium Lennox Estate in Kilsyth is a hidden gem and a great example of a modern garden reinvention.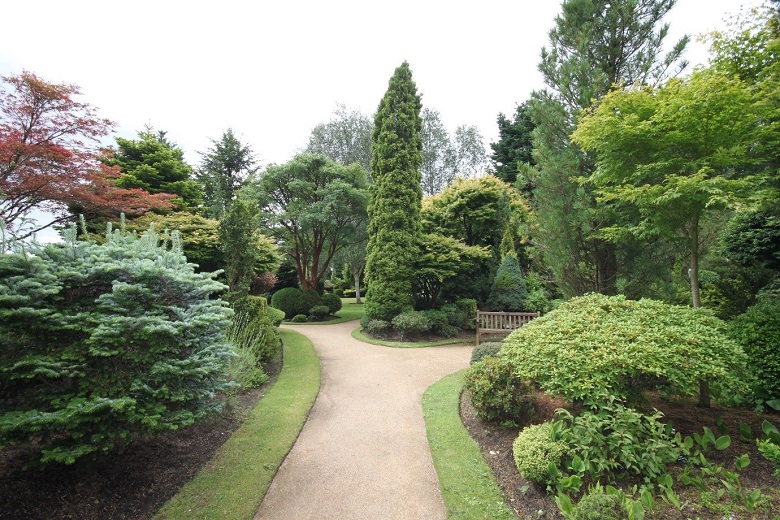 Designed by James K. Brown for North Lanarkshire Council in 1968, it is a secluded and densely planted garden of winding paths and beds. An outstanding horticultural collection is sheltered by the much older garden walls.
The walled enclosure was first built in the late 18th century as part of a country estate, with the garden cultivated for fresh produce and flowers. It became a market garden for a spell in the mid 20th century before its acquisition by the council in the 1960s.
Today the garden has a surprising Japanese-style feel, and one of the best dwarf conifer collections in Scotland. There are heathers, pines from China, and a large snowdrop collection with over 100 varieties. The walled garden at Colzium forms part of a wider estate landscape, recognised for its national importance this year as our newest addition on the Inventory of Gardens and Designed Landscapes.
Landscapes of Learning in Stirling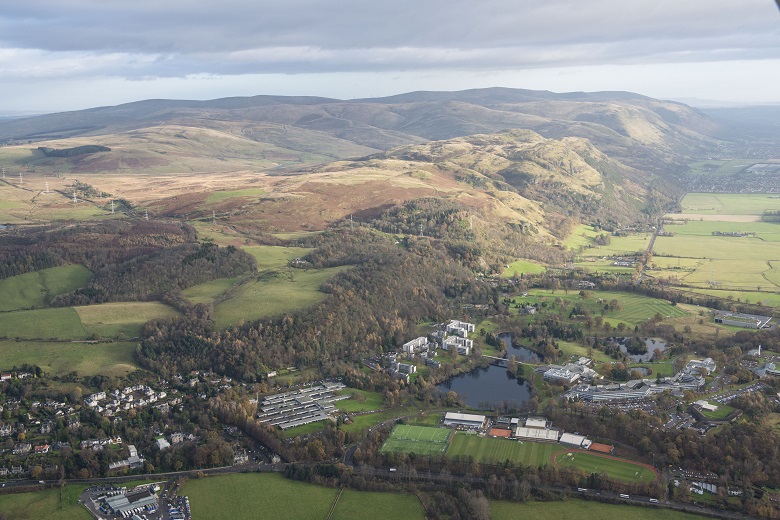 From a compact hidden garden, we go to a large Modernist University campus. It was built from 1965 in the green landscaped grounds of Airthrey Castle, just north of Stirling.
Stirling University was the only 'New University' to be built in Scotland as part of a government initiative in the 1960s. Designed to fit within the existing mature designed landscape of parks, trees and a loch, it was the first uni to be established in Scotland since 1583!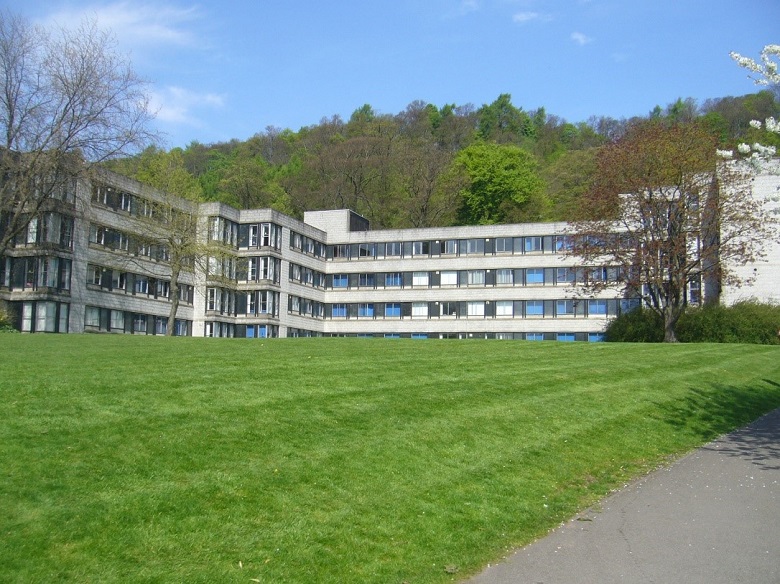 The commission went to Robert Matthew Johnson Marshall and Partners.  Two landscape architects were involved – Frank Clark and Ed Hilliard. Many of the buildings are listed for their special architectural and historic interest. The landscape is a fascinating blend of traditional estate landscape and modernist University.
Mushrooms and Meeting Places in Glenrothes
And finally to mushrooms….
Glenrothes has a distinctive and diverse collection of art works set within a planned urban landscape dating from 1965. Taking the history of the area as its inspiration, the art helps define the identity of the town.
Over the years locals have used them as meeting place, and playground games even developed around them!
Designated in 1948, Glenrothes was Scotland's second post-war New Town, after East Kilbride. Careful consideration was given to the infrastructure of the town, focusing on individual suburb neighbourhoods. Good quality mass housing, green spaces, wildlife corridors – and art – were all seen as important to making a place where people would want to live and raise children.
In 1968, David Harding was employed by the Glenrothes Development Corporation as 'Town Artist'. His job was to work with the planners, architects, engineers and local people, on artistic projects that would contribute to the making of the town. Working with artist, Stanley Bonnar, the results included everything from giant hands to concrete hippos and mushrooms!
The surviving pieces vary from the figurative to the abstract and the humorous to the contemplative, often using recurring themes and concepts. While some are enclosed and self-contained, others are more prominent landmarks. To find out more, you can download a HES study of the Glenrothes Town Art.
Show us the landscapes you love!
We think gardens and designed landscapes dating to 1945 to the early 2000s are currently underrepresented in our records. We want to know more about sites like the five presented here. Where are they? Who made them? How well do they survive?
As part of a new project, we'll be busy recording sites, improving our online records and considering the most important places for designation on the Inventory of Gardens and Designed Landscapes.
If you missed the survey, but would like to nominate a site for us to explore please get in touch via modernlandscapes@hes.scot. We'd love to hear from you.
We can't wait to find out more about Scotland's amazing modern landscapes!
Want to see more from Scotland's historic gardens? Head over to the Engine Shed blog to explore some green-fingered architectural gems.
---
Share