If you've ever explored any of Scotland's historic royal residences like the castles of Stirling and Edinburgh or the palaces at Falkland, Holyrood and Linlithgow, you may well have heard mention of Mary of Guise, or Mary of Lorraine.
She's best remembered as being the mother of Mary, Queen of Scots and for serving as as Regent of Scotland during the turbulent days of the mid-1500s .
But how did a young lady from north-eastern France end up one as of the most important figures in Scotland? It's a story shaped by tragedy, politics and the importance of first impressions…
From a convent to the royal court
Mary of Guise was born in November 1515 in the castle of Bar-le-Duc. One of 12 siblings, she was the eldest daughter of Claude, the first Duke of Guise and Antoinette de Bourbon.
At some point during her childhood, Mary was sent to live in a convent with her grandmother, Philippa of Gueldres. She was to be educated there, possibly with a view to becoming a nun.
But when she was about 14, Mary's aunt and uncle, Renée of Bourbon and Antoine, Duke of Lorraine, paid her a visit. They decided that their charming niece was far more suited to nobility than nunnery and whisked her away for a life in the French royal court.
It's curious to imagine the course Scottish history could have taken had Mary remained at the convent to pursue a life of piety!
The height of luxury
Mary is described as having "auburn hair, grey eyes, and a charming manner" and by 16th century standards was exceptionally tall. She was an immediate success in royal circles and certainly left quite the first impression.
Her royal debut came in 1531, at the coronation of Francis I's wife, Eleanor of Austria. Mary rode in the royal procession, ate at the royal banquet and was presented to the king and queen. Such was her impression on Francis that from that moment forward he treated her as if she was his own daughter.
Mary would go on to form a friendship with the king's actual daughter, Madeleine de Valois. Little did they know that they would both go on to marry the same man: James V of Scotland.
Turning down a Tudor
James was not Mary's first husband, however. In the summer of 1534 she married Louis, the Duke of Longueville at the Louvre Palace. The celebrations afterwards lasted for 16 days.
Louis died from a fever in June 1537. Mary held onto the last had letter he sent to her for the rest of her life.
Less than a month after the loss of Louis, Madeleine de Valois also died, not long after her marriage to James V. In need of another French bride, James turned his attention turned to Mary. But she'd also caught the eye of the monarch south of the border.
Mary's height seemed to be a key factor when Henry VIII of England announced himself as a suitor. He reportedly told the French ambassador he was
a big person in need of a big wife."
Mary turned him down, referencing the fate of one Henry's former wives, Anne Boleyn:
I may be a big woman, but I have a very little neck."
A big dowry – and a bigger party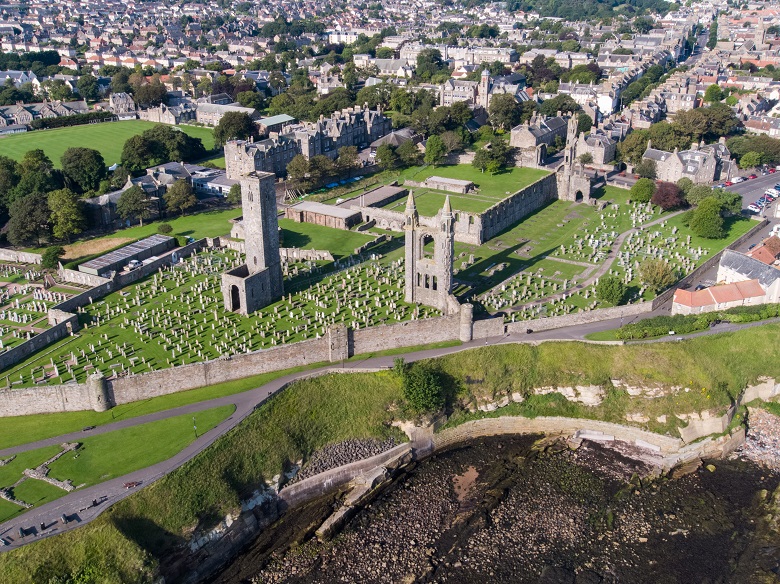 Mary and James married in a ceremony at St Andrews Cathedral
In June 1538, after the negotiation of a large dowry and a proxy wedding ceremony, Mary unenthusiastically swapped France for Fife. She spent her first night on Scottish soil at Balcomie Castle.
The following days were filled with an official meeting with James, a special pageant and finally an in-person marriage service in St Andrews Cathedral. Just when you thought the 16 days of partying after Mary's first wedding was excessive, the celebrations lasted for 40 days!
After a series of tournaments and archery competitions, James and Mary headed north on a hunting trip to the Highlands. On 16 November, five months to the day since arriving, Mary formally arrived in Edinburgh.
Pilgrimages and pregnancies
Mary impressed the Scots as she toured her new country, but there's evidence that she was feeling homesick in the requests she made for French stonemasons and painters to work on her residences, along with cuttings from French fruit trees for the orchards and French boar for the forests.
One of the more important tasks for the newlyweds was to provide a son. With this in mind, Mary and James led three ships – the Unicorn, the Little Unicorn, and the Mary Willoughby – across the Firth of Forth to the Isle of May in August 1539.
The shrine of St Adrian at the island's monastery was associated with helping a lady become pregnant. By the powers of St Adrian, or by happy coincidence, Mary soon became pregnant.
She was crowned at Holyrood Abbey on 22 February 1540 and gave birth to a son, James, in May. At Stirling Castle a year later she gave birth to another son, Robert. But the happiness brought on by the births of James and Robert was short-lived.
Tragedy and Regency
On 21 April 1541, the king rushed frantically to St Andrews, where Prince James had fallen ill, and then to Stirling, where Prince Robert was also sick. Tragically, both died on the same day. They are buried side-by-side at Holyrood Abbey.
Even by the standards of the time, it seems that Mary experienced more than her fair share of tragedy and loss. Her youngest son from her first marriage, Louis, died in December 1537. Her eldest, Francis, would die in her arms while they travelled in France in 1551.
As well as outliving four of her five children, she was widowed twice. James V died just days after Mary gave birth to her daughter at Linlithgow Palace in December 1542. That daughter, famously, was Mary, Queen of Scots.
It was to protect her daughter's interests that Mary of Guise decided to stay in Scotland, rather than return to France. In doing so, she took on a prominent role in the immense political and religious struggles that were to follow.
---
Share