A lot of autistic people have special interests, from art to TV characters. In my case history has always been a particularly intense special interest of mine. Visiting historical sites is one of the things I do to settle my anxiety.
Visiting historical sites gives me a better sense of new places. They also sometimes provide a sort of comfort for me when I'm trying to get to grips with feeling at ease with new sights and noises.
Other times, I'll admit it can be overwhelming for me, especially when visiting popular big historical sites. Personally, I can get easily overwhelmed by too much noise and too many people.
However, I am lucky to live in a rural town surrounded by rich histories and small local historical sites. One of these is Cross Kirk within the historic town of Peebles in the Scottish Borders.
As a young kid I had visited Peebles and spent time by the River Tweed many times but never once been to the old kirk ruin. I decided to embark on a quest from my hometown to Peebles on my own for the first time.
Before the trip
As an autistic person, travelling to a town you haven't been to in years was a little bit terrifying and it was especially daunting trying to navigate around Peebles to find Cross Kirk.
As I normally do for any new place I'm going to, I did a lot of research beforehand. I searched for directions, travel information and photos of Cross Kirk to help ease my anxiety. This included, of course, researching everything and anything on the history of Cross Kirk, as researching is my special interest.
As a historical urban friary, it's not a historical site I would normally choose to visit. However I realised as a smaller site in a quiet area you can get very close to the kirk ruin which excited me.
I decided to visit as close to the site opening as I could on a weekday morning to make sure it was as quiet as it could be when I visited. And I made sure to pick a day with good weather to avoid being drenched while on site.
Cross Kirk is right in the heart of a residential area in Peebles, hidden away amongst the houses down some very narrow streets and far away from the busy loud High Street. It would have been easy for me to miss amongst the trees if not for its giant looming tower which greeted me as I approached the site's gate. As I had hoped, the site was quiet with the only other visitor – a local man and his very fluffy dog – sitting amongst the kirk ruins.
Sensory site
The kirk itself is a mixture of ruin and some well-preserved walls. Although the tower is currently under conservation, it is a building you can actually get a feeling for.
Certain textures have been a no-go for me since I was young. However, the feeling of stone wall and its irregular bumps under my fingertips has been very grounding for me. And I was in luck because, to my sensory delight, basically the entirety of Cross Kirk is made of stone in different shapes and sizes.
I spent a lot of my time on the site in the main part of the kirk. It has been roofless since 1784, but is a very spacious enclosed area. The small pebble stones under my shoes would crunch and jingle, the soft calls of birds chirping and the giant trees swaying in the wind, as I moved around to take some photos. Admiring the looming tower above me and the plaque on a side wall dedicated to a local past historian and conservator of the site.
I spent a lot of my time taking some photos of the site. I enjoyed finding smaller details amongst the giant structure. One detail in particular was the knight's helmet above one of the doorways into the kirk. And also taking in the sheer size of the rest of the kirk. It had mostly disappeared long ago and is now marked in the ground by its foundations. I tried to imagine what the kirk would have looked like even three centuries ago, before the cloisters had disappeared.
Indulging my imagination
To me and my imagination as I left the site, the kirk felt more like a small castle rather than a friary with its towering walls and big heavy stones jutting out of every corner of the ruin. It felt like a castle too from the way locals in the town seem to gather around the site. Cross Kirk is quiet but it's not an unsettling silence. You get a better sense of its history from the way local people still choose to visit and use its space. Although perhaps today it is used less for faith worship and more getting out into a green space with a bit of history.
Reflections
If there's one thing I cherished visiting Cross Kirk as an autistic person, it was getting to feel for a historical site without lots of people, noise and barriers in the way.
It felt very intimate and calming to be able to be up close to a historical building and to feel, see and touch something that locals in the area have been connected to for centuries. It made me appreciate more that whilst big historical castles are really cool and fun, sometimes the smaller quieter more rural sites are just as exciting and interesting. There's always a historical site just right for everyone to visit.
About the author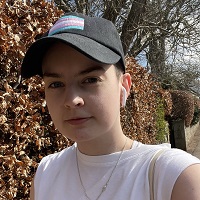 Robyn is a 22 year old French/History graduate who likes spending their time creating art, reading comics and researching LGBTQ+ histories. They also spend a lot of their free-time volunteering for YoungScot, LGBT Health & Wellbeing and being vocal about LGBTQ+ issues. Since graduating university, Robyn has been on an autistic journey of self-discovery after burning out academically and has spent the last while healing through connecting with other late-diagnosed autistic LGBTQ+ young people.
Robyn is part of the Historic Scot Youth Forum managed by Young Scot and HES. Read the Historic Scot Youth Forum: Final Report and Youth Action Plan.
Read more
If you've enjoyed this blog from Robyn, why not delve into blogs from other authors on the topic of wellbeing.
---
Share