From dreich days out to roads closed by snow, we love to grumble about the good old Scottish weather.
But did you know that inclement conditions, particularly storms at sea, have been responsible for some pretty important moments in Scottish history?
Read on for stories of saints, witch trials, disaster and discovery as we brave some of the storms that shaped Scotland…
Salvation in the Forth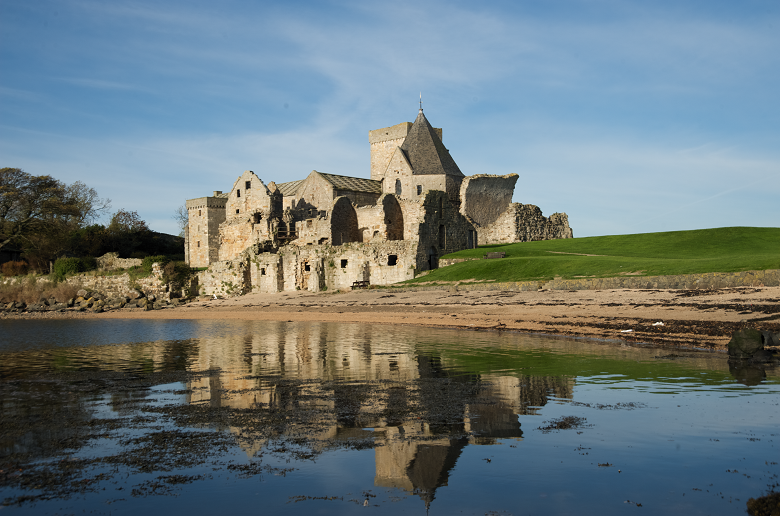 With an idyllic location in the middle of the Firth of Forth, Inchcolm Abbey is one of the best-preserved religious buildings in all of Scotland.
Sometimes referred to as "the Iona of the east", the abbey began life as a priory founded by King David I in the 1100s. David invited Augustinian canons to establish the island priory in memory of his brother, King Alexander I.
Tradition has it that Alexander was washed up on the island during a storm in 1123. After taking shelter in a small structure known as the Hermits Cell, he vowed to build a monastery to give thanks for his salvation. He died in 1124, leaving David to make good on that promise.
St Regulus and the Relics
Inchcolm isn't the only religious ruin with an origin story related to stormy weather.
We don't know a huge amount about St Regulus (also known as St Rule), but he is thought to have transported the bones of St Andrew to Scotland from the city of Patras, in modern-day Greece.
St Rule had no set destination, knowing only that he should take the relics as far away as possible for safekeeping. Wherever he ended up, he would establish a great church dedicated to St Andrew.
It's said that a storm caused him to become shipwrecked on the shores of Fife, near a small Pictish settlement. That settlement is now known as St Andrews, home to the remains of Scotland's largest and most magnificent medieval church.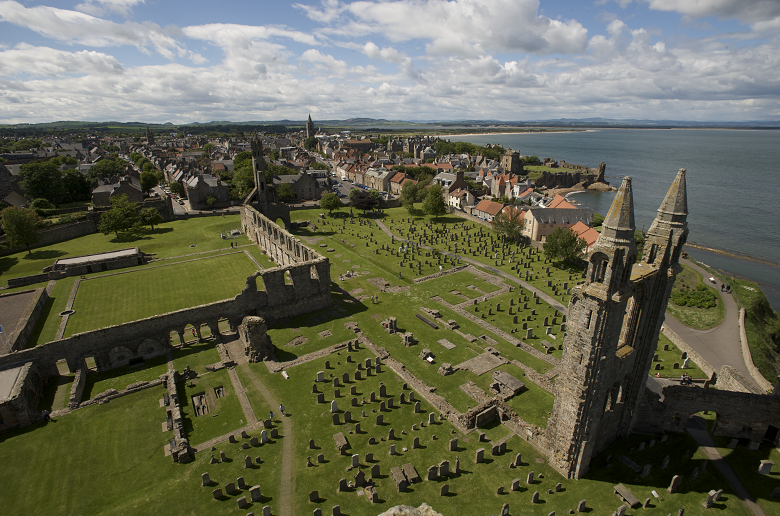 St Margaret Storms into Scotland
It seems that saints and storms often go hand in hand.
Also on the Fife coastline is a spot known as St Margaret's Hope. Some sources say that a ship fleeing England two years after the Norman Conquest was forced to land here by violent weather.
On board were Agatha, the wife of Edward the Exile, one-time heir to the English throne, and her three children: Edgar, Christina and Margaret.
The family sought refuge at the Scottish court, where Margaret married King Malcolm III. She went on to become one of the most important and revered figures in Scottish history.
The circumstances around St Margaret's arrival in Scotland have been romanticised over the centuries, but it's curious to think that her influence might not have been felt were it not for a storm one day in 1068!
The Wedding and the Witch Trials
Between around 1550-1700, Scotland experienced a mass panic which led to 3,000 people being accused of witchcraft. 85% of those accused were women. One of the most sensational episodes in this tragic history began with a royal wedding.
In September of 1589, Anne of Denmark set out for Scotland to meet her new husband, King James VI. The couple had been married by proxy in Kronborg Castle on 20 August.
The meeting between bride and groom was delayed when the Danish fleet was forced to turn back by a tremendous storm. So violent was the weather that the Danish admiral in charge of the voyage, now stranded in Oslo, became convinced it was summoned by witches.
James, meanwhile, decided to personally make sure sure his wife reached Scotland safely. In spite of worsening weather, James left Leith on 22 October.
After a winter spent in Denmark, the pair sailed for Scotland in May of 1590. Yet again, the royal fleet was hit by terrible storms at sea. The storms were again blamed on witchcraft and this time five women were put on trial in Denmark.
James, influenced by what he had seen in Denmark, established his own tribunal in Scotland. Over 100 people were implicated in the North Berwick Witch Trials that followed.
Lost to the Waves
In 1650 Oliver Cromwell's New Model Army entered Edinburgh. The precious Records of Scotland were hurriedly moved to Stirling Castle for safekeeping.
But when Stirling Castle fell the following year, Cromwell's forces carried off their spoils of war. The records were sent to the Tower of London.
It was not until the restoration of Charles II in 1660 that plans were made for the records to be returned to their rightful home in Edinburgh. But they never made it.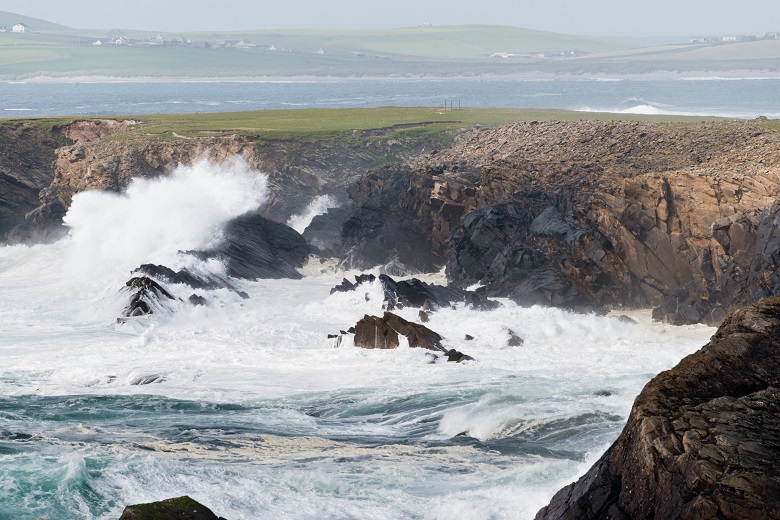 On 18 December 1661, stormy weather caused a merchant vessel called the Elizabeth of Burntisland to sink off the Northumbrian coast.
85 hogshead barrels containing almost two tons of papers was amongst her cargo. This amounted to half of the Records of Scotland. Some dated as far back as the reign of King Robert the Bruce.
Read the full story on the Stirling Castle blog:
A Dramatic Discovery
It's not all bad news! On occasion, storms have also helped us to discover some amazing history. The most famous example is a severe storm which hit Scotland in the winter 1850.
As the wind and rain pummelled the Bay of Skaill in Orkney, the sand around a large mound known as Skerrabra was dislodged. An incredible hidden secret was revealed.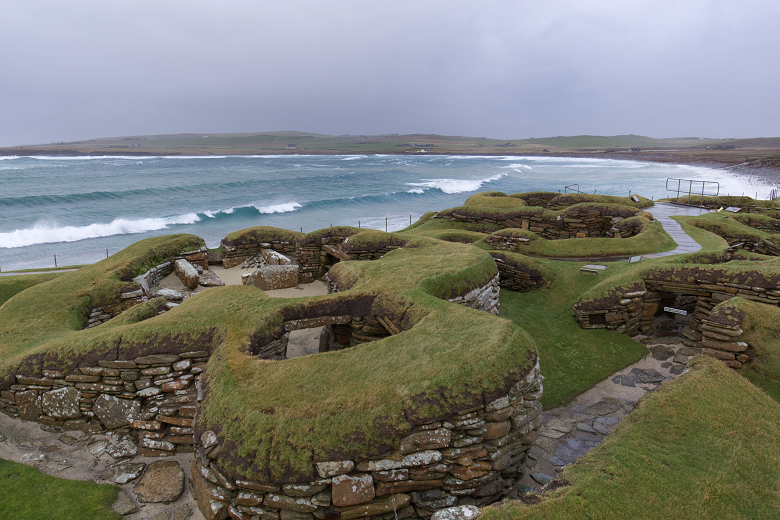 Once the storm had subsided, locals were amazed to discover the outline of part of a prehistoric village. It's now believed to older than Stonehenge or even the Egyptian Pyramids were built!
The local laird, William Watt, led the initial archaeological investigations before the remarkable site entered state care in 1922. A sea wall was constructed between 1925 and 1926 to help protect against more storms.
Nearly a century on, our changing climate means that the impact of the sea remains a concern. You can see what we're doing to help.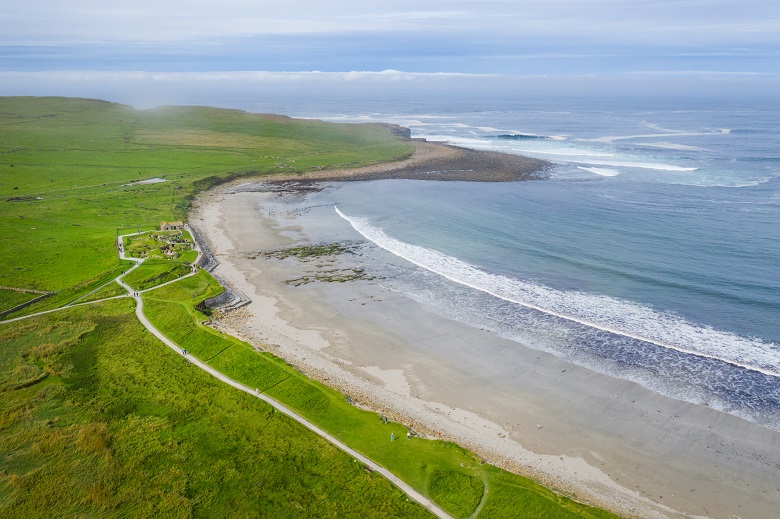 Dive into Scotland's Year of Coast and Waters
We're exploring and celebrating seas, rivers, islands and lochs as part of Scotland's Year of Coasts and Waters.
Elsewhere in our #YCW2020 blog series you can discover the treasures of Trinity House or visit Mary Queen of Scots' prison island.
The story of our seaside places is told in our latest online exhibition, dedicated to Scotland's 10,000 miles of coastline. Dive in!
---
Share