What's your favourite bit of romance from Scottish history?
There's the famous, fiery and fateful relationship between Mary Queen of Scots and Lord Darnley. Maybe Burns' A Red, Red Rose makes you cry every time? Did you know that one of the relics of St Valentine resides in a Glaswegian church?
Get ready for a virtual Valentine's visit to castles, an abbey, a priory and a chapel-turned-library as we explore the passionate past of four Historic Scotland sites. Our romantic round-up starts on the outskirts of Perth…
Jump for my love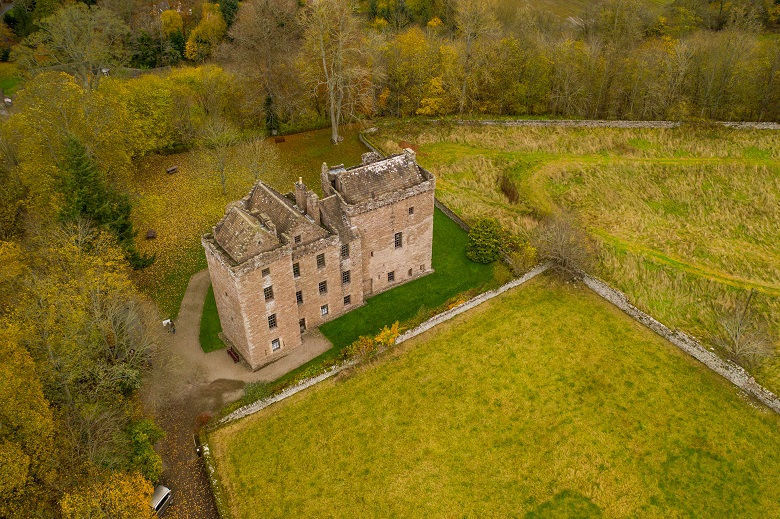 With more than its fair share of conspiracies, abductions and fighting, it's safe to say that quite a lot has happened at Huntingtower Castle over the centuries. One of the more innocent tales, however, is the legend of the Lover's Leap.
Huntingtower's curious layout is key to this story. Today, the castle looks like a single building, but it originally consisted of two fine tower houses which stood about 3m apart.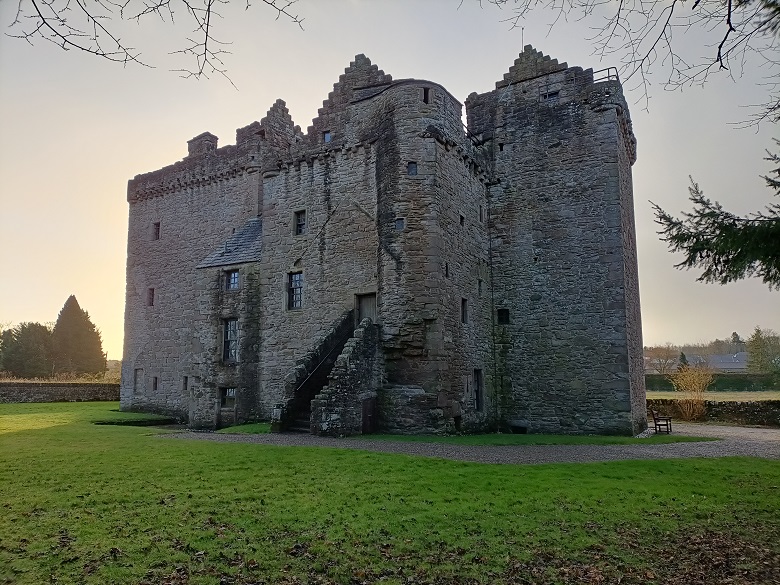 It's said that centuries ago, Dorothea, the daughter of the Earl of Gowrie, fell in love with a visitor to the castle. One night, she tiptoed out of her bed in one of the two buildings for a clandestine tryst in the adjacent tower.
But Dorothea's canny mother suspected these shenanigans and made her way to the guest's room. When Dorothea heard her mother's footsteps coming up the stairs, she had to get back to her room quickly. There was only one escape route available…
You guessed it! Desperate Dorothea successfully made a jump of around 2.5 metres between the two towers. Her suspicious mother found her moments later, safely tucked up in her own bed!
It's said that Dorothea and her lover eloped and were married the very next day. The gap between a battlement and nearby tower is still known as the 'Maiden's Leap' or the 'Lover's Leap'.
Together forever and never to part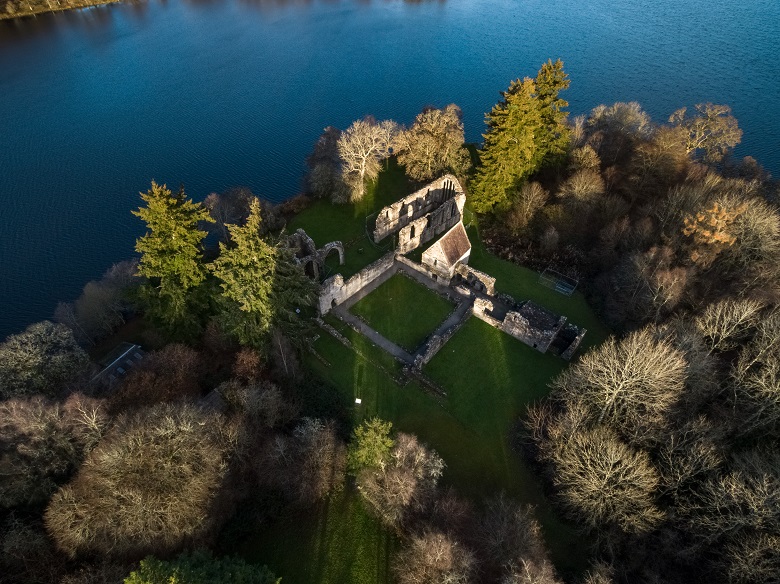 Serenely situated on an island in the middle of the Lake of Mentieth is
Inchmahome Priory
, once a stomping ground for Robert the Bruce, Mary Queen of Scots and Sir Walter Scott. It's also home to
a unique effigy
that can make a strong claim for being the most romantic item in the vast Historic Environment Scotland Collections.
Walter Stewart, Earl of Menteith, and his wife, Countess Mary, married in 1258. Because Mary's right to the Earldom of Mentieth far outweighed Walter's own hereditary titles, he took his wife's name, as did their children.
We don't know exactly how long Walter and Mary were married for, but we can estimate that it was at least 35 years. We know that Mary died first, probably in 1293 or 1294, and Walter passed away soon afterwards.
The Inchmahome double effigy shows the couple in a last embrace. Walter is lying on his side and turning to his beloved wife. Each has an arm under the head of the other, which is believed to evoke a Gaelic prayer. It's not often that we get to enjoy a glimpse of a true and tender relationship in history, but we think this charming carving does just that.
Something's gotten hold of my heart
Next up, we're going from one romantic effigy to another. Here's a reminder that James Douglas taking Robert the Bruce's ticker to Spain isn't the only example from Scottish history of somebody carrying an embalmed heart around!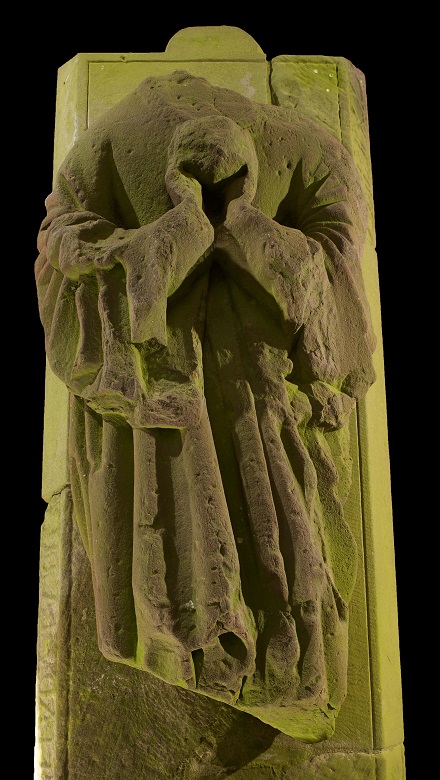 This
13th-century effigy
made of coarse-grained red sandstone lies in
Sweetheart Abbey
, Dumfries and Galloway. It's badly damaged with the head and feet missing, but we know it depicts Lady Dervorgilla of Galloway. In her hands she holds a heart-shaped casket.
After her husband John Balliol died in 1268, Lady Dervorgilla undertook many charitable acts in his memory; all while carrying his heart in a small ivory casket. One of these acts was founding the Cistercian abbey of Dulce Cor (Latin for 'Sweet Heart') in 1273.
Lady Dervorgilla died in 1279. She was laid to rest in front of the abbey church's high altar, still clutching her husband's heart to her bosom.
Of course, not all stories of love feature happy marriages. There are plenty of grisly tales of unrequited love to be found in Scottish history…
AH Millar's Traditions and Stories of Scottish Castles includes a local legend about a young man who fell in love with the gardener's daughter at Burleigh Castle. When she married another man while he was away travelling, the "Lord of Burleigh" became tormented by jealousy. Enraged, he "shot his defence-less rival through the heart".
While Millar places the tale in "the unsettled times betwixt the abdication of Queen Mary and the settlement of her son, James VI", it bears a great resemblance to the exploits of Robert Balfour, 5th Lord Balfour of Burleigh in the early 1700s.
Balfour did indeed fall in love with a woman deemed by his family to be below his station. As a distraction, he was sent abroad on a Grand Tour. He declared that if the lady married in his absence, he would kill her husband at the first opportunity. Undeterred by these brazen ramblings, the lady married Henry Stenhouse, a schoolmaster from Inverkeithing, Fife.
In April 1707, Balfour returned to Scotland and headed straight for Inverkeithing school. There, he shot Stenhouse in the shoulder. The teacher died from his wounds 12 days later. In August, Balfour was tried for murder. He claimed he had only intended to wound Stenhouse, pointing out that Stenhouse lived for almost two weeks after the incident. The defence failed and Balfour was sentenced to death. But the ripping yarn continues!
Balfour evaded execution by escaping from Edinburgh Tolbooth disguised as his sister. He was not heard of again until he appeared vociferously supporting the Jacobite cause in 1715. It was his involvement in the Jacobite Rising, rather than the appalling crime of passion, that caused him to lose the family estates. He died in 1757 and is buried in Greyfriars Kirkyard, Edinburgh.
Keep the family close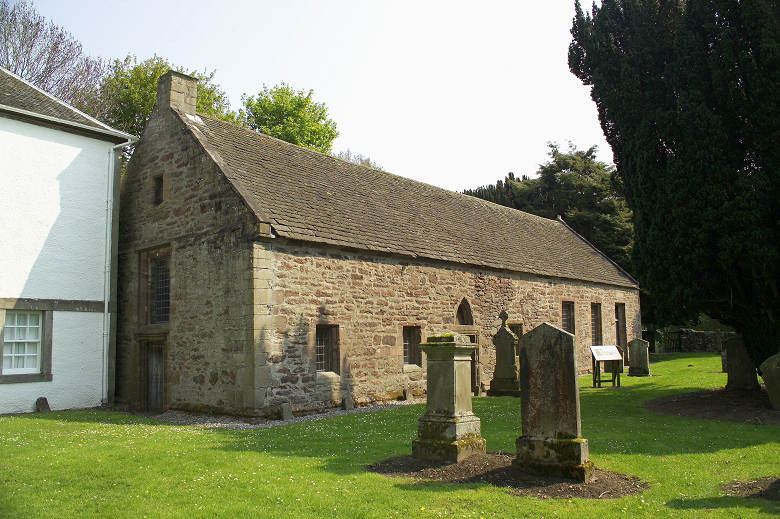 The
tiny chapel
at Innerpeffray near Crieff, Perthshire, dates to around 1507. It was originally built as a private place of worship for nearby
Innerpeffray Castle
. In the 1600s, a library "for the benefit and encouragement of young students" was established in the chapel.
As well as this literary link, Innerpeffray is also home to one of the most astounding gravestones in Scotland. The Faichney monument was carved by mason John Faichney in 1707 after the death of his wife. Individual carvings of their children flank a coat of arms, which is located below a large depiction of the couple.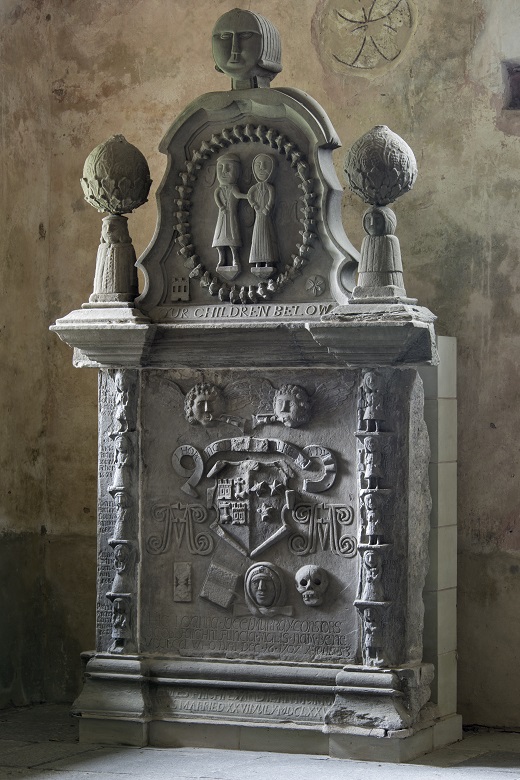 It tells a story in stone about one man's love for his wife and his pride in his family, a perfect, poignant piece of Scotland's historic environment for us to admire on Valentine's Day.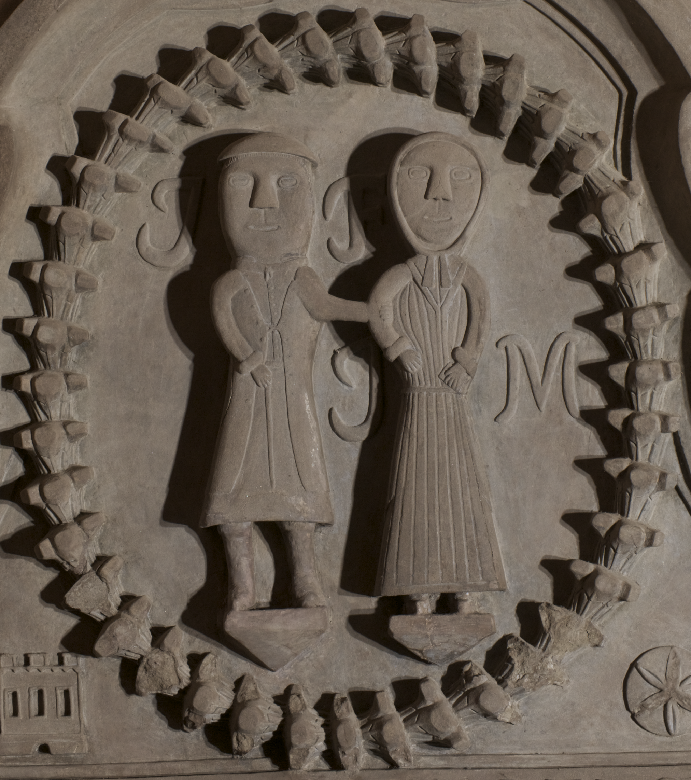 Some of the Historic Scotland sites referenced in this blog are currently closed for conservation work, but we hope you've enjoyed learning more about them digitally. You can head to our website to
find a historic place to visit near you
.
---
Share