It's the time of year when trees start to transform, their leaves eventually leaving a blanket of autumnal colours on our paths, pavements, and roads. Picturesque views can be seen across Scotland. Join us as we lead you through the leaves and to the gates of five of our scenic castles. Get ready to admire the beauty of autumn!
Stirling Castle
This may seem like an obvious place for us to start, however September is a significant time of year for the castle. It was on 13 September 1842 that Queen Victoria visited Stirling Castle, recording her visit in her diary the same day:
"We were shown the room in which James IInd killed Douglas & the window out of which he was thrown; the ceiling of the room is very curious."
Her name is even engraved on the Douglas Garden Walls:
We know we're cheating a little with 13 September coming just before the official start date of autumn in Scotland, however Stirling Castle is a site not to be missed- at any time of year! Take in the golden glow of autumn in the Queen Anne Gardens and get ready to enjoy our new event Tales From the Castle on Friday 25 and Saturday 26 November.
Doune Castle
Whilst you are in the area, venture a little down the road to Doune Castle.  Whether you are looking for the seat of Robert Stewart, or Castle Leoch, or Winterfell, this star of both the big and small screen has something for everyone.
The castle grounds include a woodland walk, a stunning stroll to take in the autumnal colours. There is also the site of a Roman fort and a new pedestrian bridge. A visit to the castle also is not complete without a trip into the village of Doune!
Huntly Castle
Autumn is synonymous with pumpkin spice and cosy jumpers, but we can't forget the spooky tales and Halloween hauntings that come about too. After the death of George Gordon, the 5th Earl of Huntly, some strange events took place at Huntly Castle.
You can read more about the truth behind this ghostly tale in our previous blog but for now, don't miss out on booking your visit to the site of all these strange goings on.
Blackness Castle
Built in the 15th century on the southern shore of the Firth of Forth, you are guaranteed a fresh autumnal breeze to blow away the cobwebs. Enjoy the spectacular views and explore a site steeped in history.
From a royal castle to a garrison fortress, state prison, and then later an ammunition depot, Blackness Castle has fulfilled many roles. Now the foreshore and mudflats to the east of the castle are even a protected wildlife site. As an important feeding area for overwintering birds, in autumn you may be able to spot some species preparing.
Dunstaffnage Castle
Last but by no means least, one of Scotland's oldest stone castles. With beautiful broadleaved woodland surroundings and a view over the Firth of Lorn, you need to tick this fairy-tale castle off your autumn visit list.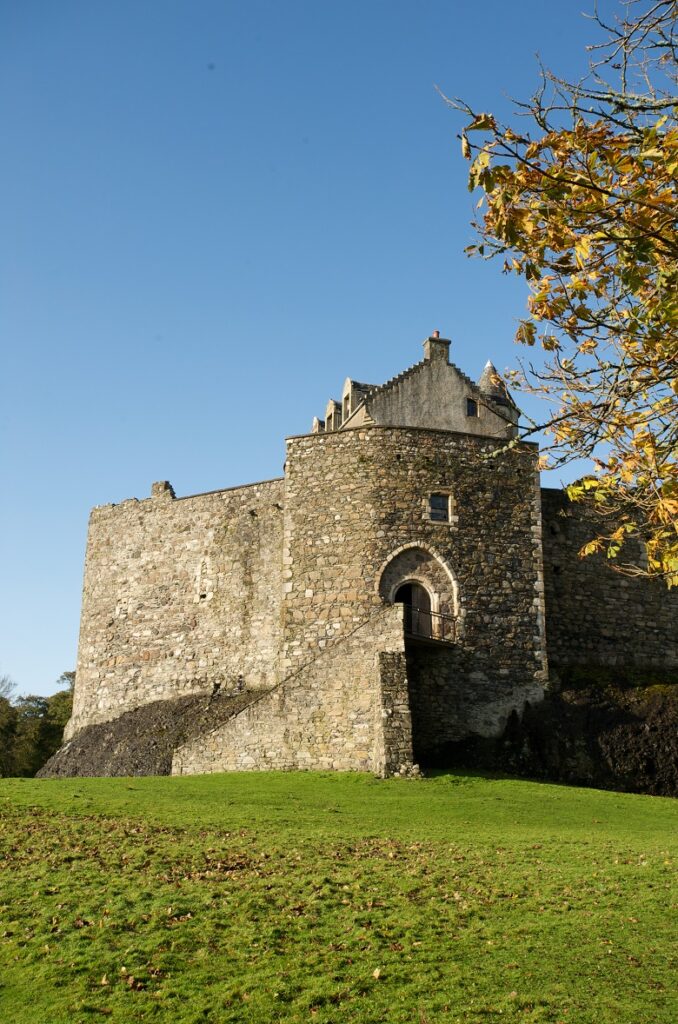 If you're visiting with your family, we have even got the perfect interactive tour for you. On Saturday 26 and Sunday 27 November you can join us for A Fairytale Guide to the Past timed tours. These are ideal for families with children aged 3 to 7.
Share your autumn adventures!
Inspired to take in the beauty of the season, or immerse yourself in some haunting history as Halloween draws in? We'd love to see photos of your days out at our sites! Tag us on Historic Scotland Twitter, Facebook, and Instagram. Include #HistoricScotland on Instagram and your may see your autumnal snap shared on our website.
Please remember we recommend booking your visits in advance to guarantee entry.
For more seasonal fun, from recipe ideas to events, and from gifts to a Halloween quiz, head over to our Autumn inspiration page now.
---
Share