From old railway tracks and towpaths to ancient ways along Roman roads or defences, active travel networks follow and weave their way through our historic environment.
Using active travel networks to engage with heritage, nature and our local communities is an excellent way to unplug from digital life and take time for our wellbeing, as well as helping in our efforts to transition towards a sustainable future.
Join us as we guide you along three famous Scottish routes that are steeped in history…
The John Muir Way
The John Muir Way is a 134-mile route from Helensburgh to Dunbar but is easily split into sections which can be walked, wheeled or cycled for a great day out.
Thousands of years of history are connected by the popular path as it winds its way through Scotland's first national park, Loch Lomond and The Trossachs, and along the stunning coastline of East Lothian.
Along the route you'll come across an abundance of historic landmarks. One of our favourite sections runs from Linlithgow to South Queensferry and includes gems like Linlithgow Palace and Peel, Kinneil House and Blackness Castle. The start of the route can be reached by public transport via trains on the Glasgow-Edinburgh line.
Linlithgow Loch and Peel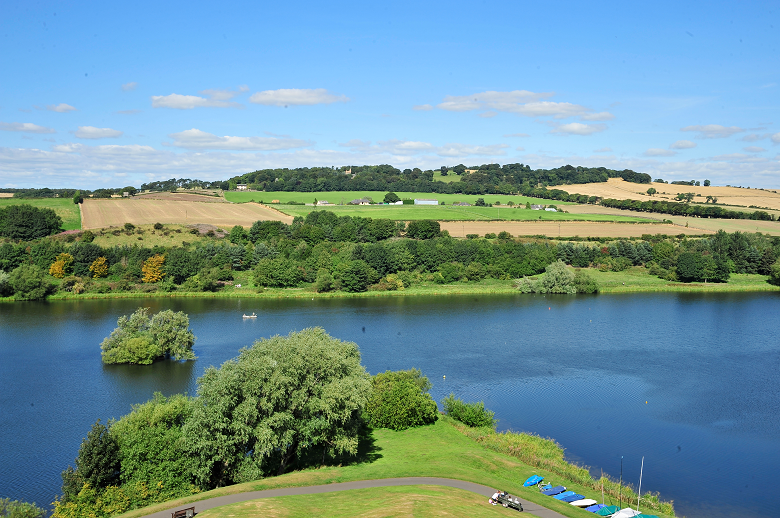 A meander around Linlithgow Loch makes for a lovely day out in itself. The paths are excellent for walkers, cyclists, and wheelers who prefer a more leisurely pace.  There are benches and picnic tables if you want to sit for a while longer and enjoy the local wildlife. It will take around an hour to walk the 2.3 miles around the loch.
Here, we've also teamed up with the Linlithgow branch of Cycling Without Age Scotland, to help improve the equality of access to the Loch and Peel for elderly and disabled communities by using pioneering trishaw rides.
Kinneil Estate and Local Nature Reserve
Visit the grounds of Kinneil House and the Kinneil Museum, housed in a 17th century stable building, which gives the history of the Estate and Bo'ness. In the grounds you will also be able to see the last visibly remaining example of a fortlet along the Antonine Wall.
The Nature Reserve is a former industrial site which has been restored, making room for wildlife and providing a stunning scenic greenspace to walk and cycle through.
Blackness Castle
Blackness Castle, built in the 15th century, is steeped in rich history and has taken on many roles in its time including a state prison. More recently it featured in the TV series Outlander.
The area directly around Blackness Castle, including the foreshore, is protected as part of the wider Firth of Forth protection area for over-wintering birds. Picnic benches and cycle racks are available for you to take your time exploring everything the site has to offer.
The Caledonian Canal
The Caledonian Canal journeys through the Great Glen from Fort William to Inverness. The canal connects several lochs on its 60 mile route: Loch Lochy, Oich, Ness and Dochfour. Engineered by Thomas Telford, it is an exceptional example of how our waterways provided crucial trade and transport routes.
Today you can take a walk or cycle along the well-maintained towpaths that form part of the National Cycling Network Route 78 and marvel at the feats of engineering, such as the locks which you'll come across on your journey.
Trains and bus services are available to reach different parts of the canal. In particular, the sections near Fort Augustus and Inverness are widely accessible to a range of users. The canal passes many key heritage sites, making it a history-packed tour no matter how far you choose to travel:
Inverlochy Castle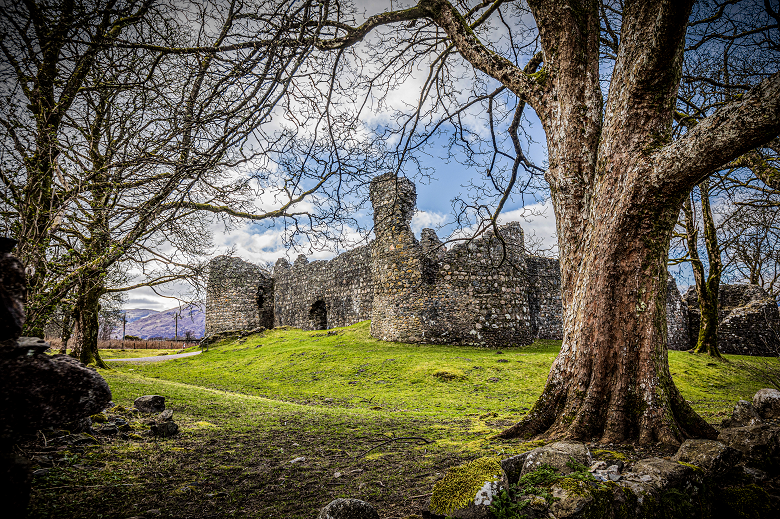 If you're setting off from Fort William following the route of the Great Glen Way, make sure to pay Inverlochy Castle a visit. It was once defended by a moat and held a strategic position at the southern end of Loch Lochy.
Today, the castle is one of the most complete castles built in the 1200s. (There's some access inspections in place while we inspect some of the centuries-old masonry).
Bridge of Oich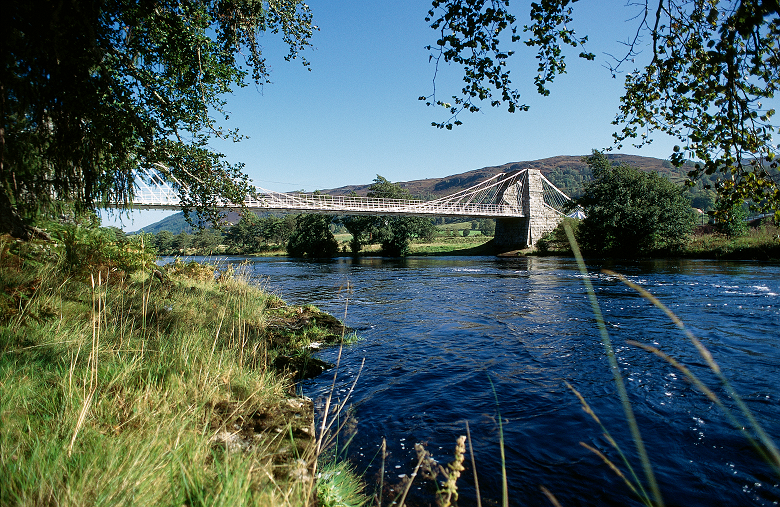 This marvelously constructed suspension bridge was opened in 1849 after the previous bridge was washed away by flooding. The bridge was once part of an important trade route in the Highlands, allowing local traders and farmers to transport their goods and cattle to the rest of Scotland. As the traffic increased, the bridge fell into disuse and new trade routes were built. Now the Bridge of Oich is only open to pedestrians. This means you can pause to take full advantage of the stunning views of the River Oich!
Urquhart Castle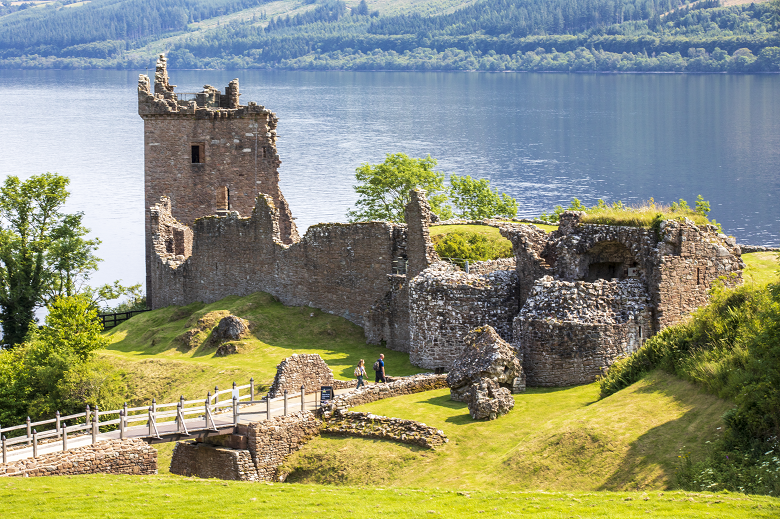 As you pass along Loch Ness, take a break in Drumnadrochit to visit Urquhart Castle, a site that was at the centre of over 1,000 years of turbulent history. It was once one of Scotland's largest castles. Today you can explore the iconic ruins while also soaking up spectacular views of Scotland's most famous loch.
The Antonine Wall
The Antonine Wall stretches 60 km across Scotland, forming the north-west frontier of the Roman Empire. It is part of the Frontiers of the Roman Empire World Heritage Site. Unlike Hadrian's Wall, this one was built with turf layers – some reaching 3m high!
There are many fantastic walks along the Antonine Wall that suit different abilities. A 6.5 mile route from Walk Highlands starting at Auchinstarry Marina takes you along parts of the wall. Get to the start of the route by taking the train to Croy and walk 1 mile to Auchinstarry Marina. On this 4-hour walk you'll really be able to delve into Scotland's rich Roman history:
Bar Hill Roman Fort
Bar Hill Roman Fort is free to visit and open all year round. From here you will get stunning views across the Kelvin Valley.
Artefacts such as shoes, shells and coins have been found here, giving an insight into the fort's rich history. You can even explore a 3D reconstruction of the fort before you visit for a digital glimpse into the lives of those who lived there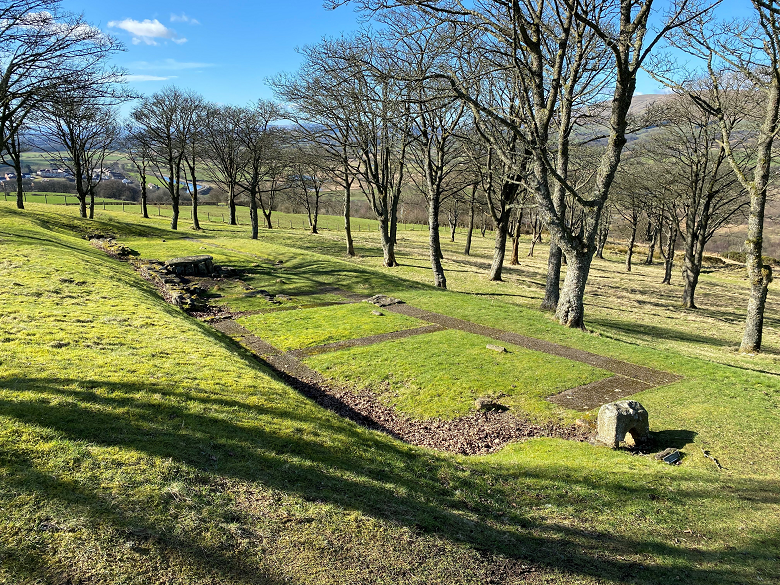 Castle Hill
Although there are no visible remains at Castle Hill, you can take in the views which would have made this site an excellent strategic location in the past. It's also the site of an Iron Age fort.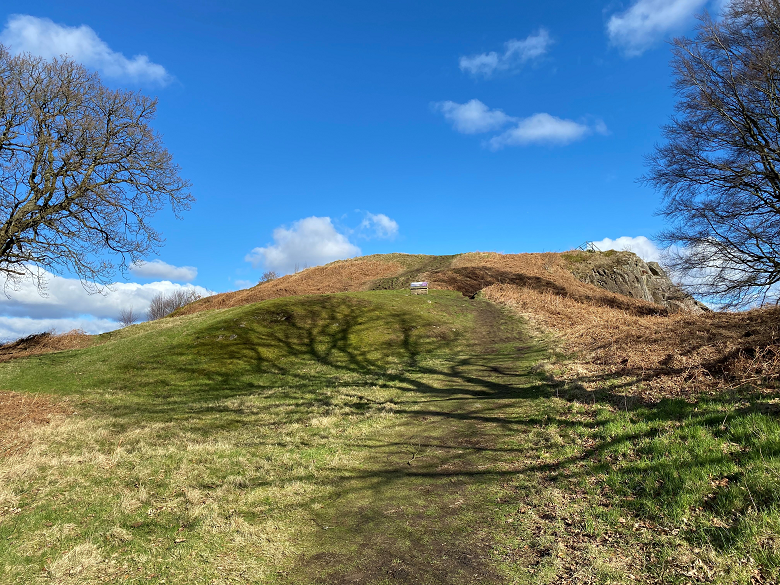 Croy Hill
Croy Hill offers another excellent vantage point along the Wall. Again, there are no visible remains of any structures today. However, the evidence of the Romans is clear to see in the ditch formation. Excavations have also revealed evidence of a civilian settlement, with agricultural and industrial activity. Pottery and an arrowhead have been found nearby, suggesting this site may have been inhabited before the Romans too.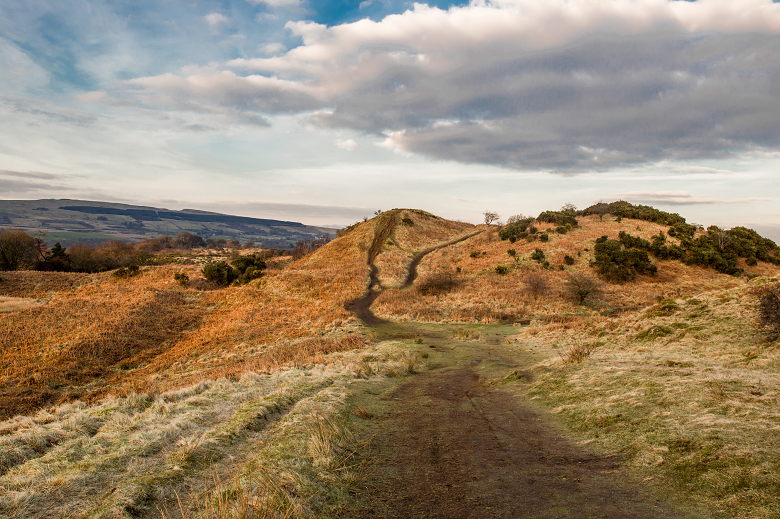 Get planning!
Making use of these historic routes allows us to re-use the historic environment and explore new ways to connect with our shared heritage. 
The routes described here are suitable for varying abilities. To find out more about local accessibility, AccessAble have some excellent resources. Traveline Scotland can help with public transport information and journey planning, while Sustrans is a great place to start planning a trip by bike.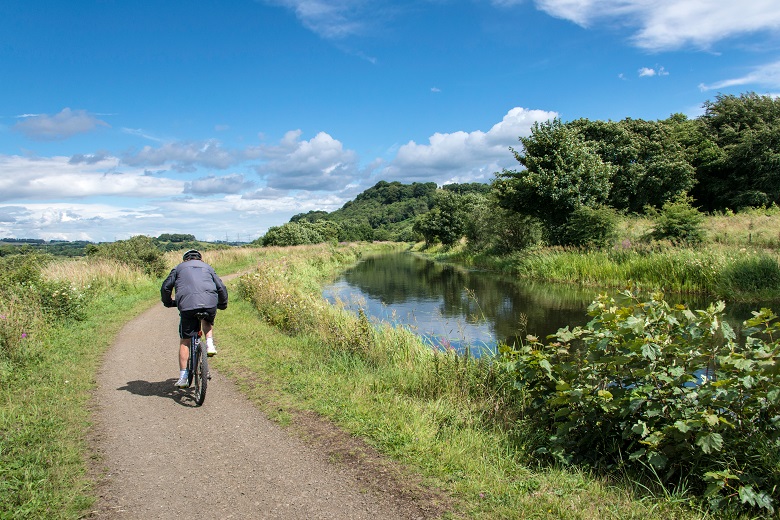 For more green historic adventures, why not check out Five castles to reach sustainably from Glasgow?
About the authors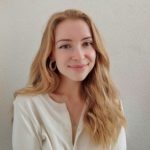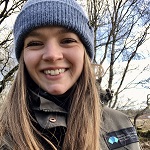 This blog was written by Molly Harkins and Erin Fowler, who work with Historic Environment Scotland as a Carbon and Circular Economy Trainee, part of our Conservation Traineeship & Craft Fellowship Programme.
---
Share