I love going foraging, be it wild brambles for jams, gorse flowers for cocktails or hazelnuts for chocolate spread. Once a means of seasonal sustenance, foraging is enjoying a revival among people keen to eat fresh, seasonal and local food.
More and more people are keen to reconnect with the land and learn more about indigenous, natural food. Responsible wild harvesting means taking only what you will use and picking carefully to have minimal impact on the plant.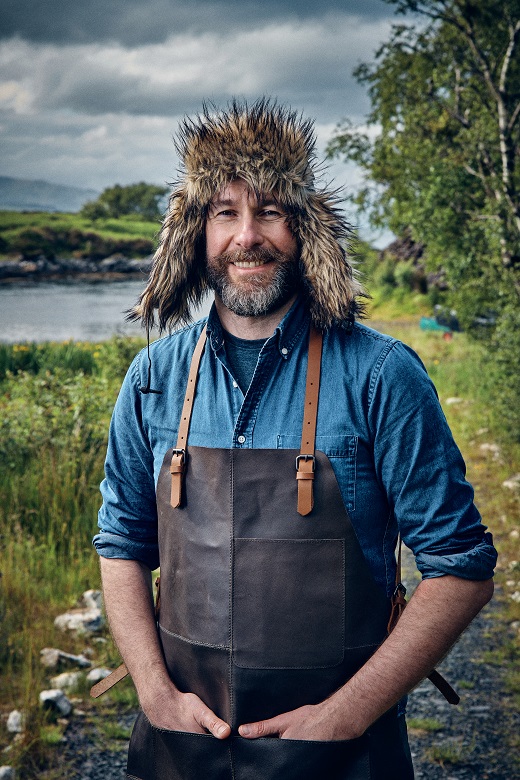 Rummaging for Ramsons
With its fresh garlicky smell, wild garlic is the unmistakable scent of woodlands in spring. Known by many in Scotland as Ramsons, wild garlic has a softer flavour to traditional bulb garlic, and the green, pointed leaves are easy to identify and pick.
It makes great pesto, delicious wild garlic butter but I love to bake these wild garlic scones along with a tasty, strong cheese. Just make sure you have lots of salted butter to serve with this savoury treat!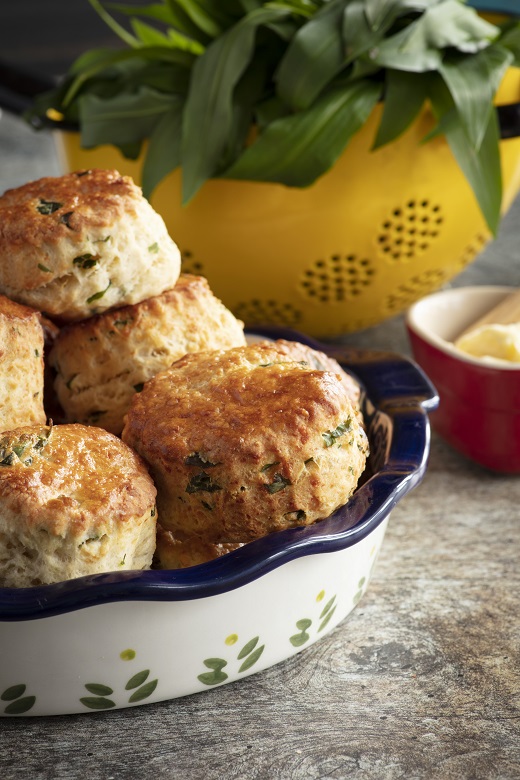 Ingredients for the wild garlic scones
Makes 4 scones
225g self-raising flour
1 teaspoon baking powder
100g chilled butter, cubed
125g mature Cheddar cheese (or Parmesan), grated
30g wild garlic, washed and finely chopped
100ml milk
1 egg
Method for making the scones
Preheat oven to 200°C fan (425°F) and line a baking tray with baking paper.
In a bowl, combine the flour and baking powder. Then add the butter and use your fingertips to rub it into the mixture until it resembles coarse breadcrumbs.
Add 100g (3½oz) of the cheese and the wild garlic and mix until combined.
Pour in the milk a little at a time and mix with a knife. Only use enough milk until a dough forms.
On a floured surface, shape into a round and flatten to 2.5–3cm (1") thick. Use a cookie cutter to stamp out rounds and place them on a lined baking tray.
Brush the top of each scone with egg and sprinkle over with the remaining cheese, before placing in the oven for 13 to 15 minutes until golden brown on top.
Cool slightly on a wire rack, then smother in salted butter
About The Hebridean Baker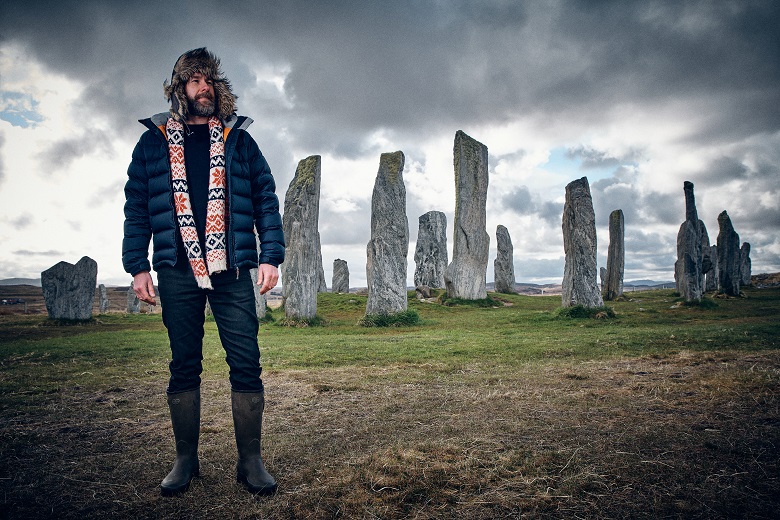 Inspired by family recipes and traditional Scottish bakes, Coinneach launched the Hebridean Baker in 2020. 21 million video views (and counting!) later, Coinneach has motivated his followers around the world to bake, forage, learn Gaelic, have a dram or two of whisky and dream of visiting the Scottish islands.
Born and raised on the Isle of Lewis, he shares the Hebridean Hygge lifestyle in his debut cookbook, The Hebridean Baker: Recipes & Wee Stories from the Scottish Islands. With wholesome, traditional recipes, stunning photography and a generous sprinkling of stories of island life and culture, The Hebridean Baker book offers a true taste of the Outer Hebrides.
You can purchase the book now from Stòr, the official Historic Scotland online shop. In our previous blogs, you can check out Coinneach's recipe for Aunt Bellag's Clootie Dumpling and a special Christmas pavolva.
---
Share